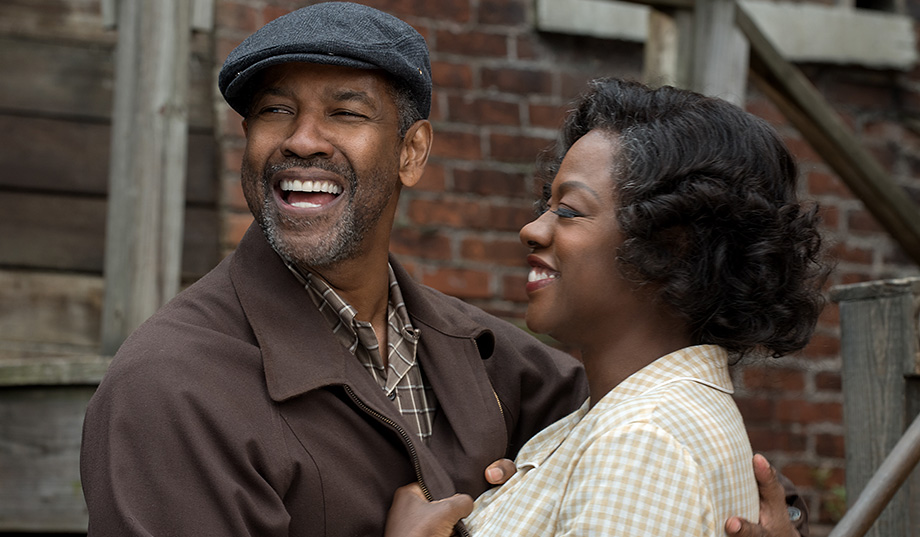 Denzel Washington's Fences confronts Black Lives Matter.
Before the Black Lives Matter craze exacerbated contemporary attitudes about race and black social continuity, playwright August Wilson's Fences articulated a black tribal viewpoint of the ambition, grievance, and assorted religious, sexual, and political beliefs borne by African American experience. The play focused on Troy Maxon, a sanitation worker in 1950s Pittsburgh, who regaled his wife, their two sons, his brother, and a best friend of his personal feelings and beliefs, constantly recalling the things he's gone through as a black American male. (He's affectionately described as "Uncle Remus. Got more stories than the devil got sinners.") Maxon's tough, defensive attitude stemmed largely from his failed athletic career — an abiding frustration explained by the stifling segregation of the Jim Crow era. Maxon is Wilson's archetypal character, a beyond-eloquent mouthpiece for the bitterness Wilson felt about the existential inequities suffered because of American racism.
Although Fences derives from the black oral tradition, its ideas were by no means obscure or marginalized, but in fact are so familiar to American theatrical practice that the play received two celebrated Broadway productions, the first in 1987 starring James Earl Jones, the second in 2010 starring Denzel Washington. Now Washington directs the film version of Fences (he repeats the role of Maxon) as an established classic of American theatrical literature rather than another Obama Effect film reflecting the opportunistic recent events (denoted by Ferguson and Black Lives Matter) that set a new paradigm for thinking about race.
By these terms, Fences is a conservative movie — which is unfortunate artistically and interesting politically. It feels dialogue-heavy because Washington doesn't command the cinematic rhythm of movement and imagery that makes the best film adaptations of plays (David Lean's Blithe Spirit, Sidney Lumet's Long Day's Journey into Night) seem perfect, absolutely natural, visual records of behavior. But it is that dialogue — Wilson's deliberate, elaborately staged poetry, Maxon's machine-gun rattling of self-shaped philosophies — that gives the play its conservatism.
Although Wilson's writing was contemporary (he died in 2005), his ten-play output — a cycle set during every decade of the 20th century — chronicled black American history. Each drama used the background of gradual social progress, yet every story was rooted in earthly frustration, high and low spiritual aspiration (best evinced by Seven Guitars, Ma Rainey's Black Bottom, and Joe Turner's Come and Gone), and political reality. In portraying the latter, Wilson commemorated how black folks recognized the evidence of ineradicable racism and still got on with their lives. His richest characters, like Maxon, believe in the principles of hard work, self-reliance, personal obligation, and ethical achievement.
These specific, sometimes lyrical African American truths contradict the inexact, sentimental grievance thrown up by Black Lives Matter. Wilson's conservative narratives, with their heartfelt emphasis on personal relations, demonstrate the difference between entitlement as earned historically by human effort and the empty radical postures assumed by facile cultural inheritance. That's the source of the conflict between Maxon and his older son, Lyons, an itinerant musician, and his younger son, Cory, a pouting, willful schoolboy.
Fences' rebuttal to a pseudo-political social movement occurs inadvertently, as a benefit of Wilson's concern with experience-based black values rather than political fashion. The difference is both temperamental and generational, but it is ironic that Wilson came to prominence during the rise of hip-hop culture; as if he felt the same inspiration as the post–Civil Rights, crack-era generation of America's damaged black youth who were beginning to articulate and romanticize their own experiences. Fact is, the ingrained traditions of comprehending and surviving racism can be expressed in different idioms. Wilson has said that his writing was inspired by black poet Ishmael Reed, whose own vernacular (part of the 1960s Black Arts Movement) is as different from Wilson's as it is from Public Enemy and Geto Boys, yet they all work the same territory. They recognize the black ethical history that Black Lives Matter (if not all contemporary liberalism) has abandoned.
These specific, sometimes lyrical African American truths contradict the inexact, sentimental grievance thrown up by Black Lives Matter.
Nothing in Fences fits the political moment. It poses sense (homegrown black perspectives on principle, indebtedness, and love) against nonsense (using victimhood to define black political identity). The one female character, Maxon's wife, Rose (Viola Davis, doing her snot-bubble thing), also represents a traditional faithful matriarch who contends with Maxon's errant infidelity. That every character is a paragon demonstrates Wilson's humane vision and his dedication to respecting the complexities of black experience, but this also brings us back to the play's — and the film's — artistic failing.
Too much of Fences sounds like it's Wilson's Exposition Play or Position Paper, setting out terms of his conventional (as opposed to conservative) theatrical presentation. Except for frequent, colloquial N-word repetitions, this lesser Wilson work too obviously offers excuses for its flawed protagonist as a figure of American male hubris. It unfortunately recalls Arthur Miller's overrated Death of a Salesman. Sometimes Wilson's poetry reeks of Miller's malapropisms. (Sexual tension reduced to "fall down on you and try to blast a hole into forever," heredity materialized as "Pop's a shadow sunk into your flesh." Thankfully, Wilson's poetry became less forced by the time he wrote Seven Guitars.)
And just as Death of a Salesman was Miller's apology for the Depression and World War II, Washington uses Fences to apologize for his largely disgraceful Hollywood career, which succeeded by offending every black American virtue. He's the wrong sort of actor to play simple, gregarious Maxon. Washington always shifts into truculence, not friendly camaraderie or principled experience. The big father–son talk scene shows more macho posturing than loving wisdom. Only Russell Hornsby, who plays Lyons, has the easily underestimated homeboy grace that Wilson particularly understood and often presented as an everyday African-American herald.
Washington needed a real director to transform Wilson's theatrical conceits into cinema. He makes a puzzling cultural choice to have a jazz song play over the newly added scene of church missionaries praying for distraught Rose. If it's intended to account for Wilson's religious ambivalence, it needs the extraordinary cultural contradictions that Spielberg fully expressed in the great "God is trying to tell you something" scene in The Color Purple. Instead, this musical contrast is Spike Lee–cynical. Yet when flawed Maxon is eventually sanctified by his noble-idiot brother (Wilson's most unfortunate character idea), Washington goes for a cheap imitation of Spielberg uplift that's too embarrassing to describe here.
#related#Wilson's traditionalist sensibility first made it to the screen in the sharp-witted, morally compelling urban tribal heist film Next Day Air (2009). Made by music-video director Benny Boom and screenwriter Blair Cobbs, paying homage to Wilson, Next Day Air originated surprising, satirical variations on Wilson's essentially conservative values of economics, property and self-reliance — which mainstream media have succeeded in ignoring or denying as black American virtues. (In thrall to Black Lives Matter, the media uses victimhood to define black political identity.) Rich as it was in characterization and language, Next Day Air was not a hit, but it will be interesting to see if Fences (which is receiving tremendous promotional hype) does reach the popular audience by similarly going against today's fashionable grievance mode to reflect basic feelings of underclass-and-working-class striving. Audiences who see Fences would do well to recall Lorraine Hansberry's superior A Raisin in the Sun, where the older generation chastises the younger, "You was supposed to be my harvest."