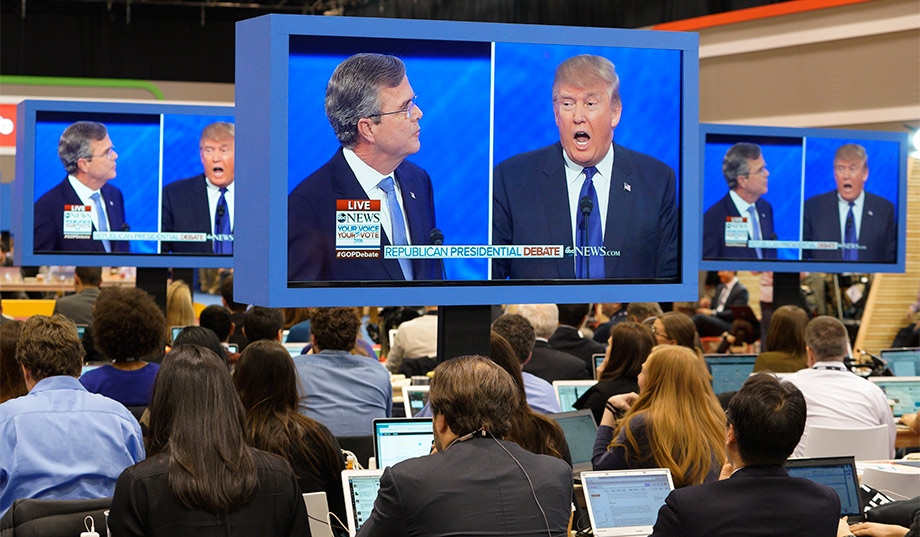 The new president owes nothing to the 'Bush Barnacles'
The media have paid much attention to how Donald Trump broke through to blue-collar voters in Wisconsin, Michigan, and Pennsylvania and captured the presidency. Trump is certainly assembling what might prove to be a new GOP coalition. But one shouldn't forget that Trump's temperament cost him upscale Republican voters in key suburbs. To solidify his reelection chances, he will have to overcome their doubts with policy successes that assuage their concerns about his rough edges.
Trump won an impressive victory, carrying 31 out of 50 states. But in several of them — including key states such as Georgia, Arizona, and Texas — he won a smaller percentage of the vote than Mitt Romney did. Indeed, nationally, Trump won 46.2 percent of votes cast, whereas Romney won 47.2 percent. In the 37 states considered "non-swing" or uncompetitive this year, Hillary Clinton's margin of victory was greater than Barack Obama's in 2012.
Much of Trump's weakness with upscale, suburban Republicans can be traced to the hostility of the Bush family. They viewed Trump's primary victory as a hostile takeover of the party they had long dominated — a Bush was on the national GOP ticket for president or vice president in every election between 1980 and 2008 save for one (1996). With his attacks on the Iraq War, his humiliation of Jeb Bush in the GOP primaries, and his characterization of George W. Bush's presidency as "weak," Trump clearly alienated the Bush base. Texas's seventh congressional district, the wealthy Houston enclave that elected George H. W. Bush to Congress in 1966 and that has remained in GOP hands ever since, saw a stunning reversal in its voting patterns. In 2012, Mitt Romney carried the seventh district with 61 percent of the two-party vote. In 2016, Hillary Clinton actually beat Donald Trump in the district by 51 percent to 49 percent.
A big reason was clearly the hostility of the Bushes to Trump. George W. Bush made it known that he left the presidential line blank on his ballot. His father, former president George H. W. Bush, was "outed" as a Never Trumper by a member of the Kennedy clan, Kathleen Kennedy Townsend, in October. She posted a photo of her and the former president on Facebook with the caption: "The President told me he's voting for Hillary!!" She followed up in an interview with Politico by saying: "That's what he said."
The Bushes were obviously not alone in their antipathy toward Trump. Republicans who had served top roles in both Bush administrations signed an open letter in mid October declaring that Trump in their view was not qualified for office. The former Bush officials included Christine Todd Whitman, who ran George W. Bush's Environmental Protection Agency, and Mary Peters, who headed his Transportation Department. They warned that Trump fails to exemplify the traits the Republican party holds dear.
Nor was theirs the only letter from former Bush officials. In August, a group of GOP national-security experts warned that Trump "would be the most reckless president in American history."
Those signing the letter included former CIA and National Security Agency director Michael Hayden; former director of national intelligence and deputy secretary of state John Negroponte; and two Homeland Security secretaries under Bush, Tom Ridge and Michael Chertoff. They were joined by Robert Zoellick, a former U.S. trade representative and deputy secretary of state.
Conspicuous by their absence from the letter were former secretaries of state Henry Kissinger, Condoleezza Rice and James Baker.
Trump didn't wait long to blast the letter, denouncing the signatories in a statement. In part, it read:
The names on this letter are the ones the American people should look to for answers on why the world is a mess, and we thank them for coming forward so everyone in the country knows who deserves the blame for making the world such a dangerous place. They are nothing more than the failed Washington elite looking to hold on to their power, and it's time they are held accountable for their actions.

These insiders — along with Hillary Clinton — are the owners of the disastrous decisions to invade Iraq, allow Americans to die at Benghazi, and they are the ones who allowed the rise of ISIS. Yet despite these failures, they think they are entitled to use their favor trading to land taxpayer-funded government contracts and speaking fees.
It's clear that the gulf between the "Bushies" and the "Trumpsters" isn't likely to be bridged anytime soon. That is a good thing. Any other Republican president-elect would have been under enormous pressure to bring in former Bush officials to staff cabinet agencies with safe, don't-rock-the-boat appointees. "I call them Bush Barnacles," top Trump strategist Steve Bannon told me earlier this year. Instead, Trump owes next than nothing to the Bushes and has selected only one of George W. Bush's former cabinet officials to head a department: Elaine Chao at Transportation, who also was the most conservative member of the cabinet during George W. Bush's two terms.
#related#Instead, Trump has largely turned to an eclectic mix of top business executives (Rex Tillerson at State, Wilbur Ross at Commerce), former generals (James Mattis at Defense and John Kelly at Homeland Security) and bureaucracy busters (Scott Pruitt at the Environmental Protection Agency and Jeff Sessions at Justice).
Trump will no doubt be careful to cement his support with the blue-collar voters who delivered him the election. In keeping with his promises to these supporters, he'll probably aim to renegotiate trade deals without touching off trade wars, clear away barriers to job creation, and reassert American leadership overseas. For someone who needs to solidify his political standing for 2020, succeeding in those policies would represent the best possible political revenge against the Bushes and his many other critics.