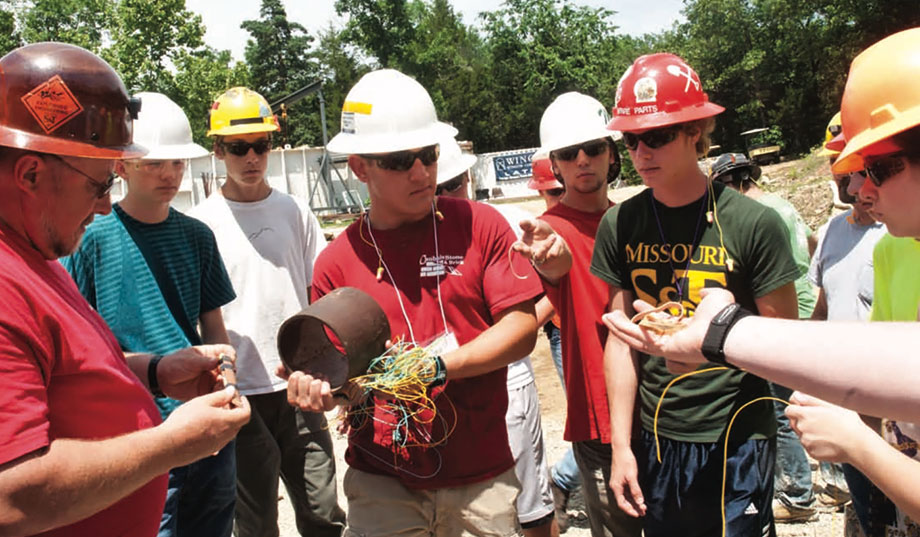 The joy of explosives camp
Editor's Note: Digging In: Further Collected Writings of Jay Nordlinger is now available, here. The book has six chapters, and we are running a piece from each of them. The second chapter is "America — Some Snapshots." The below piece is from that chapter, and was published in our July 15, 2013, issue.
Rolla, Mo. – There are many summer camps, something for everyone. But there's no other camp quite like this: an explosives camp. A hands-on explosives camp. Such a thing would seem impossible in modern America. These days, kids ride their trikes in protective gear. So, the very idea of explosives camp is thrilling.
Not to all, of course. Before I left the Upper West Side of Manhattan, I told a dear friend and neighbor where I was going. She could not get the look of horror off her face.
Explosives Camp is an offering of Missouri University of Science and Technology — formerly known as the University of Missouri–Rolla, formerly known as the Missouri School of Mines and Metallurgy. Rolla is midway between St. Louis and Springfield (Springfield, Mo., that is). On the main drag is The Lord's Library: "Your Full Service Christian Store."
An undergraduate at S&T can minor in explosives engineering. He can then go on to get his master's in it. Pretty soon, a doctoral program may be coming. Each year in this country, more than 6 billion pounds of explosives are used. Someone needs to know how to use them.
Explosives are used in mining, primarily. But they also figure in construction, for example — and demolition. It can be far safer to blow up a large building than to take it down bit by bit. Cheaper, too. Explosives are also used in agriculture, from time to time. A farmer may wish to clear boulders that way. In days gone by, he could go down to the general store and buy some dynamite. Those were more relaxed times.
Here in Rolla, the explosives guru is Dr. Paul N. Worsey. He is also a guru in the broader world. You could seat him and his true peers at one table, and you wouldn't need a very large table. And half the other people would be Worsey's onetime students. He has gained some celebrity, and so has his summer camp: When I arrive, cameras from a Canadian television show are just leaving. Worsey himself starred in a Discovery Channel program called The Detonators.
Paul Worsey is a serious engineer — working in a very serious field — but he is free and easy.
He is English-born, and so is his wife, Gillian, a civil engineer. They met at the University of Bristol. He earned his Ph.D. in Newcastle upon Tyne; she earned hers at Rolla. Barbara Robertson is an administrator, serving as a kind of den mother to the campers and university students. She is German-born. You hear some colorful accents in south-central Missouri.
Paul Worsey is a serious engineer — working in a very serious field — but he is free and easy. He laughs frequently. He wants his students to have fun, and he wants to have fun himself. He believes in straight talk, despising political correctness. He is scalding on the subject of government — particularly its regulators. He is not against regulations; he's just against silly and ignorant regulations.
Explosives Camp began in 2004, as a recruitment tool for the university. It had almost no advertising. But word spread. The camp takes just 20 students per session, and a session is a week long. There are two sessions this year. You have to be at least 16 to enroll, owing to the realities of insurance. The camp attracts mainly boys, as you would guess. But there are girls too — five in the session I drop in on, a full quarter of the bunch.
Most of the activities take place on the outskirts of town, at a site that features an experimental mine (established in 1913). The buildings are fairly rudimentary. Explosives Camp is not posh. This is not a country club. New facilities are in the works, but the camp has an old-style look, for now. Just up the road is Joe and Linda's Tater Patch. It's a favorite restaurant of the mining department.
During their week, campers get a "smorgasbord" of explosives engineering, as Worsey says. They learn about blasting — below ground and above ground. They learn about ordnance disposal. (This is a task our guys in Iraq had to perform, on roadside bombs.) They learn about pyrotechnics — a "wall of fire," for example. And they have more normal activities, such as cookouts and pool parties.
Again, this camp is hands-on. You learn first by instruction and then by doing. Worsey and his staff make an analogy to driving school: You would not give a person a license if he had never been behind the wheel. Simulators, books, and lectures can only do so much.
Needless to say, explosives are risky, and the camp stresses safety. There is a certain amount of bravado among explosives engineers, I find — a devil-may-care attitude — but beneath that is due awareness. Work with explosives was dangerous before Nobel, and dangerous after him.
Nobel? Alfred Nobel, the father of the prizes, and a pioneer in explosives engineering. This genius Swede had 355 patents to his name. His most famous invention, of course, is dynamite (1867). But his most important one, scientifically, is a blasting cap. Nobel's inventions made possible what today we call "infrastructure": tunnels, canals, railroads, and the like. The campers know about Nobel. In fact, Dyno Nobel — an international company born of companies founded by the inventor himself — sponsors an essay competition. This particular week, two of the campers have won, receiving a little scholarship money.
Among the staff, there is a marked spirit of independence. I think of a motto, "Don't Tread on Me." They believe that society has become too risk-averse, too confining. "Kids tend to be bubble-wrapped," says a staffer. She is an S&T undergrad from Cheyenne. She seems a typical westerner: open, confident, capable. I ask her what her family thinks of her studies in explosives. "My mom said, 'Be careful, and come home alive.'"
The Fourth of July is approaching, the big time of the year for pyrotechnicians. (A staffer from northeastern Missouri tells me, "People accord you more respect when you say, 'I'm the pyrotechnician.' They may not take you seriously enough if you say, 'I'm the fireworks guy.'") According to Paul Worsey, the big danger for pyrotechnicians on the Fourth of July is heatstroke. He has set up shows in 106-degree weather. The American revolutionaries should have declared independence on May 4 or June 4, he says.
Their instructor is wearing a shirt that says "Pyro Addiction." It occurs to me that he might be arrested in Massachusetts.
On the second-to-last evening, the campers are taught to make three-inch shells – fireworks. Their instructor is wearing a shirt that says "Pyro Addiction." It occurs to me that he might be arrested in Massachusetts. As they sit at their tables, making their shells, the kids look like they're doing ordinary arts and crafts. But this is different. "Yes," says the young woman from Cheyenne: "arts and crafts with an edge."
One girl says to a fellow camper, "Did I get powder on my face again?" Indeed she did. The powder in question has nothing to do with pastries or cosmetics. It's black powder, the milk of explosives. Another girl tells me she has written "an evil laugh" on her shell. How do you write an evil laugh? Something like "Mwa-ha-ha."
She is a petite, brainy high-schooler from Houston. For a number of years, she has been involved in historical reenactment with her family: the Alamo, San Jacinto, and other trials of the "Texians." They fire muskets and cannons; they cast their own bullets. The girl's reading plans this summer include Conan Doyle, Dickens, and Improvised Munitions. She tells me about a favorite T-shirt: "Engineering: It's Like Math, but Louder."
When it gets dark, it's time to set off the shells. The campers troop out to the "shoot site," wearing their hard hats and safety glasses. They have made the shells, but staffers do the actual "shooting," this time. One girl expresses anxiety: "I just know mine's gonna be a dud." After one successful explosion, another girl says, "That was really pretty." A boy says, "That was cool." Some of the biggest cheers come when some fallout starts a little fire in the brush. A staffer quickly douses it with a fire extinguisher (of which there are many).
The next morning — the last one — campers look forward to the day's activities. These are to include the blowing up of a Barbie doll. She is riding a shark named Stanley. Why are they going to blow her up, or them up? I learn a stock response: "Because we can." First, though, there will be an underwater explosion, coming from a little pond. "Don't get a crick in your neck," Worsey quips to me. The spout goes way high, and I look way high — and can see what he means by "crick." The explosion also makes a little rain, which is welcome in a Missouri summer.
That evening, parents come to pick up their charges (no pun intended). One boy explains to his parents about a mortar. He does so with maturity and confidence. They look on a little wonderingly.
Then there is a barbecue dinner, followed by the grand finale: a fireworks show, which the kids have spent the afternoon setting up (in concert with staff). The local volunteer fire squad is on hand, just in case. But they have to go off, in response to a call. "Oh, well," says Dr. Worsey. "It'll be okay." And it is. There are plenty of personnel and fire extinguishers, regardless. The show is loud, hot, and exciting. At the end, the kids roar with pride and satisfaction. The adults roar too, though maybe more mildly.
Worsey knows he is doing something out of step — something incongruent with an Oprahfied age. He also knows he is doing something enviable. "My buddies used to come up to me and say, 'I admire what you're doing, but don't tell anyone I said so.'" They hung back, out of fear, or an excess of caution. Now they're more likely to flatter Worsey by imitating him. He has had an emboldening effect.
Explosives camp is not for everyone — nothing is. But it's a slice of America, part of our star-spangled diversity. And for the participants, and their well-wishers, it's a joy.