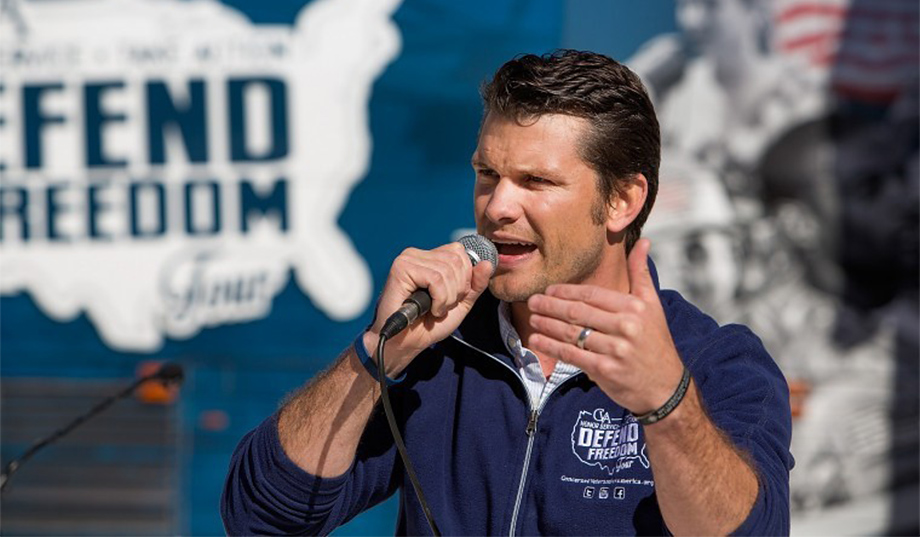 There is no better man to clean up the shocking problems at the VA.
President-elect Donald J. Trump should nominate soldier and veterans advocate Pete Hegseth as his secretary of veterans affairs. The VA bureaucracy has devolved into a house of horrors, and this energetic, telegenic, passionate reformer is exactly the man to upend it.
Hegseth is 36, and his age would put a spring in the step of a Cabinet that, so far, has more than a touch of gray around the temples. Millennials and Generation Xers should be heartened to see a contemporary advise Trump. But his youth notwithstanding, Hegseth has seen plenty since graduating from Princeton University with a degree in politics in 2003.
As a major in the U.S. Army National Guard, Hegseth battled the Taliban in Afghanistan, helped liberate Samarra, Iraq, and kept his rifle at the ready as he guarded radical Islamic terrorists at Guantanamo Bay, Cuba. For his outstanding service as an officer, he earned two Bronze Stars and a Combat Infantryman's Badge.
Out of uniform, Hegseth has been a voice for vets. He served as Vets for Freedom's executive director. And as its CEO, he grew Concerned Veterans for America (CVA) into the nation's largest center-Right vets group. Concerning those still deployed, Hegseth presses for policies to help GIs win military engagements, rather than merely stop them — as did President Obama's ISIS-creating, premature withdrawal from Iraq.
At CVA, Hegseth inspired his members to demand a better deal for vets. Decrying the lethal delays at VA hospitals in Phoenix and beyond, Hegseth wrote in 2014:
In the military, such a pattern of command failures would be met with decisive action — the underperforming leader would be replaced, period. But that strong performance standard doesn't exist at the VA, and thus executives can be shifted from one post to the next, with little regard for performance or results.
From rallies to TV interviews to congressional testimony, Hegseth pushed the Veterans Access to Care through Choice, Accountability and Transparency Act and the VA Management Accountability Act. Congress approved both measures with broad, bipartisan majorities, and Obama signed them into law.
The VA bureaucracy has devolved into a house of horrors, and this energetic, telegenic, passionate reformer is exactly the man to upend it.
"No one has been more effective than Pete Hegseth in advocating reform of veterans' health," former House speaker Newt Gingrich told American Military News. CVA's Dan Caldwell said, "Pete was tireless in working with Congress and other stakeholders, holding countless meetings with House and Senate members, staff, and organizations around the nation to push VA reform to give veterans more choice and better health care."
Unfortunately, the Obama administration has slow-walked the new rules that should expand vets' health-care options and ease the dismissal of inept, obstructive, sadistic VA functionaries. Consequently, too many VA facilities remain macabre:
• An unidentified dentist at Wisconsin's Tomah Veterans Affairs Medical Center resigned on December 3. Rather than treat patients with sterile, disposable equipment — per VA regulations — he improperly cleaned and sterilized his own gear. Hence, he may have infected 592 veterans with hepatitis and HIV. (Tomah also was dubbed "Candy Land" because of alleged opioid over-prescription by its doctors.)
• This was not the first such incident. Some 13,000 veterans learned of their possible hepatitis or HIV exposure due to "improper hygiene" at five VA hospitals in Florida, Georgia, Missouri, Ohio, and Tennessee between 2009 and 2011, according to the AP.
• An Oklahoma VA facility made headlines after essentially boiling a patient alive. World War II veteran Jay Minter, 85, died in May 2012 after receiving first- and second-degree burns in an overheated whirlpool.
• Owen Reese Peterson suffered a case of sepsis. Before long, maggots were found in his wound. And then he perished. Did this pestilence happen in an Army tent near Normandy Beach in 1944? No. This 73-year-old Vietnam vet died October 3, 2016 at Oklahoma's Talihina Veterans Center.
 "During the 21 days I was there," Peterson's son later told the Tulsa World, "I pled with the medical staff, the senior medical staff, to increase his meds so his bandages could be changed. I was met with a stonewall for much of that time."
Rather than condemn veterans to this hopeless system, I believe the VA simply should voucherize itself. That way, vets would be able to go to VA hospitals or private medical institutions as they wish. Their VA vouchers would cover their care, much as Pell Grants finance public and private college tuition. Most likely, those who need non-veteran-specific care (e.g. prostate screenings, Lipitor prescriptions, or knee replacements) would visit nearby private hospitals. The VA then could focus on its specialty: treating PTSD and other war injuries.
So long as vets get their well-deserved medical attention, who cares if the Mayo Clinic, rather than Uncle Sam, cures them?
#related#Trump, Hegseth, and the Right should confound the status quo Left by declaring themselves pro-choice on this matter: They boldly should promote "veterans choice" much as they do school choice. They should tell Democrats that they support a veteran's right to choose where she gets her medical care. If Nancy Pelosi and Chuck Schumer agree, hooray! If not, let them face the American people.
The VA gives vets hepatitis and AIDS, lets insects gnaw at their flesh, and outright kills them as they wait, and wait, and wait for care. This emergency requires an invasion. Major Pete Hegseth has the record, the brains, and the guts to lead the charge.
Editor's Note: This piece has been amended since its initial publication.
—​ Deroy Murdock is a Manhattan-based Fox News contributor and a contributing editor with National Review Online.