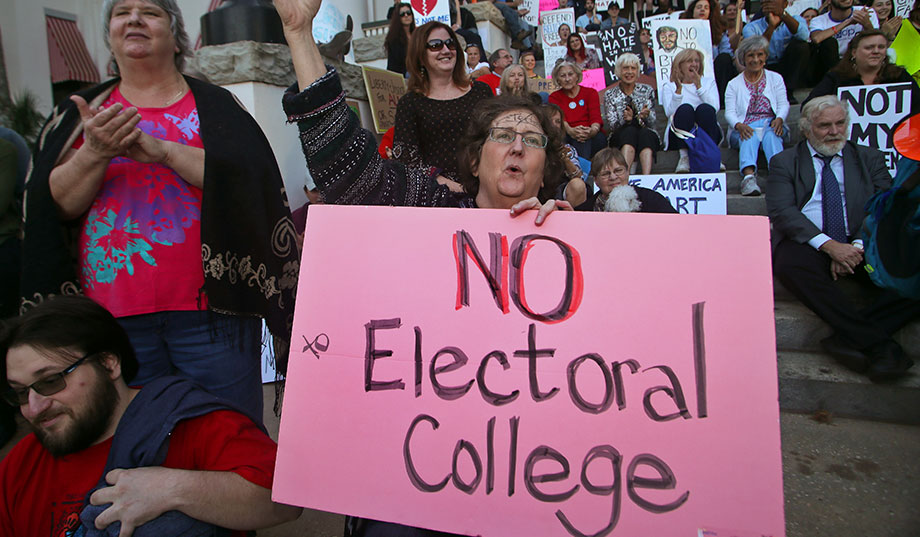 I would have respected the outcome of the election, regardless of who won.
It was supposed to have ended on November 8, 2016, when millions of Americans voted. When America woke up on November 9, 2016, they were greeted with the news that Donald J. Trump would be the next president of the United States. While millions breathed a sigh of relief that the election ordeal was finally over, thousands of others geared up for the next battle — the Electoral College.
Two months earlier, I was asked by the chairman of Florida's Republican party to perform what I thought would be an honorable yet perfunctory task — casting my vote as one of Florida's 29 electors to formally elect the person whom the people would vote for on Election Day.
Five months before I became a Florida elector, I was chosen to be a delegate to the Republican National Convention in Cleveland, Ohio. After the last primary had ended, it was clear that Donald Trump would be the Republican party's nominee for president. But that didn't stop the anti-Trump forces from marshalling an e-mail- and letter-writing campaign that inundated all of us delegates with missives from all over the country urging us not to vote for Trump. I felt like Glen Campbell's Rhinestone Cowboy, "Getting cards and letters from people I don't even know." By party rule, I was bound to Donald Trump for three ballots, but that inconvenient detail seemed lost on those hell-bent on denying Trump the nomination. Their battle cry was to save the Republican party from destroying itself by nominating Trump because he was sure to lose in November, and along with him, hundreds of down-ballot Republican candidates, sealing the doom of the Republican party for a generation.
My wife was unnerved, my kids ran for cover, and my friends questioned my sanity when I stood strong for Trump.
When Trump emerged from the convention as the party's nominee (though not without a fight), we knew the general election would be a knockdown, drag-out affair, and we were energized to gear up again. But we never envisioned that there would be yet another struggle even after the people would speak on Election Day.
As November 8 drew to a close and November 9 dawned, I watched Trump give his acceptance speech, saw that Republicans would keep the House and Senate, finished my third cigar and went to bed. I had no inkling that yet another battle loomed, this time over the Electoral College.
It didn't take long for the pro-Clinton forces to regroup, in spite of Trump's decisive Electoral College victory. I again became Campbell's Rhinestone Cowboy, but this time on steroids. Thousands of letters and postcards (my spam filter stopped most of the e-mails) arrived daily. Though I couldn't be persuaded to change my pledge, the barrage of missives was exhausting.
I never knew there were so many Americans who were experts on the Federalist Papers and how I must vote my conscience to stop Donald Trump. The same people that condemned the Electoral College because it meant Clinton had lost despite winning the plurality of the vote now extolled the virtues of the Electoral College because it allowed me not to vote for Trump. People wrote to urge me to vote in accordance with the "will of the people" instead.
News flash: That is exactly what I did when I cast my vote for the next president of the United States, Donald Trump. Trump beat Clinton in Florida by more votes than Obama beat Romney in 2012. So by casting my vote for Donald Trump as president, I was voting to follow the will of the people, according to the system laid out in our Constitution. My pledge was to vote for the winner, no matter who he or she turned out to be, and I considered it a sacred duty to my country.
#related#On December 19, I arrived at the capitol building in Tallahassee to cast my Electoral College vote and was greeted by hundreds of protesters. While I certainly respected their right to peaceably assemble, I knew that for myself and the 28 others who would gather with me that day, there was no chance any of us would do anything other than affirm who the people had voted to elect on November 8. Perhaps now that we have cast our ballots, the country can at last accept that Trump has won and give him a chance to make good on his promises.