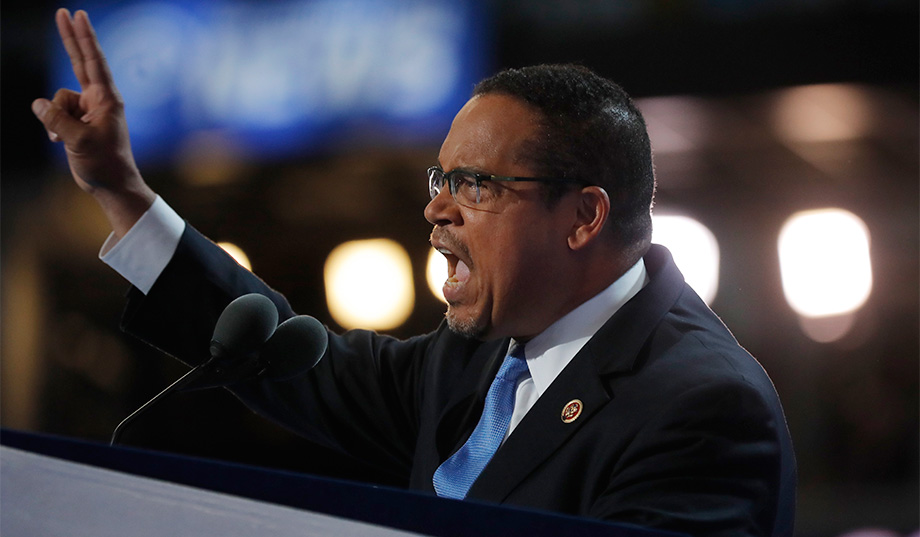 And the more serious question of the Muslim Brotherhood
Keith Ellison (or Keith E. Hakim, or Keith X. Ellison, or Keith Muhammad, etc.) is campaigning for office. Not for the safe House seat he holds, but for the leadership of the Democratic party, a job until recently held by the hilariously incompetent and boundlessly vapid Debbie Wasserman Schultz (who was forced to resign — "resign" here meaning "transfer formally to the Clinton campaign" — when she was exposed conniving to stack the presidential primary elections against Senator Bernie Sanders (S., Portlandia)), who was temporarily replaced by Donna Brazile, who was exposed leaking debate questions to the Clinton campaign, a violation of trust for which she remains adamantly impenitent.
Republicans should take a minute to simply enjoy all this before getting on to the serious business at hand. If they cannot have Debbie Wasserman Schultz organizing opposition to them, former Farrakhan fanboy Keith Ellison of the Democratic-Farmer-Labor party is a great second choice.
Ellison is the first Muslim elected to the House, and he complains that the recent spate of criticism directed at him is rooted in — ridiculous word — Islamophobia. But there is a bit more to it than that.
Ellison has long been a vocal defender of the so-called Nation of Islam, the bow-tie gang founded by Elijah Muhammad whose relationship to orthodox Islam is approximately that of a UFO cult to the Anglican communion. The NOI and its charismatic leader, the former calypso musician Louis Farrakhan, is an explicitly racist organization, holding as a matter of doctrine that the white race is the result of a doomed mad-science experiment conducted by the biblical Jacob while he was living on the isle of Patmos. Farrakhan is a true religious entrepreneur who has attempted to graft L. Ron Hubbard's fanciful "Dianetics" onto his own cracked version of Islam, but he has mostly relied on a very old and reliable tradition: Jew-hating.
Farrakhan's history of vicious anti-Semitism was already well established when Ellison was helping him organize the Million Man March. The Democratic representative says that he rejects anti-Semitism, but he has a long history of sticking up for Jew-hating weirdos, and not only Farrakhan. When Kwame Ture — you may remember him as Stokely Carmichael — claimed that Jews had collaborated with the Nazis in the Holocaust as a pretext for establishing the state of Israel, Ellison was there to defend him from criticism. When the head of a Minneapolis political group declared that the allegations of anti-Semitism against Farrakhan were made up and insisted that the real problem is racist Jews, Ellison said: "She is correct." He is a defender of the terrorist Sara Jane Olson and the murderer Assata Shakur and the Islamic terrorist Sami al-Arian. He is a longtime admirer of the murderous dictator Fidel Castro.
Ellison has said that he has since "rejected" the Nation of Islam and its anti-Semitism, and that his involvement with Farrakhan was simply an exercise in community organizing, i.e. the usual liberals-in-a-hurry bull. Ellison is invoking the unwritten Robert Byrd Rule: Democrats get a pass on associating with crackpot racist cults if they vote the right way on the minimum wage.
If he has outgrown Farrakhan, then hurray for him. More joy in Heaven and all that. Ellison's real problem may not be his association with Louis Farrakhan's unorthodox Islam but with the Muslim Brotherhood's very orthodox version.
The Muslim Brotherhood, founded in 1928 by the Egyptian scholar Hassan al-Banna, is a Sunni-supremacist organization operating under the motto: "Allah is our objective; the Qur'an is the Constitution; the Prophet is our leader; jihad is our way; death for the sake of Allah is our wish." It is linked at various levels of intimacy to Hamas — which is an immediate offshoot of the Muslim Brotherhood — along with sundry Sunni extremist groups, one or two degrees of separation removed from al-Shabaab, al-Qaeda, and the like. But its reach is sprawling, and it also is closely linked with such purportedly respectable Islamic organizations as the Council on American-Islamic Relations (CAIR), which our Andrew C. McCarthy rightly describes as "a Muslim Brotherhood creation conceived to be a Western-media-savvy shill for Islamic supremacism in general and Hamas in particular."
The question is not whether a U.S. political party should be led by a Muslim man, but by this Muslim man.
Ellison has spoken at the convention of the Islamic Society of North America, which is part of the CAIR-Hamas network, at least according to the Fifth Circuit Court of Appeals, which found that "the government has produced ample evidence to establish the associations of CAIR, ISNA, NAIT, with the Islamic Association for Palestine, and with Hamas" during the Holy Land Foundation case. These links have been discussed in these pages at great length by McCarthy and by our colleague Daniel Pipes, among others. Ellison went on a pilgrimage to Mecca sponsored by the Muslim American Society, which is simply the Muslim Brotherhood under another name. In Mecca, he met with Sheikh Abdallah Bin Bayyah, an officer of a Muslim Brotherhood group that issued a fatwa against U.S. troops in Iraq and supports Palestinian terrorists in Israel. He met with terror-linked Saudi financiers and other unsavory characters, too.
The question is not whether a U.S. political party should be led by a Muslim man, but by this Muslim man. We are not talking about Namık Kemal or Robert Crane.
Keith Ellison is one representative. In the short term, the focus will be on the man — but in the long term, it will be on the movement.
Specifically, Congress has considered, and may revive, legislation supported by Senator Ted Cruz (R., Texas) that would designate the Muslim Brotherhood a terrorist organization, as the Egyptians and the Saudi-led Gulf Cooperation Council insist it is. The case is not too terribly difficult to make, and the main defense of the Muslim Brotherhood offered by critics such as Marc Lynch is that the organization is not what it used to be, that it is no longer the same group that founded Hamas and cultivated generations of Islamic radicals but is instead broken, scattered, and less significant. Perhaps it is so, but if it is so, this is precisely the sort of organization that you want to kick while it is down.
#related#The real problem is that the Muslim Brotherhood's fingers are in practically every Islamic pie in the United States and much of the rest of the world, and turning over that rock almost certainly will expose any number of queasy reminders that the distance between the Islamic mainstream and Islamic extremism is not so great as we sometimes imagine. A great many media-friendly Muslims and so-called moderates will be put in a very difficult position — and we should welcome that. We have for too long made it too easy for the so-called respectable Islamist organizations in the West to play both sides of the fence.
Republicans should designate the Muslim Brotherhood a terrorist organization, based simply on the weight of the evidence. But if they're feeling a little bit mean — and why not? — they should wait until the Democrats have put Keith Ellison in charge of their party to do it.