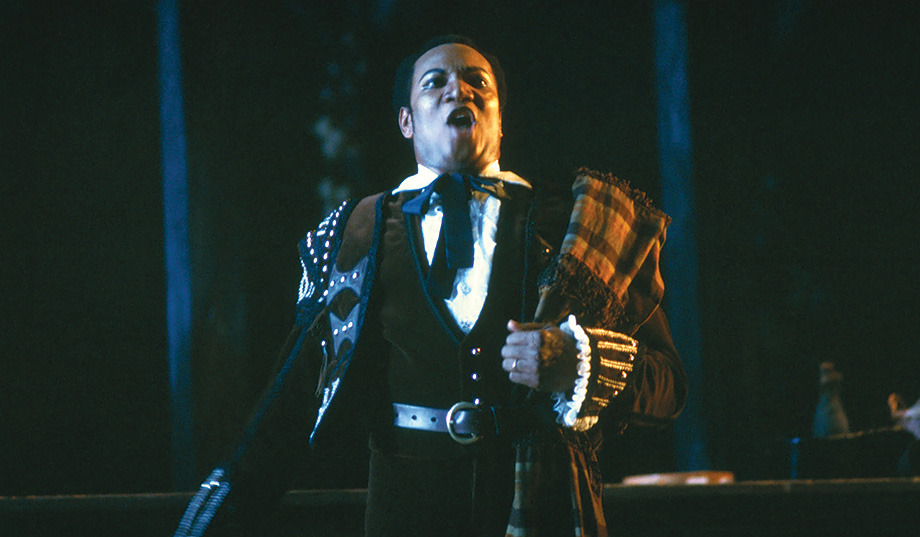 A mortal threat to art
Editor's Note: In a recent issue of National Review, we published a piece by Jay Nordlinger about art and identity politics. (About music and such politics in particular.) Today, Mr. Nordlinger writes a version of this piece in his Impromptus.
The University of Bristol, in England, has a musical-theater society. Students in the society voted to put on Aida — not the opera by Verdi but a musical by Elton John and Tim Rice, which is based on the opera. More specifically, it is based on a children's book, telling the story of Aida. That book was written by Leontyne Price, the great American soprano, who is one of the outstanding Aidas of all time.
Aida is about an Ethiopian princess — the title character — who is a slave in Egypt. She is in love with an Egyptian officer, who loves her back. Much trouble ensues.
Bristol's Aida never got off the ground, because of student protests. The protesters figured that white students would be cast in the musical. And that would be an injustice to Egyptians and Ethiopians. It would be "whitewashing." So, the musical-theater society canceled the show. "We would not want to cause offense in any way," they said.
‐One of the protesting students said, "Whitewashing still exists. It's been done enough in Hollywood. Look at Liz Taylor in Cleopatra."
Cleopatra, as you recall, was a Greek princess in Alexandria. Quite possibly, she looked rather like Elizabeth Taylor — not that it matters much when you are talking about art.
‐By the way, if you're spoiling for a fight, tell an Egyptian that he is not white. Go ahead. I'll stand here and watch.
In 1983, there was an American mini-series about Anwar Sadat, the late president of Egypt. Sadat's mother was part Sudanese (a very touchy issue in Egypt). In the mini-series, he was played by Lou Gossett Jr., the black American actor. Egyptian authorities banned the mini-series. For good measure, they banned all products coming from its distributor, Columbia Pictures.
That's commitment …
‐There are not many black characters in opera. Aida is one of the few. Leontyne Price used to joke that, when they hired her for the role, opera companies could save on makeup. She also said, "My skin is my costume." (Price is black, I might have noted.)
Did Price ever portray any other black characters? I can't think of any, except for Bess (from Porgy and Bess). But she was many, many characters onstage (and still more in recordings).
She was Tosca — a Roman singer. She was Tatiana, the Russian girl in Eugene Onegin. She was Cio-Cio-San, a.k.a. Madama Butterfly.
Ah, about Butterfly: She is a 15-year-old Japanese girl. But Puccini requires a powerful soprano for her music. Therefore, Cio-Cio-San is often portrayed by a battle-axe. (A non-Japanese battle-axe.) An audience member simply suspends disbelief, as he does in most operas.
A different Italian composer, Rossini, said that three things were required in a singer: voice, voice, and voice.
‐I'm reminded: Price was a Cleopatra. A very famous one. She was Cleopatra in two different operas: by Handel and Barber. In fact, the Barber role was written for her. (I mean, literally written for her, not figuratively.)
Would the Bristol students have denied her that role? Those roles?
‐Let's discuss another Puccini role, another Puccini heroine: Mimì, in La bohème. She is dying from consumption. Her sometime lover, Rodolfo, tends to her. In an interview a couple of years ago, Ann Murray, the Irish mezzo-soprano, told me about a particular production of La bohème: The Mimì was quite stout, and the Rodolfo carried her to bed. When he got her there, the audience applauded.
‐One more Puccini heroine: Turandot (in the opera of the same name). She is a Chinese princess, and an icy beauty. Like Butterfly, she has to be sung by a powerful soprano — a rugged one. This is a famous "voice-wrecker" of a role. Chinese princesses need not apply, believe me. Birgit Nilsson may apply. Chinese princesses, no.
There is another character, another soprano role, in Turandot: Liù. The first Liù I ever saw was Leona Mitchell, a black American.
‐Simon Estes is a black American bass-baritone, and he sang Amonasro, Aida's father, alongside Leontyne Price. But most of the time he was someone else — such as Wagner's Dutchman (of The Flying Dutchman). He also took part in L'Africaine, the Meyerbeer opera. But he was not an africain. He was Don Pédro, a Portuguese villain. So what? Voce, voce, voce, said Rossini.
‐George Shirley is a black American tenor. In his career, he was Rodolfo. Would the Bristol kids have been flummoxed? Indignant? Denyce Graves is one of the leading Carmens of our time. She is not a Gypsy girl from Spain. She is a black mezzo-soprano from Washington, D.C.
Famously, Shirley Verrett sang two roles in the same Troyens: Cassandra and Dido. She was neither Trojan nor Carthaginian — she was a black American from L.A.
So?
‐The other week, I covered a William Tell at the Metropolitan Opera. (The overture is familiar.) The hero's son, Jemmy, was portrayed by Janai Brugger, a black soprano from Chicago.
Hang on: A Swiss boy is a black girl? (Jemmy is a trouser role.) That's opera, baby. If you don't like it, don't go.
‐Sophie, in Der Rosenkavalier, is not a trouser role; she is a lissome young woman from Vienna. The libretto emphasizes how white she is: a tasty shade of pale. In Salzburg two summers ago, Sophie was portrayed by Golda Schultz, a soprano from South Africa. She is "black," as Americans would say. (I'm not sure what South Africans would say, with their several gradations.)
The libretto did not rule casting.
Baron Ochs in that same production was portrayed by Günther Groissböck, an Austrian bass. Groissböck is as fit as a fiddle. Ochs is not. I mean, he's not supposed to be. The libretto describes him as fat, a really "gross thickness."
That was overlooked.
I doubt you would want a fit Falstaff. That character must be Falstaffian. So, stuff a pillow under the guy's shirt.
Do you need Rigoletto to be a hunchback? In some productions, he is not. He is upright. And yet, his deformity plays a role in the story: It is a motivator, a source of grievance. Rigoletto is an outsider for a reason: his deformity.
Are we sure that this should not be at least hinted at?
I have a related question for you: Should Otello — Verdi's Othello — be dark-skinned? Last year, the Met announced that no longer would an Otello on its stage wear dark makeup. This was too much like the despised blackface.
Fair enough. (No joke intended.) But the Moor's skin color plays a part in the story. So you see how these questions can get a bit tricky.
#share#
‐Now comes a walk down Memory Lane: When I was a boy, I was taken to see Purlie, a musical set in the Jim Crow South. The cast was all-black — and that included the white oppressors. Which confused me. But over the years, you get used to "non-traditional casting," though sometimes a production may go out of its way to break traditions, and defy sense.
‐A great controversy occurred in 1990. The musical Miss Saigon was set to travel from London to Broadway. (This musical is based on Madama Butterfly.) Jonathan Pryce was cast in the role of a Eurasian pimp. The actors' union in America said, "No way." Pryce was Welsh, and that was intolerable, because the character had to be played by an Asian — never mind that the character was a Eurasian: half French and half Vietnamese.
Besides which, doesn't acting include acting?
One of the union's points was that there were relatively few opportunities for Asian actors, making it imperative that Asian roles — even half-Asian ones — be doled out to this segment.
That is a point, in my opinion, but not a winning one.
Miss Saigon's producer, Cameron Mackintosh, took an amazing stand: He refused to take the show to New York without Pryce. The union relented. And Pryce went on to win a Tony.
‐More recently, there have been cries in America against "cultural appropriation." What does that mean? For an answer, I turn, as usual, to Wikipedia: "the adoption or use of elements of one culture by members of another culture."
Formerly, that was thought of as good: open-minded, world-embracing, liberal.
Last summer, Justin Timberlake, the pop star, was watching the BET Awards. ("BET" stands for "Black Entertainment Television.") He liked a speech that was given, and said so in a tweet. Someone responded, "Does this mean you're going to stop appropriating our music and culture?" Timberlake wrote back, "Oh, you sweet soul. The more you realize that we are the same, the more we can have a conversation." Thus did the pop star stand for something like a common American culture.
But then he was criticized. So, in the way of these things, he apologized.
‐As far as I'm concerned, American music belongs to you, me, and everyone else who likes it, wherever he lives. Do you know ragtime, and Scott Joplin in particular? You can thank two Jewish Americans, frankly.
In the early 1970s, Joshua Rifkin recorded Joplin rags for the Nonesuch label. Suddenly, Joplin, who died in 1917, was rediscovered. Then Marvin Hamlisch put his music at the center of a movie, The Sting. That cemented Americans' love of Scott Joplin and ragtime.
‐André Watts, the American pianist, is the son of a Hungarian woman and a black American GI. What would the University of Bristol think? Should he play some combination of Liszt and Joplin, and steer clear of other music?
‐Black opera singers popularized spirituals — slave songs — all over the world. Some white singers won't sing them in public, out of racial deference, or perhaps fear of being called an appropriator. But other singers won't be denied. Marilyn Horne is one of them. Before her, there was George London.
London was a bass-baritone who was born George Burstein to Russian Jews in Montreal. In 1963, in Munich, he recorded an album of spirituals. He knew that spirituals belonged to him, as they touch every human heart, or at least every heart that is touchable. He would no more have denied himself these songs than he would have denied himself Schubert Lieder or Fauré chansons.
Couple of years ago, Jamie Barton gave a recital in Carnegie Hall. She is a mezzo from Rome — Georgia, not Italy — and she is white. She is also irrepressible. When it came time for encores, she busted out with "Ride On, King Jesus." Did I grin widely.
‐In the 1990s, I wrote a longish piece on a development I thought pernicious: American orchestras were fashioning subscription series they called "Classically Black." Let me explain. If a black pianist were playing the Grieg Concerto, for instance, that concert would get put into Classically Black. If the orchestra were performing Beethoven's Ninth Symphony, and a member of the vocal quartet for the last movement happened to be black, that concert would qualify as Classically Black.
Get it? Can you stand it?
People are taught to worship race and ethnicity like gods. Ah, speaking of them …
‐There are plenty of gods in opera. Handel's Semele, for example, includes Jupiter, Apollo, and Juno. Should mortals be allowed to play them? Good luck finding gods at the University of Bristol, or anywhere else.
‐The devil gets plenty of play in opera too. He's all over the place. In fact, Samuel Ramey, the bass from Kansas, recorded an album called "A Date with the Devil." From what I can tell, Ramey is a nice guy. Should non-devils be allowed to play the devil?
‐Ladies and gentlemen, this will be the death of art. Art is in conflict with identity politics. You can have one or the other. You cannot have both. Art is universal; identity politics is particular. Art is generous, inclusive — come one, come all; identity politics is exclusive, often meanly so.
‐In America, we slice things very fine. Recently, a movie was made about a transgender person. The actor in the role of that person was not transgender. He was gay, but that did him no good. There was a backlash.
This kind of thing will kill art.
‐Several weeks ago, a friend sent me an article from the website of Opera Philadelphia. Its headline was "Turandot: Time to call it quits on Orientalist opera?" The writer's answer was yes. Turandot and similar works were guilty of "outdated gender roles," "problematic racial stereotypes," and all the rest of it.
The article sent a shiver down my spine. It was — I'm going to reach for this overused and abused word — Orwellian. The cops are on the beat, and they are getting stronger. You can hear the tramp of their boots outside the door. I'll say again: Certain people will kill art, and civilization along with it, if we let them.
‐Let's end on an American opera — the American opera, Porgy and Bess. The Gershwin estate has a peculiar stipulation: In English-speaking countries, the opera must be performed by all-black casts. George Gershwin and his partners had their reasons, and they are honorable ones.
They did not want blackface. They wanted authenticity. And they wanted to give opportunities to black singers and actors.
Nevertheless …
About 15 years ago, Simon Estes — the grandson of a onetime slave — said, "Music knows no color. This may sound extreme, but I think it's almost unconstitutional for Porgy and Bess to be performed only by black artists."
There is an American. And an artist. And a man.