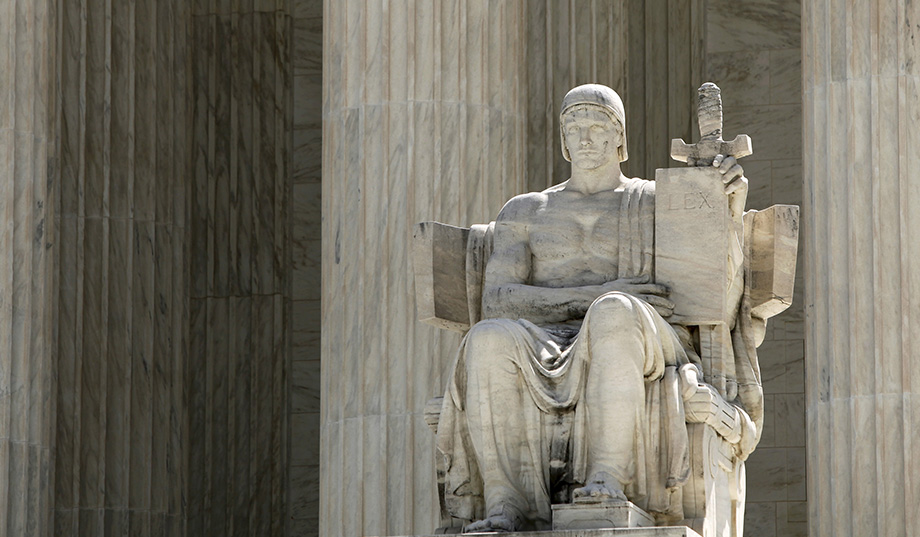 Justice Thomas R. Lee of Utah has been a steadfast practitioner of Scalia's approach.
The Supreme Court vacancy left by the late Justice Scalia may have guaranteed Donald Trump's victory. Exit polls show that among the 21 percent of voters who deemed the Supreme Court as the most important factor in their decision, Trump soundly defeated Secretary Clinton by 17 points. Now Trump can reward those voters with a successor worthy of Justice Scalia. And Trump has an opportunity to both mend rifts within his party — a critical necessity for accomplishing his presidential goals – and achieve a historic "first" with his selection. One name on Trump's short list accomplishes all three: Utah Supreme Court justice Thomas R. Lee.
A recent study sought to measure how much Mr. Trump's potential nominees were like Justice Scalia. It found two things. First, Justice Lee was clearly the potential nominee most likely to promote or practice originalism in his opinions. And when the study created an overall measure of "Scalia-ness" (called the Scalia Score Index), Justice Lee scored the highest overall — and it wasn't even close. Additionally, recent commentary by Northwestern law professor John McGinnis argued that "Scalia's successor must be capable of pressing the intellectual case for following the Constitution as written." While not endorsing anyone, Professor McGinnis singled out Justice Lee by observing that "for deepening the practice of originalism, it is hard to beat Thomas Lee." Because of Justice Lee's pioneering work in applying linguistic tools and databases to make interpreting the law more rigorous and transparent, McGinnis contended that putting Justice Lee on the U.S. Supreme Court would potentially improve constitutional law by "creat[ing] a transmission belt from the best work of originalists in the academy to the Supreme Court."
In his years on the Utah Supreme Court, Justice Lee has stated that judges must "implement the principles of the constitution as originally adopted because that is the very point of having a written constitution." He has also held that "it should go without saying that our construction of a provision of the constitution must rest on the original meaning of the constitutional text." Originalism, he writes, "is a theory that is essential to any system of government that finds its legitimacy in the will of the people as expressed in positive laws."
In Scalia- and Thomas-like fashion, Justice Lee has insisted that "achieving outcomes that satisfy our policy preferences is not our function." Rather, judges "are tasked . . . with deciding the cases that come before us in accordance with the rule of law — whether or not it yields an outcome we favor on policy grounds." He has opined that "as judges we take an oath to uphold and defend the constitution," which calls for interpreting the law based on "what it originally meant" when enacted, not on a judge's "instincts or beliefs."
In one important respect — his approach to judicial precedent — Justice Lee is more like Justice Thomas than like Justice Scalia. Justice Thomas (for whom Justice Lee clerked) adheres to the view that the Constitution as written trumps judicial opinions that clearly break with the Constitution. Justice Lee has repeatedly advocated for overruling precedent that is "contrary to the original meaning of the Utah constitution."
These views are not mere talking points, but positions affirmatively staked out in Justice Lee's judicial opinions. What you see is what you'll get with Justice Lee – an originalist judge who will uphold the Constitution as written. He can be trusted to walk the Scalia walk because he already has, as a judge on the highest court in his state. In short, his opinions confirm that Justice Lee has a well-developed theory of judging — patterned after Justice Scalia's – that ensures he will be a voice for the rule of law.
The 51-year-old Justice Lee has a résumé very much like Justice Scalia's. Both served in the Department of Justice; both worked as attorneys in private practice outside of Washington, D.C.; both spent time as full-time law professors; both argued a case before the U.S. Supreme Court; and both were the faculty advisor to their law school's Federalist Society chapter while professors.
Nominating Justice Lee will also help unite Republicans following an acrimonious election.
Nominating Justice Lee will also help unite Republicans following an acrimonious election. In his acceptance speech, Mr. Trump reached out to groups — including many conservatives — who did not support his candidacy, seeking their "help" to "unify our great country." Nominating the brother of a prominent conservative leader who did not support Mr. Trump (Senator Mike Lee of Utah) would go a long way toward fulfilling the magnanimous spirit Mr. Trump displayed on election night.
#related#Finally, nominating Justice Lee would make history. Just as Scalia made history as the first Italian-American justice, Lee would be the first Mormon ever appointed to the High Court. In one of his most famous and final dissents, Justice Scalia lambasted the Court as a "patrician, highly unrepresentative panel of nine" that lacked geographic, religious, and educational diversity. Appointing to the Court the first Mormon and "a genuine Westerner" (in the words of Scalia) who did not attend law school at Harvard or Yale — as did all of the current justices — would be a fitting tribute to the late justice.
Seldom can a president accomplish the trifecta of resoundingly fulfilling a campaign promise, mending political wounds, and making history. But nominating Justice Lee to the U.S. Supreme Court would achieve all three — a rare combination of boldness, magnanimity, and history.
— Hannah C. Smith twice clerked at the U.S. Supreme Court for Justices Thomas and Alito. She is a senior counsel at the Becket Fund for Religious Liberty. The views expressed here are her own.