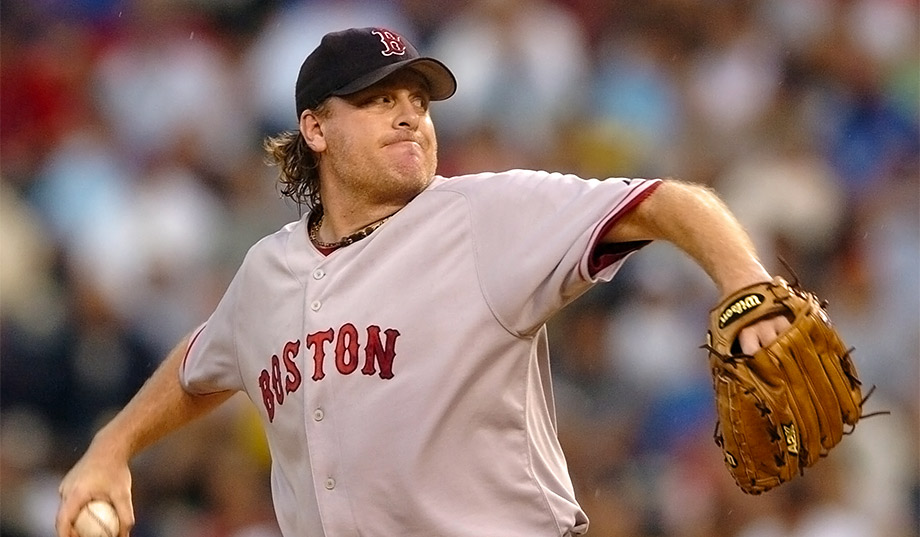 He's no stranger to controversy or, more important, to excellence on the pitcher's mound.
Curt Schilling should have a plaque in the Baseball Hall of Fame. In a 20-year big-league career, Schilling won 216 games, struck out 3,116 (while walking barely over 700), was named to six All-Star teams (five times in the National League, once in the American League), led the NL in complete games four times, and was arguably the best pitcher in post-season history. In 19 post-season starts, Schilling compiled an 11–2 record with an ERA of 2.23 en route to four World Series, three World Series championships, and one bloody sock.
Yet when the Baseball Writers Association of America (BBWAA) unveiled the results of the 2017 Hall of Fame balloting on January 17, Schilling was selected on only 45 percent of the ballots. (Each voter may select a maximum of ten players.) That was well short of the 75 percent required for induction. What was eye-popping was that his share of the vote in 2016 was 52.3 percent. Of course, this isn't the first time Schilling's vote total has dropped. In 2014, his second year of eligibility, his vote declined from 38.8 to 29.2 percent. That was not attributable to politics. Rather, the juggernaut of Greg Maddux, Tom Glavine, and Frank Thomas, on the ballot for the first time, depressed the vote of other players. Jeff Bagwell and Tim Raines, who will be inducted in July, along with Ivan Rodriguez, saw their vote drop 5.3 and 6.1 percentage points, respectively. Four other players saw their vote drop off in double-digit percentage points (Lee Smith, 17.9 percent; Alan Trammell, 12.8 percent; Larry Walker, 11.4 percent; and Edgar Martinez, 10.7 percent). The same cannot be said for 2017. The only other player whose vote total declined this year was Billy Wagner, at a statistically insignificant 0.3 percentage points.
It is worth noting that while Schilling's vote fell 7.3 percent this year, Roger Clemens and Barry Bonds, whose storied careers were tainted by legal problems that arose from alleged PED use, gained 8.9 percent and 9.5 percent and increased their totals to 54.1 percent and 53.8 percent, respectively. It is also worth noting that Schilling, Clemens, and Bonds have five years left on the Hall of Fame ballot. When they reached the ballot in 2013, who would have thought that Clemens and Bonds would have a greater chance of enshrinement than Schilling?
Schilling's credentials haven't changed, and neither has his outspoken nature. He is no stranger to controversy, especially when it comes to his Twitter account, which has raised the ire of the mainstream media, including his former employer ESPN. In August 2015, Schilling was suspended for tweeting a meme likening Muslim extremists to Nazis. Yet two months later ESPN looked the other way when Tony Kornheiser compared Tea Party activists to ISIS on the air during his ESPN radio show. In April 2016, Schilling finally lost his gig at ESPN after tweeting an image of a man in a dress demanding to use the women's bathroom. As I write this, Kornheiser is still in good standing with ESPN.
But Schilling's support for Trump could very well be the coup de grâce. Schilling has five more years on the ballot, but Trump will be back on the ballot in four. Will Schilling's support for Trump keep him out of Cooperstown? Like the rest of the mainstream media, sportswriters are overwhelmingly liberal. While MLB players are generally more conservative than their NFL and NBA counterparts, few are as politically vocal as Schilling. When he tweeted an image of a T-shirt with the inscription, "Rope. Tree. Journalist. Some Assembly Required," and commented, "Ok, so much awesomeness here," Boston Globe sportswriter Dan Shaughnessy invoked "the character clause," announced in his column that he would not vote for Schilling on his Hall of Fame ballot, and went so far as to call him "an actual menace to society."
A menace? Schilling's tweet was a tasteless joke. Given President Trump's indifference to Vladimir Putin killing journalists, perhaps it's not such a laughing matter. But does Shaughnessy actually think Schilling is a menace? Please spare me. After all, it was only a few days ago that CNN gave a great deal of thought to speculating about what might happen if Trump just happened to be assassinated at the inauguration — a report that was, at best, wishful thinking. For his part, Schilling has remarked, "If I had said, 'Lynch Trump.' I'd be getting in with about 90 percent of the vote." That might be an exaggeration. Schilling might not have made the cut this year, but had he been anti-Trump and not contributing to Breitbart, surely his vote would have increased.
While MLB players are generally more conservative than their NFL and NBA counterparts, few are as politically vocal as Schilling.
Let me put it another way. Schilling has been making noise about challenging Elizabeth Warren in the 2018 U.S. Senate race. As a Massachusetts resident, I find the prospect of a viable Republican alternative to Warren tempting. But Schilling's alignment with Trump and his association with Breitbart leaves me cold. Chances are I would vote for neither Schilling nor Warren, just as I voted for neither Trump nor Hillary Clinton last November.
With that said, what do Schilling's tweets have to do with his three World Series rings? What does his support of Trump have to with his 3,000-plus strikeouts? What is the relevance of Schilling's political views to his having good enough "character" to be in the Hall of Fame?
Curt Schilling probably won't get my vote if he runs in next year's Senate race, but he absolutely gets my vote for Cooperstown.