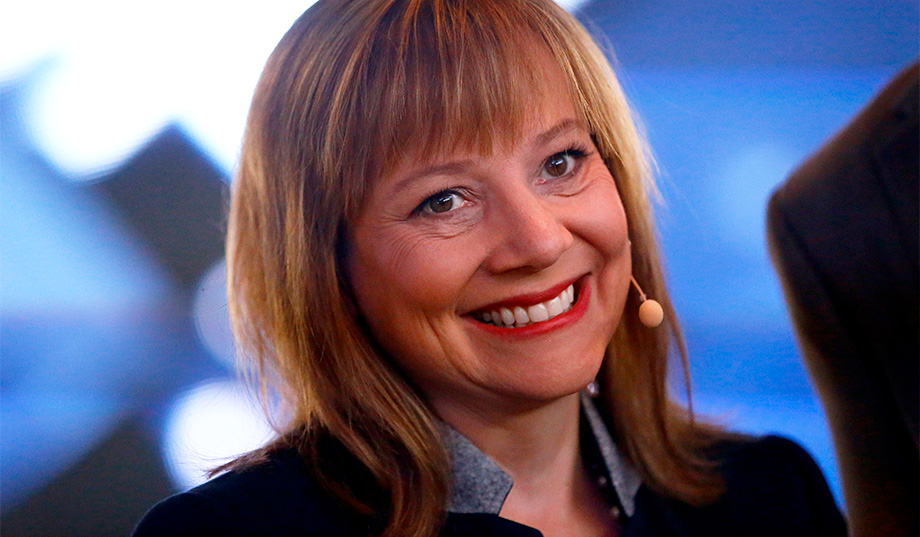 Once mocked by conservatives and plagued by GM's scandals, Obama's favorite CEO now has Trump's ear on economic policy.
This month, Mary Barra begins her fourth year as CEO of General Motors, and next month she'll attend the first meeting of President-elect Donald Trump's economic-advisory panel, the "Strategic and Policy Forum," as a member.
It's an unexpected turn of events for a woman who presided over the recall of millions of cars, was questioned about knowledge of fatal defects in those cars, was mocked as a liar on Saturday Night Live, referred to the $10.5 billion taxpayer loss on the government's bailout of GM as "the loan, or whatever it was called," and was once President Obama's favorite car-company executive.
GM and Barra received a lot of love from Barack Obama's White House. First lady Michelle Obama invited Barra to the 2014 State of the Union address, where she sat near the first lady; the president cited Barra in that speech as an American success story: "Our success should depend not on accident of birth, but the strength of our work ethic and the scope of our dreams. That's what drew our forebears here. It's how the daughter of a factory worker is CEO of America's largest automaker."
The timing couldn't have been worse. Within a few months, the public would learn of one of the biggest scandals in automotive history: a defective ignition switch had made many Chevrolet Cobalts and Pontiac G5s too dangerous to drive. One hundred and twenty four people died and 275 others were seriously injured by the defect, which GM had taken nearly ten years to address. Automakers confront design flaws and defects with some regularity, but this was not a regular problem: By the end of 2014, GM had recalled 30 million cars.
In mid-July, the New York Times reported that GM had repeatedly obscured the cause of crashes from investigators. Barra's third appearance before Congress brought accusations of cover-ups and a "culture of lawyering up and whack-a-mole to minimize liabilities in individual lawsuits," as Senator Claire McCaskill put it. The families of those killed ultimately got at least $1 million each from the company, which also paid a $900 million criminal fine for hiding the problem from safety regulators. Fifteen GM employees were dismissed for "misconduct or failure to respond properly" to reports of defective parts.
After the fines were paid and the victims' families compensated, Barra gradually stopped being seen as the face of GM's obfuscation and was once again lauded in the press. In 2014, she was placed on the cover of Time, which labeled her "The Mechanic," and Forbes wrote a largely positive cover profile of its own. By February 2016, her public rehabilitation was complete, as Wired put her on the cover, fawning over her "Steve Jobs vibe." Later that year, GM announced a plan to introduce self-driving cars for use by the Lyft ride-sharing service within a couple of years. By the end of 2016, the Detroit News was raving that Barra had "shown poise during daunting times at the company. Resilience and determination. Honesty and leadership."
Not everyone is ready to see Barra embraced again quite yet, however.
Laura Christian lost her 16-year-old daughter Amber Rose when Amber's Chevrolet Cobalt crashed and the air bag failed to deploy on July 29, 2005. Since then, Christian has become an auto-safety advocate and organized a group for the families of victims GM's defective cars.
#related#"Less than two years ago, Ms. Barra admitted to a deadly safety defect . . . exposing a secret GM held within its walls for almost a decade, and now she sits poised to advise our next president," Christian tells National Review. "Unless we put lives before profit, unless corporations like GM are held responsible, it is inevitable that we shall see many more tragedies."
It seems doubtful that Christian's message will be heard. The Right's complaints about "Government Motors" are largely forgotten now, and Barra's appointment to Trump's economic-advisory team has generated barely a murmur. It's a remarkable turnaround for someone whose tenure as CEO began with the most public of scandals. But GM's victims remember.