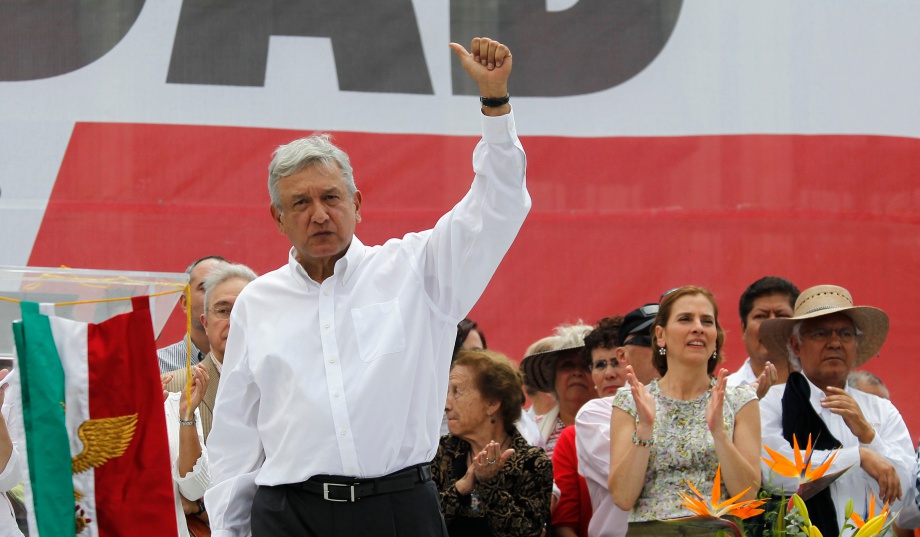 A Hugo Chávez wannabe is running for president and riding an anti-Trump wave south of the border.
After months of controversy, senior administration officials will finally sit down this week with their Mexican counterparts to begin discussing President Trump's campaign pledges to renegotiate the North American Free Trade Agreement (NAFTA), impose tariffs on Mexican imports to discourage relocation of U.S. factory jobs, and force Mexico to pay for a wall along the nearly 2,000-mile-long U.S.–Mexico border. To say the stakes are high would be an understatement.
Yet the real challenge for Trump's negotiating team may be not so much to accomplish those objectives as to keep the U.S.–Mexico relationship from flying off the rails and crashing in a heap of acrimony and recrimination. As it now stands, the Trump administration risks provoking a Mexican populist backlash that could result in an anti-American government led by a Hugo Chávez wannabe taking power in 2018, an outcome that could adversely affect U.S. prosperity and security for years to come.
Unsurprisingly, the manner in which candidate Trump has discussed Mexico has had its costs. There has been widespread angst and anger among the Mexican people, who resented being used as a whipping boy in the U.S. presidential campaign and feel betrayed after overcoming decades of skepticism toward the U.S. and working to entwine our economies and deepen cooperation on a range of issues, including security and counter-narcotics operations.
This uncertainty about the future of U.S.–Mexico relations also could not come at a worse time for the Mexican economy. The drop in international oil prices is sending the economy into a tailspin. According to a report this month by the Office of the Director of National Intelligence,
President [Enrique] Peña Nieto has enacted wide-ranging reforms in key industries — such as oil, communications, and finance — as well as education in an effort to enhance Mexico's competitiveness, but growth has not increased significantly so far, and public support has soured amid corruption allegations, persistent violence, a weakening peso, and domestic crises such as the disappearance of 43 students at a demonstration in 2014.
As a result of the drop in oil prices and production, Mexico has lost about 5 percent of its GDP. Public debt as a percentage of GDP continues to rise, while foreign investment has been effectively frozen amid the uncertainty. The value of the peso is now at its lowest levels in decades and continues to be hammered by speculators after every Trump tweet mentioning the country. Earlier this month, riots and looting erupted after Peña Nieto's broke his pledge not to cut subsidies for gasoline and prices at the pump rose as much as 20 percent in some places.
Buffeted by the poor economy, corruption scandals, and persistent violence, Peña Nieto has suffered at the polls. His approval rating has fallen to 12 percent this month, down from 24 percent in January, and is now one of the lowest for a Mexican president ever. Moreover, an overwhelming 80 percent expect an economic crisis and declining investment over the course of Trump's presidency.
López Obrador's strident rhetoric, appeals to nationalism, and rejection of politics as usual in Mexico may represent just the kind of leadership that Mexicans want to confront the Trump phenomenon.
Economic trouble in our southern neighbor should be on the radar screen of any U.S. president, but what makes the current situation that much more dangerous is that the person who stands to gain most from the turmoil is Mexican opposition politician André Manuel López Obrador, a left-wing populist rabble-rouser in the mold of the late Venezuelan president Hugo Chávez. López Obrador is running for the Mexican presidency (for the third time) in 2018.
In the past, AMLO, as he is known, has tested the patience of Mexicans with his demagoguery and penchant for mobilizing people in the streets, disrupting daily life. However, his strident rhetoric, appeals to nationalism, and rejection of politics as usual in Mexico may represent just the kind of leadership that Mexicans want to confront the Trump phenomenon.
Over the course of the past year, AMLO's approval numbers have been steadily improving. A recent poll showed 27 percent of Mexicans supporting his National Regeneration Movement, against the rightist National Action party, with 24 percent, and Peña Nieto's PRI (Institutional Revolutionary party), with 17 percent.
Last week, AMLO announced a tour of major U.S. cities in February. "Enough of being passive," he said. "We should put a national emergency plan in place to face the damage and reverse the protectionist policies of Donald Trump."
An unfriendly government on our southern border could significantly complicate issues important to the U.S., on everything from border security, counterterrorism, and drug-war cooperation to deportations and restricting Central American migration — the main source of illegal border crossings — bound for the U.S. Continuing economic hardship, the likely result of AMLO's state-centric approach, would also likely revive outward-migration pressures from Mexico to the United States, which have abated in recent years.
Reviewing NAFTA, developing an immigration policy that truly serves the national interest, and improving border security in the age of terror are certainly legitimate objectives. And President Trump is right to set them as priorities. But respectful, firm engagement — not confrontation — with our southern neighbors will be the surest way for President Trump to achieve those objectives.
— José Cárdenas served in senior foreign-policy positions at the State Department, the National Security Council, and the U.S. Agency for International Development during the George W. Bush administration, focusing on Latin America and the Caribbean.