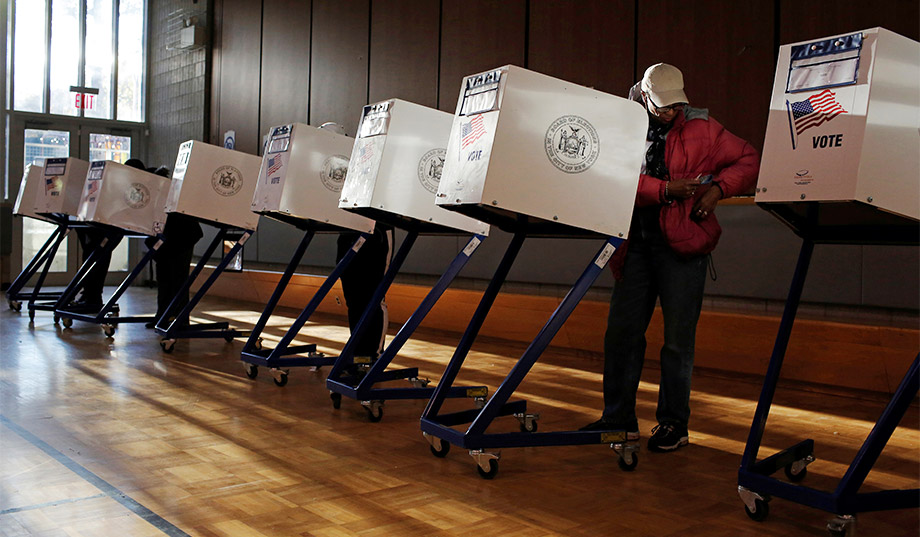 By selectively enforcing the law, Obama's DOJ hurt efforts to stamp out voter fraud.
This Friday, the U.S. Justice Department, due to the prior actions of the Obama administration, will be conspicuously absent from a federal courtroom in Virginia as a lawsuit kicks off that could prove critical to protecting the integrity of American elections.
The lawsuit before the court revolves around the public's right, under federal law, to examine election records. In this case, the specific records sought to identify thousands of aliens who were illegally registered to vote in Virginia. Many of these non-citizens actually cast ballots in prior elections.
During the Obama era, the Justice Department regularly went to court to back left-wing groups, such as Project Vote, which sought access to voter-registration records under the same federal law at issue in the Virginia case. But on Friday, the Justice Department will be nowhere in sight.
Section 8 of the National Voter Registration Act of 1993 (NVRA), 52 U.S.C. § 20507(i), gives the public — and the Justice Department — an unhindered right to inspect election records. Under Section 8, the Public Interest Legal Foundation (PILF), a nonprofit law firm dedicated to election integrity, has been gathering records on aliens who registered and voted illegally in Virginia. Prior to the November election, it uncovered more than 1,000 illegal aliens registered to vote in just eight counties, and those were just the cases it caught by accident; its review was not comprehensive, because some counties refused to comply with the law and provide the records requested. PILF consequently took one of the recalcitrant jurisdictions, the City of Manassas, to federal court.
This time, the Obama Justice Department filed no briefs supporting transparency. It was left up to J. Christian Adams, PILF's general counsel, to oppose the city's effort to dismiss the suit and hide its records. (It's worth noting that there is no indication Manassas forwarded these records to state or federal law enforcement for investigation and prosecution, despite the fact that registration or voting by a noncitizen is a felony under both state and federal law.)
This is the next battlefield for election integrity. Local officials are working to decide how or if to clean up their voter rolls, along with whether the public has a right to check their work. Counties across the country are resisting transparency. This has to stop.
Selective and unequal enforcement of federal laws is an abomination. It must not stand.
Section 8 of the NVRA gives any citizen the right to physically inspect voter-registration records maintained by voter registrars. If a records request is unreasonably denied, the DOJ and the denied citizen alike can take the matter to federal court. Moreover, that's exactly what the Justice Department should do: It is charged with enforcing all federal laws, regardless of any political considerations. But the Obama administration broke with that grand tradition for eight years to tilt at voter-ID windmills and render aid to their ideological allies' pet legal theories, while good-government groups were left to pick up the pieces.
Two lawsuits, both filed in Virginia, show how Obama's highly politicized Justice Department resulted in wildly disparate treatment of the same federal law that allows you to call your local voter registrar and ask to take a peek at their books. They demonstrate that despite candidate Obama's promises to lead a transparent and accountable government, his administration showed an unwillingness to live up to those assurances.
A Tale of Two Virginia Cases
In 2009, Project Vote, a spin-off of ACORN (the Association of Community Organizations for Reform Now), wanted to investigate whether the Norfolk General Registrar had improperly rejected voter-registration applications originating from a local, historically black university. When the group's request to review the rejected voter-registration forms was denied, it filed suit under Section 8. A federal district-court judge ruled in favor of Project Vote, concluding that one could not begin to ascertain whether a voter record was properly handled without seeing the document that initiated the paper trail in question.
When the Commonwealth of Virginia and the city of Norfolk appealed this decision to the Fourth Circuit Court, the relatively new Obama DOJ filed a brief in favor of Project Vote's inspection request. To no one's surprise, because the law is so clear, the Fourth Circuit upheld the district-court opinion in 2012, affirming the correctness of the lower court's conclusion that Section 8 requires the public disclosure of "all records concerning the implementation of programs and activities conducted for the purpose of ensuring the accuracy and currency of official lists of eligible voters."
Fast forward to 2016. PILF filed a flurry of NVRA inspection requests throughout Virginia. It sought documents revealing how many voter registrations jurisdictions had canceled due to evidence that the voters in question were not U.S. citizens. Some locales quickly complied, providing detailed rosters of "declared non-citizens" who had previously registered to vote. Others, including the City of Manassas, adopted a different tack, which prompted PILF to file its lawsuit.
This time, however, Obama's Justice Department decided to stay on the sidelines.
Perhaps the DOJ felt that since the plaintiffs were not acting to assist politically friendly activist groups, their inspection rights were less deserving of federal support. Maybe the decision not to weigh in was based on a political judgment that the PILF lawsuit might uncover hundreds, if not thousands, of aliens who voted in previous elections, thereby undermining the Left's narrative that voter fraud is a myth. In the NVRA lawsuit against Manassas, the DOJ had the opportunity to demonstrate equal enforcement of the law, regardless of who was harmed. But it chose very deliberately not to.
In 2013, the DOJ's Inspector General found that the department had, in deciding whether to investigate voting-law violations, embraced a culture of race-testing. In other words, it would no longer enforce the Voting Rights Act in a race-neutral manner; it would use the law to protect racial minorities only. The report further confirmed that the department had instituted a policy of not enforcing the NVRA requirement that local election jurisdictions maintain clean and accurate voter rolls.
Selective and unequal enforcement of federal laws is an abomination. It must not stand.
The Trump administration inherits a suite of laws designed to protect all voters. It should move quickly to enforce all statutes, including those that Eric Holder and Loretta Lynch did not like and, consequently, refused to enforce. In the meantime, groups such as the Public Interest Legal Foundation will have to hold the line, fighting in federal court to preserve the integrity of the election process.