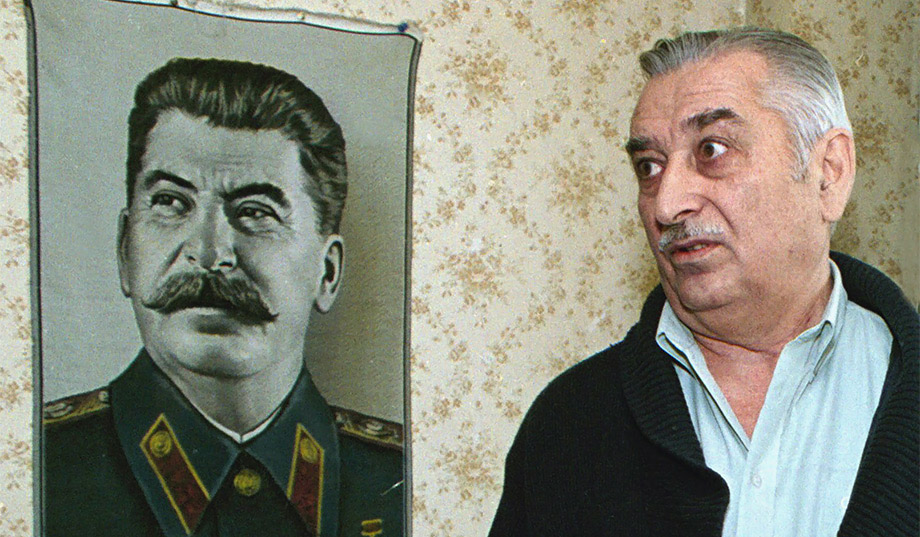 A worshipful grandson
I was reading a transcript of Vladimir Putin's year-end press conference. (What were you doing?) And I learned that Stalin's grandson Yevgeny Dzhugashvili had died.
A reporter said this to Putin: "Yevgeny Dzhugashvili, Stalin's grandson, who was fighting for Stalin's rehabilitation, died yesterday. In an interview, film director Kirill Serebrennikov said that he fears Stalin's rehabilitation. What is your view on this issue? Is it possible for Josef Stalin's descendants to somehow get him rehabilitated?"
Putin ignored the question. But I reflected a little on the late Dzhugashvili.
He was the son of Stalin's first son, and first child, Yakov — Yakov Dzhugashvili. "Dzhugashvili" was of course Stalin's original name. He would not allow his first-born to take his adopted name — that is, his own adopted name: "Stalin." He would not share the glory with this humble, awkward Georgian boy.
The next two children — born in Moscow, to a different mother — would get "Stalin." (I am talking of Vasily and the famous Svetlana.)
I have said "next two children." I should really say "next two official children." There were unofficial ones. Anyway, back to the recently deceased Yevgeny.
Who was his mother? I don't know. I was never able to nail this down. (This was when I was researching my book Children of Monsters: An Inquiry into the Sons and Daughters of Dictators. I discuss some grandchildren in that book too.) Yakov had two wives, and Yevgeny was not the son of either of them.
A Stalin biographer, Miklós Kun, says that Yevgeny's mother was an accountant named Olga Golisheva.
Just now, you may be interested to know, I have perused ten or so obits of Yevgeny. Not a single one mentions a mother, or even says that Yevgeny's maternity is unknown or uncertain. The issue is simply skirted. (Often, that's what you do when you don't know.)
Yakov had a daughter Gulia, by his second wife, Yulia. Gulia would never accept Yevgeny as her brother, or half-brother. Get a load of what Yevgeny told the press: "She [Gulia] suggested we do a DNA analysis. I accepted her offer on the condition that she pay for it. Then she disappeared."
There should be no doubt, by the way, that Yevgeny was Stalin's grandson. It was written on his face.
Stalin treated Yevgeny's father abominably, of course, as he treated most family members, and most people. But Yevgeny — like most of Stalin's descendants, or survivors — worshipped Stalin's memory.
He became a Red Army colonel, Yevgeny did. In 2006, the journalist Steven Knipp visited him at his apartment in Tbilisi. He found "several huge photos of Stalin staring down from the walls."
Yevgeny had a hand in politics. He helped form a coalition, the Stalinist Bloc. And he was litigious — he should have been an American, for all his litigiousness. He sued individuals and institutions for defaming Stalin. In other words, he sued them for telling the truth about Stalin's crimes.
He even sued the Duma, the lower house of the Russian parliament, for acknowledging that Stalin ordered the Katyn massacre (the wholesale execution of Polish officers).
In these suits, Yevgeny was represented by a lawyer named Leonid Zhura. I will give you a taste of Counselor Zhura, through his comments to the press.
Stalin presided over "a heroic epoch. It was the first time in human history that a society was founded on fair principles." Stalin was "a kind, generous, and magnanimous man, a genius. Under Stalin, people were confident of the future. If he killed millions of people, why do so many people still love him?"
Frankly, that's a damn good question. This goes back a bit — almost a decade — but consider 2008. Stalin finished third in a Greatest Russian contest — which is not bad for a Georgian who spoke Russian with a heavy accent.
There was a nationwide poll, in which more than 5 million people participated. In the early stages of the poll, Stalin was in first place. But he wound up losing out by about 5,000 votes — to Alexander Nevsky, the medieval warrior-prince. In second place was Pytor Stolypin, the reformist prime minister who was assassinated in 1911. Pushkin came in fourth behind Stalin.
Critics said that the results were rigged. Rigged, I tell you! They were rigged to keep Stalin out of first place. I'm inclined to believe this.
And I bet Yevgeny Dzhugashvili believed it 100 percent.