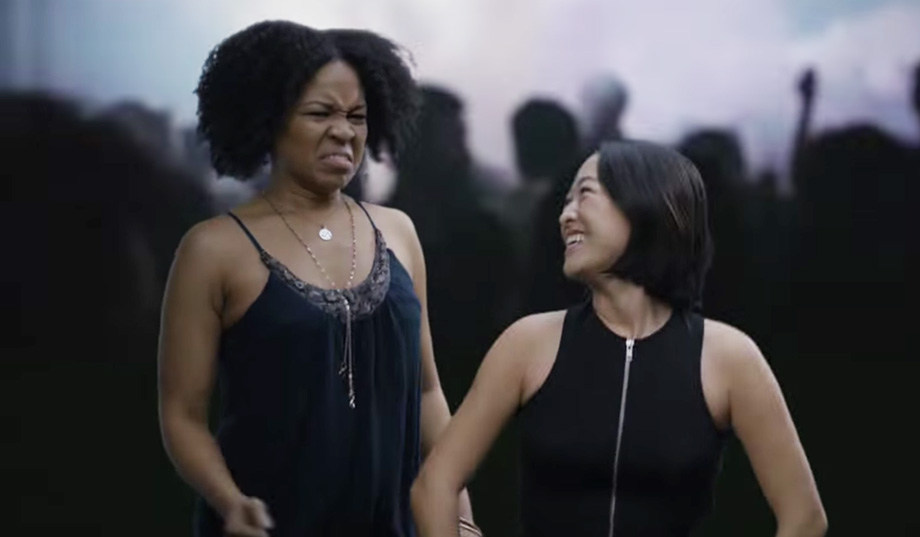 Asian Americans deal with prejudice, but the dogmas of social justice maintain that they are racially privileged.
It happens all too often to Americans of Asian ancestry. They are walking home on a crowded street, and someone bumps into them and shouts, "Go back to China!" When it happened last year to Michael Luo, a New York Times journalist, he started the hashtag #ThisIs2016, and Asian-Americans shared their stories.
It happened to Jeff Sessions's granddaughter at his confirmation hearing on January 10. When MTV News writer Ira Madison III saw an Asian-American girl, the child of John Walk and Ruth Sessions Walk, sitting in her grandfather's lap, his first thought was to write, "Sessions, sir, kindly return this Asian baby to the Toys 'R' Us you stole her from." This is 2017, and yet MTV News writers are dehumanizing Asian Americans and playing into common racist tropes.
The same self-proclaimed liberals who tweet #BlackLivesMatter and #ChangeTheName, who work for a social-media network that fills its YouTube page with explainers telling you all you need to know about racism, have revealed a shocking blind spot when it comes to racism against Asian-Americans. Madison finally apologized (after digging himself an even deeper hole), but the failure of social-justice liberals to take seriously racism against people of all races is a much broader phenomenon. As the New York Times' Luo told CNN about his Twitter campaign, "It's resonating because Asian Americans have this feeling that racism against them is not taken as seriously as other groups."
The dominant narrative promoted by SJWs almost always divides everyone into two camps — black and white — and makes no allowance for individualism, to say nothing of ignoring the fastest growing race in the nation: Asians. In MTV News' video, "5 Things You Should Know About Racism," for example, there is no reference to any specific examples of racism against Asian Americans.
In another MTV video, "If You Farted Every Time You Were Racist," the Asian-American character is the subject of racism by a white character, but she was also shown dishing out racism to a black character. The black character, of course, wasn't racist to any other character, because, according to MTV News, she can't be. As Franchesca Ramsey, host of MTV News' Decoded, said in another video, racism is defined in entirely leftist terms. For example, sounding like a college freshman who has recently been indoctrinated by her lefty Sociology 101 reading, she claims, "Reverse racism is not a thing." And yet, as we've seen, it is indeed a thing.
Asian Americans don't fit in neatly to the hierarchy of racial oppression created by the Left. "They're basically white," one woman who tweeted on #ThisIs2016 recalled hearing. White women who wanted to march on Washington, D.C., during inauguration weekend in January were told they can't claim to be scared, because they haven't suffered like black women. Democratic candidates for president are shouted down at Netroots Nation if they voice solidarity with "all lives."
Asian Americans don't fit in neatly to the hierarchy of racial oppression created by the Left.
Activists of the Left tell others they must embrace "intersectional" concerns, but those concerns always happen to be exclusively left-wing ideals. That's why no one wants to talk about the fact that Asian Americans with similar qualifications have a much harder time getting into college — with an effect that would equal losing 140 points on the SAT and 3.4 on the ACT than students of other races. There's no movement against violence that has a disproportionate effect on destroying Asian American–owned businesses. Asian Americans are shouted down at college safe spaces when they try to discuss their experience of racism directed at them from African Americans. Even the wokest liberal cultural sites employ few Asian Americans.
The problem is social-justice liberals view the world entirely through a prism of identity. To them, no one is an individual, but rather an amalgamation of stereotypes associated with their race, gender, or group. Thus, simply because many Asian Americans have overcome hardship and prejudice and become relatively successful in the United States, liberals think they aren't as entitled to our concern.
MTV's Ramsay says this explicitly in the video, "10 Excuses Used to Deny Racism DEBUNKED!" Accompanying an image of a nameless "Asian Lesbian," a chart shows the woman to have a very high "degree of privilege" based on her race, almost as high as MTV News attributed to whites. The idea that anyone can be successful through hard work, education, and values is alien to the liberal world view, where all success must be attributable to "privilege." Asian Americans destroy the liberal hierarchy of oppression.
— Mitchell Blatt writes for Acculturated, where this piece originally appeared. It is reprinted with permission.