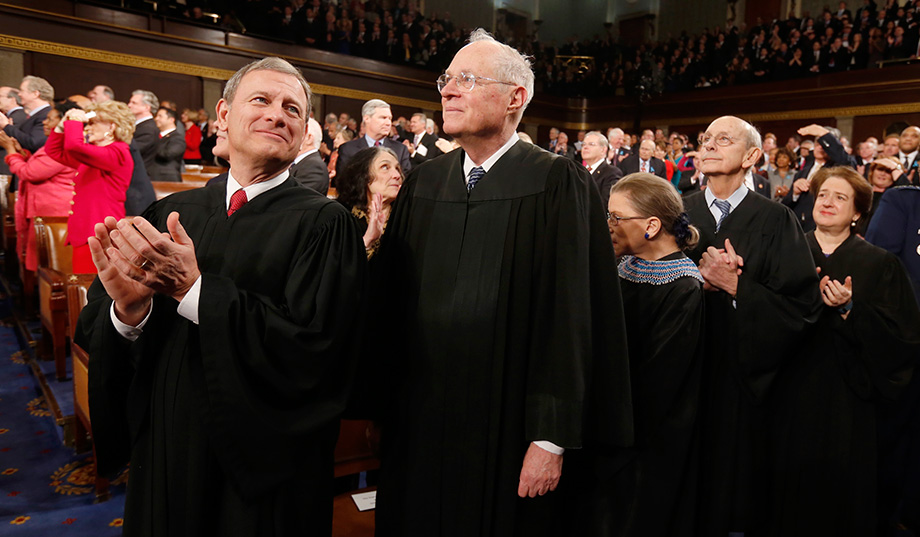 The Trump White House is already preparing for a second vacancy.
Donald Trump is known for his bluster and braggadocio. But he is also capable of canny and clever moves, of the kind that have propelled him forward in both business and politics. His appointment of Neil Gorsuch for the Supreme Court is a good move that could help pay surprising dividends in the form of a second Supreme Court vacancy.
First, the Gorsuch pick shows that Trump keeps his promises to his base. Not only did he pick a respected judge in the mold of the late Antonin Scalia, but he also kept to a list of 21 potential names he issued during his campaign. Conservatives are not only happy; they believe they know the list of judges Trump would pick from for a second vacancy. Despite the ups and downs of Trump's term, look for conservatives to be more loyal to him because of Gorsuch.
Second, if Gorsuch is confirmed, he is almost tailor-made to build bridges between the court's conservative wing and Anthony Kennedy, the moderate-to-conservative justice who is often the swing vote on key issues involving affirmative action, abortion, and the environment. Unlike Scalia, Gorsuch shares Kennedy's never-ruffled temperament and courtly manner. In fact, Gorsuch once clerked for Kennedy on the Supreme Court and would, if confirmed, be the first clerk to ever serve on the court with the justice who hired him. And Gorsuch is the rare clerk who keeps in frequent touch with his mentor. Kennedy admires him greatly, even flying out to Denver in 2006 to swear in Gorsuch as a judge on the Tenth Circuit Court of Appeals.
Liberal media outlets have noted the Gorsuch-Kennedy connection. The New York Times reports that Trump's elevation of Gorsuch to the high court is an attempt "to show Justice Kennedy, 80, that should he step down at some point, Trump would select as his replacement a nominee similar to Judge Gorsuch, and not one so inflammatory or outside the mainstream as to be unacceptable to Justice Kennedy."
Former Supreme Court clerks almost never speak for attribution when it comes to discussion of their former bosses, especially regarding their retirement plans. Nonetheless, a few have provided background information since Gorsuch's name floated to the top of the Trump appointment list. "Those who know Kennedy wouldn't at all be surprised if he retired this June. He is at the apex of a 29-year-career on the Court and has made his mark," one former clerk told me. "In addition, it's no secret that at age 80 he is slowing down a bit and I'd say it's more likely than not he will leave at the end of this year's term in June."
Other clerks agree. "I would put it at 50–50 that he leaves at the end of the term," a former Kennedy clerk told the Washington Post. Senator Orrin Hatch, a former chairman of the Judiciary Committee, agrees that the Gorsuch appointment might convince Kennedy that his successor on the Court will be someone he respects. "He might feel like it's time to retire, too, because he's talked about that a few times," Hatch told the New York Times.
If Justice Kennedy should retire soon or in a year or two, the general consensus among Trump aides is that the seat is likely to go to a woman. "A vacancy created by Kennedy would be fraught with symbolism that the Court could really move in a more conservative direction," one aide told me. "Democrats will be under enormous pressure from their base to fight the Trump nominee to the death. A highly qualified woman with a compelling life story would help." 
If that's so, then it's worth looking at the records of the four women who are among the 20 remaining names on Trump's list of potential Supreme Court nominees. They are:
Allison Eid, 51. Eid is a former clerk to Supreme Court Justice Clarence Thomas and belonged to the conservative Federalist Society during law school. Since she joined the Colorado Supreme Court in 2006, she has written decisions seen as supportive of school vouchers, Second Amendment rights, and private property. Ironically, her stirring dissent in a case involving eminent-domain powers of government puts her on the opposite side of Trump, who has long championed government's right to take private land. Like Gorsuch, she is from Colorado, and Trump might pause before appointing two people from the same state during his first term.
Joan Larsen, 48. A member of Michigan's supreme court, Larsen has a strong résumé that includes service as a deputy assistant attorney general at the U.S. Justice Department and a law clerkship with the late Justice Scalia. She taught law for a decade at the University of Michigan. One part of her record may argue against her appointment: She joined the Michigan supreme court in October 2015 and would have less than two years on the bench should a vacancy on the high court open up this year.
Margaret Ryan, 52. She has been a judge on the U.S. Court of Appeals for the Armed Forces since 2006 and has a background likely to appeal to an out-of-the-box thinker like Trump. Before becoming a judge, she served in the Marine Corps during the Gulf War as a staff officer and as both a company and a platoon commander. A graduate of Notre Dame Law School, Ryan served as a military lawyer for four years and clerked for conservative icon Judge J. Michael Luttig of the Fourth Circuit Court of Appeals. Ryan would find favor with conservatives but could expect flak from liberals, who already carp that Trump appointments too often go to those with a military background.
Diane Sykes, 59. Sykes has experience at three different levels of the judiciary. Elected a Milwaukee municipal-court judge, she served in the criminal division, where she earned a reputation as tough but fair. She then served as a calming force on the Wisconsin supreme court for four years before being appointed to the Seventh Circuit Court of Appeals by George W. Bush. Almost half of the Democrats in the Senate at the time voted for her confirmation. Sykes is a favorite of conservative legal intellectuals for her vigorous opinions. Her major drawback is that, at 59, she is in the upper age range for a president who wants to make a long-term impact on the Supreme Court's jurisprudence. The last five appointees — Stephen Breyer, John Roberts, Samuel Alito, Sonia Sotomayor, and Elena Kagan — were no older than 55 at the time they joined the Court.
One thing is certain. While the Gorsuch nomination will receive blanket coverage for the next few months, the speculation over the next possible appointment will continue to simmer and even build. After all, the Court now has three justices who are 78 years of age or older, and the likelihood of another vacancy opening up under President Trump is high.