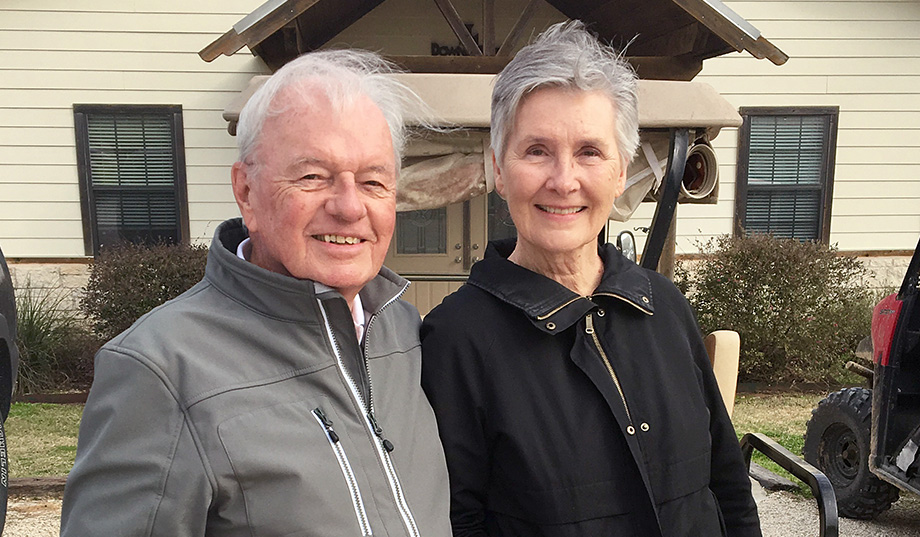 An unusual ranch in Texas
Editor's Note: In the February 20 issue of National Review, we have a piece by Jay Nordlinger on Down Home Ranch in Texas. Today and tomorrow, he expands that piece in his column.
Like everyone else, people with Down syndrome need someplace to be. But their options are sharply limited. Down Home Ranch is an unusual and wonderful place to be.
The ranch is near Elgin, Texas, which is about 25 miles from Austin. "Elgin" is pronounced with a hard "g," by the way — like the marbles in the British Museum, not the watch-making town in Illinois. In Elgin, I see a sign indicating "Cuetopia": barbecue Utopia. Also, Elgin happens to be the Sausage Capital of Texas. The town motto is "Warm hearts and hot guts."
‐At the entrance of Down Home Ranch, there is a marquee, which today announces that tomatoes are for sale. The Texas Lone Star dots either side of the entrance. "They're all over the place," says Jerry Horton. "We're shamelessly patriotic — both Texas-patriotic and U.S.-patriotic."
Jerry and his wife Judy are the founders of Down Home Ranch. They incorporated it in 1989, when their daughter Kelly was five. She was born with Down syndrome. And their question was: What would her life be like, once she became an adult? What would she do, where would she live? Who would her friends be?
As Jerry says, people with Down syndrome can be charming and lovely, but let's not kid ourselves: "Down syndrome is a serious limitation. They can't drive, they can't do many things. Their lives are not like yours and mine. And we wanted Kelly to do many of the things that her siblings or anyone else could do. As many normal activities as possible."
At some point, Kelly announced, "When I grow up, I want to move to New York City and eat spicy food." Her father had no idea where she got this idea. "She had probably seen some chick flick." He said to her, "Honey, if you want to move to New York City and eat spicy food, you chose the right mom and dad, because we will make that happen. I don't know how, but we'll make it happen."
‐Kelly has not moved to New York City. She lives at Down Home Ranch. And there is plenty of spicy food. Her mother describes her as "a real Texas woman."
She, too, is a real Texas woman. She grew up in Abilene (not to be confused with Eisenhower's town in Kansas). Judy Horton is as serene and lovely a woman as you'll ever meet. But she has dealt with some blows in life. When she was eight, her father killed himself.
Jerry Horton is not a native Texan: He grew up in San Jose, Calif. Today, San Jose is the capital of Silicon Valley, but then it was the capital of the Valley of Heart's Delight. Orchards flourished. And so did Jerry. But he had a challenge.
When he was four and a half, he contracted polio. His right leg was useless. He was put in quarantine. Through a window, he looked at his parents. He vividly remembers when a nurse yanked down the curtain. It was cruel.
Jerry's father had a friend in the Shriners. Thanks to this contact, Jerry was admitted to the Shriners Hospital for Crippled Children, which was in San Francisco. After much travail, he could walk again.
When he was 13, and starting his growth spurt, he had to have an operation on his left knee. Some plates needed to be taken out so that Jerry would not be several inches taller on his left side than he was on his right. So he would not be lopsided.
This operation was "very effective," says Jerry.
The men in his family were tall: over 6 feet. Jerry is shorter than that. Several years ago, a doctor said to him, "You need to lose some weight. Get some exercise, eat better." Jerry replied, "You know, Doc, I'm a guy 6 foot 2 trapped in the body of a guy 5 foot 7."
That's an excellent line and, in a sense, true. But the doctor said, "Don't give me any of that BS: Lose some weight."
(For the record, Jerry looks fit today.)
‐We will fast-forward: Jerry did graduate work at the University of Colorado–Boulder, and so did Judy. They met and married. Judy had three daughters from a previous marriage. She and Jerry raised them together. In 1977, the family moved to Austin.
‐Kelly came along in 1984, as you've heard. "She was a delightful baby and child," says Judy, "and we were all batty about her. But she turned our lives upside down." Judy embarked on intense research. She read everything she could about Down syndrome. She had stacks of books on the bed, between her and Jerry.
He remarks wryly, "That was not an optimal arrangement for me."
Not only did Judy read, the Hortons traveled hither and yon, looking at facilities for the disabled. They saw the good, the bad, and the ugly.
Best, from their point of view, were the village communities: places where disabled people lived and worked together, alongside others (the "abled," so to speak). Usually, these places were inspired by families with a personal stake in them.
The Hortons had a personal stake: Kelly. They decided they would create Down Home Ranch. The name is a play on words, of course: The ranch was intended to benefit people with Down syndrome, primarily.
‐Let me recite a mission statement — more like a thumbnail description, I would say: "Down Home Ranch is a working farm and ranch for people with intellectual disabilities (ID) such as Down syndrome, and those who choose to live and work beside them."
I don't think I'm wrong when I note that relatively few are the people — the able-bodied and able-minded people — who choose to live and work among the disabled. They are worth their weight in gold, these people.
‐Jerry tells me about Jean Vanier, the Canadian who founded the L'Arche movement. The story goes something like this (don't hold me to it): Vanier took a couple of disabled men who lived in an institution out to lunch. He was loath to return them. He thought, "Damn it, people like them should live with people like me." He invited those guys to come live with him — and founded his movement.
‐A model community for disabled adults, and those who live and work with them, is Camphill Village, in Copake, N.Y.
‐As a rule, I gather, parents can cope with Down-syndrome children until those kids are 18 or so. But what then? That's when the rubber hits the road. The parents get older and older, and frailer and frailer. Also, people tend to be alacritous in helping needy children — they're cute and all. People might be less alacritous in helping needy adults, who aren't so cute.
One problem for disabled adults is depression (as with other adults, it's true).
‐So, the Hortons decided to create their community, their ranch. Jerry was about 50; Judy was a few years younger. He was working at the University of Texas; she was working at the Texas State Teachers Association. And they ditched it all to start their ranch.
"We sank the ships and burned the bridges," Judy likes to say. "There was no going back."
She further tells me, "We've seen other people try to do things — people who were much better situated than we were — but they couldn't let go. For us, no matter how hard it was, it was easier to keep going than to stop and try to go back. We just plowed ahead."
‐The Hortons had strikes against them — like these three: They didn't know much about ranching; or farming; or raising money. An acquaintance of theirs, hearing about their project, was at a loss for words. Jerry said, "We're crazy as loons." The acquaintance replied, "You said it, I didn't."
‐Judy made Jerry promise he would not go out looking for land right away. There needed to be a little interval. Jerry promised — "but with my fingers crossed behind my back," he says. He found the property near Elgin. It was 215 acres. Later, the ranch would expand to 410.
And the Hortons learned how to raise money. "All they can do is tell you no," says Jerry. "Or hell no."
‐ Friends of theirs were members at St. David's Episcopal, one of the more prosperous churches in Austin. "They gave us their directory," Jerry remembers, "and we did something unconscionable: We put every name and address we could into our little Macintosh and started writing appeal letters."
One lady, a widow, sent $25. She did it every month. Even when she moved to a retirement home, she sent $25 a month. "It was the widow's mite," says Jerry. "And that was how we got started: a nickel here, a dime there."
‐The Hortons moved to the property in September 1991. They lived in a little mobile home under a canopy of Spanish oaks. The land was raw and undeveloped — not exactly a valley of heart's delight. It was a land of cactus and mesquite and fire ants.
‐Just about the first thing you need is a septic system. So church members gave the Hortons $1,775 to build the system. Judy remembers what she used to tell parishioners: "Every time we flush, we think of you." One parishioner said, "If you don't stop saying that …"
‐The Hortons' neighbors, Bob and Molly Barton, brought their backhoe out to the property, and the two couples then dug the lines and the hole for the tank. "Bob broke his leg doing it," says Jerry, "but Molly jumped on the backhoe and finished the job. And she was actually a better operator than Bob."
Down Home Ranch was not built in a day, or a month, or a year. But it got built, step by step. We'll continue with all this tomorrow, and conclude then. Thanks for reading.
A word from the National Review Store: To get Digging In: Further Collected Writings of Jay Nordlinger, go here.