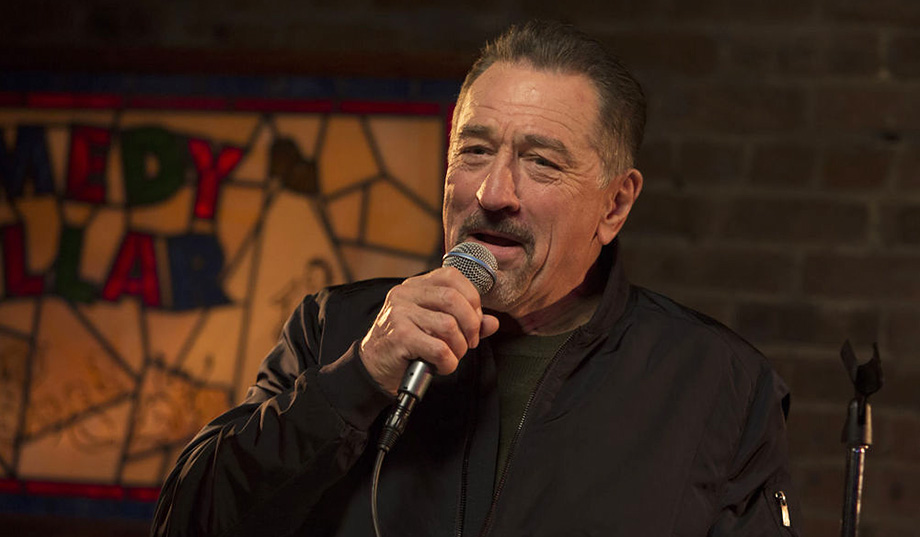 Baldwin and De Niro disgraced in trite political films
Ask me to name my favorite contemporary actor and I'd say Robert De Niro quicker than I could endorse any politician. But De Niro disgraces himself in The Comedian.
In the time between the start of filming and the premiere of The Comedian (February 21, 2016, to November 11, 2016), our U.S. presidential campaign and election were completed. This gave De Niro, producer Art Linson, and screenwriter Jeff Ross enough time to accumulate their political bias and fabricate a particularly vile joke. In the film, which opens nationwide this week, De Niro plays Jackie Burke, a stand-up "shock" comic who attacks a heckler saying: "He looks like Trump f***ed Alfred E. Neuman after snorting thalidomide."
That quip bares the hallmarks of Ross's notorious (and often hilarious) humiliations on the Comedy Central Roasts. It's clever (tying together Trump, Mad magazine, drug culture, and a medical epidemic that still horrifies Baby Boomers), but it's also redolent of the tainted humor that has infected recent "political satire." (John Stewart is no Mort Sahl.) Ross's gag, as delivered by a dyspeptic De Niro, reveals a discomforting animus and disrespect. Such fashionable spite among left-leaning celebrities has soured Millennial showbiz. The brazen inhumanity is more significant than the film itself.
In this current climate, hostility overrules good sense. De Niro recorded a video for the partisan Vote Your Future alliance in which he dropped the presumed wisdom of his 73 years' experience and attacked candidate Trump as "blatantly stupid, a dog, a mutt, a con artist." Fake-news outfit CNN ran with the video (despite Vote Your Future's deeming it over the top), so it exists in cyberspace perpetuity, same as The Comedian will.
De Niro's last good role, as the retiree who returns to the work force in The Intern, was a man who might benefit from Trump's corporate policies. But De Niro, in bad political temper, sounds as dangerously thoughtless and juvenile as Johnny Boy, the white ghetto sociopath he played in Mean Streets. But The Comedian perpetuates such witlessness by sentimentalizing Burke's seething anger and discontent. (These traits once distinguished all of De Niro's extraordinary characterizations along with his heartbreaking, common-man tenderness, cf. The City by the Sea, Stanley and Iris, Mad Dog and Glory, Flawless, Being Flynn.) But The Comedian's offense comes from its incivility. It indulges Jackie Burke's insolence, justifying it in exactly the way that today's journalists and comedians have traded professions — nullifying their integrity.
Unfortunately, I Am Not Your Negro lacks any such comprehensive exploration. Peck uses Baldwin's half-century-old writings as prophecy — similar to the contemporary racial-politics hustle that vitiated Ava DuVernay's The 13th. This reduces Baldwin's in-the-moment reflections and once-daring insights to the petulance of the Black Lives Matter crusade, which overturns the principles and virtues that King, Malcolm, and Medgar represented before their deaths.
Ironically, SamJack had something to do with BLM's ethical subversion, but Peck, caught up in current political confusion and the pampering of black grievance that the Obama era left unresolved, doesn't realize it. SamJack began his acting career as a member of The Negro Ensemble Company, which, from the Sixties to the Nineties, was part of the last flourishing of serious black American theater (along with Woodie King's Federal Theater and the Black Arts Movement). But SamJack abandoned the NEC's ethics and serious ambition when he forged his movie career as a boisterous, scandalous reprobate in countless movies from Pulp Fiction to ChiRaq. He was a one-man movement of black-American-male regression, carrying nothing from the past except desperation and anger — emasculated yet profitable.
Baldwin's eloquent alarm ("My countryman is my enemy") now gets exploited to bolster popular misunderstandings.
Baldwin's image was tonier than SamJack's, as proved by Peck's clips of Baldwin's speeches and TV talk-show appearances. Baldwin's own voice had a fey high pitch, enunciating with affected precision. He spoke fast, sometimes singsongy, like the self-fashioned, exotique sound of kittenish singer and actress Eartha Kitt. Even in sedate mode, SamJack's voice is nothing like that, so he narrates in measured cadence to pay uncharacteristic and unconvincing homage to Baldwin's legacy.
Peck's doc has six chapters ("Paying My Dues," "Heroes," "Witness," "Purity," "Selling the Negro," "I Am Not a Nigger") but jumbles Baldwin's theories on identity, history, politics, and culture. Segments juxtaposing Hollywood clips (including Baldwin's strange, outdated animus toward Sidney Poitier's cultural figure) with civil-rights-era atrocities are nonsensical. Peck learned nothing from the mess of Spike Lee's Bamboozled.
Baldwin's eloquent alarm ("My countryman is my enemy") now gets exploited to bolster popular misunderstandings, despite how black conditions have changed since Baldwin wrote. Narration by former president Obama would probably refract those changes and misunderstandings. And who could better narrate a film that misappropriates Baldwin's life work under the title I Am Not Your Negro?