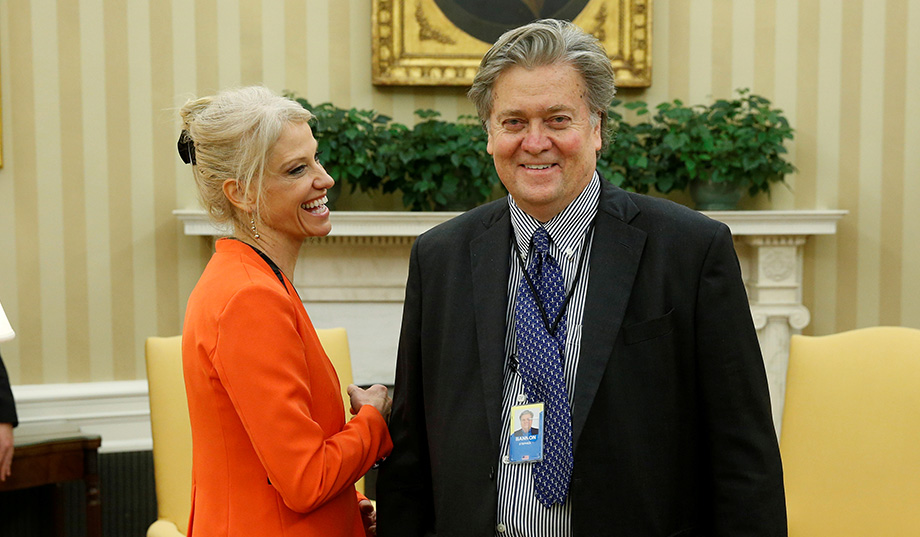 Yes, even in the Trump administration
I used to host a radio show with Steve Bannon. Yes, that Steve Bannon.
It was a Catholic radio show, and we talked about life and faith and how you integrate the two. It was weekly over the course of a number of months in 2012, and I do remember that we had one politically oriented show around Election Day. In that episode, we talked with Steve's friend Pat Caddell (formerly of the Jimmy Carter White House) about Catholics and the political culture of both parties.
"Surreal" would seem the appropriate word as I've watched an array of successive news stories and commentaries about Bannon, who has become the Darth Vader figure of the Donald Trump administration. After asking me "is it true?" about my radio-show past with Bannon, one young editor in the National Review office commented that it seemed as if nothing Bannon could do at this point wouldn't be viewed as sinister. One imagines that what he puts in his coffee would serve as further proof of his supposedly sinister worldview.
The most pernicious aspect of the story line, after months of being accused of all sorts of hate, is the idea the New York Times recently presented that Bannon is coordinating with conservatives in the Vatican to thwart Pope Francis.
To take an honest look at both the American political scene and the Catholic Church is to see decades of disarray: scandal, confusion, something less than courage and clarity. The good works and solid faith and stories of self-sacrificial love tend to get overwhelmingly buried when there are news stories that add to people's discouragement.
When everything seems broken to a whole lot of people, anything but the status quo seems a very attractive alternative. And so Donald Trump is elected. Before that a pope resigned and something new: A South American who leads with gestures comes on the scene. Though not the first pope to hug babies, some of his gifts and style can make the love unmistakable. He repeats himself time and again, talking about mercy and forgiveness. The news stories seem to miss the entreaties to conversion, but if it leads people to take a second look, maybe that's the opening he's praying for. Rather than people believing they are being judged by self-righteous sinners, maybe now they'll see the love and be drawn to it and the fuller vision of truth — even as the message has always been the same.
When I sat down in the radio studio with Bannon, we would talk about some of the hows of living the Catholic faith in the world as it is today. I recall that time as being book-heavy — interviewing authors of books guarantees that you won't run out of things to talk about. Some the titles we covered included My Sisters the Saints and The Temperament God Gave You. We even talked about my recent book, with my co-author Austen Ivereigh, How to Defend the Faith without Raising Your Voice. I consciously wanted to help convey that the Church is every baptized member, and we're called to faithfulness in the world, and not just by going to Mass on Sundays. As commenters have noted, Bannon is concerned about a radical secularism that has become a rival religion.
When I sat down in the radio studio with Bannon, we would talk about some of the hows of living the Catholic faith in the world as it is today.
Before doing the show, we had met a few times over the course of a decade, including around the time he was making a documentary about Sarah Palin. Like Steve now, Palin had become a caricature in the news. He saw a human being and tried to show a more than one-dimensional look at her and the country as it was then. He also was ridiculously loyal to me when I wanted to name our show "Silent Radio," a hat-tip to a Pope Benedict XVI message about the need for silent contemplation and listening in the noise of the world.
Life and the dynamics of American politics and whatever the Trump administration is up to — as a lot of people who never worked in the White House before are getting their sea legs — is more complicated than my memory of pleasant radio-studio hours, I certainly know. But there may also be imperfect people trying to make things work. And disagree with them and protest when appropriate, but also consider saying a prayer for the common good and for the human beings at the center of news stories and in the halls of power.