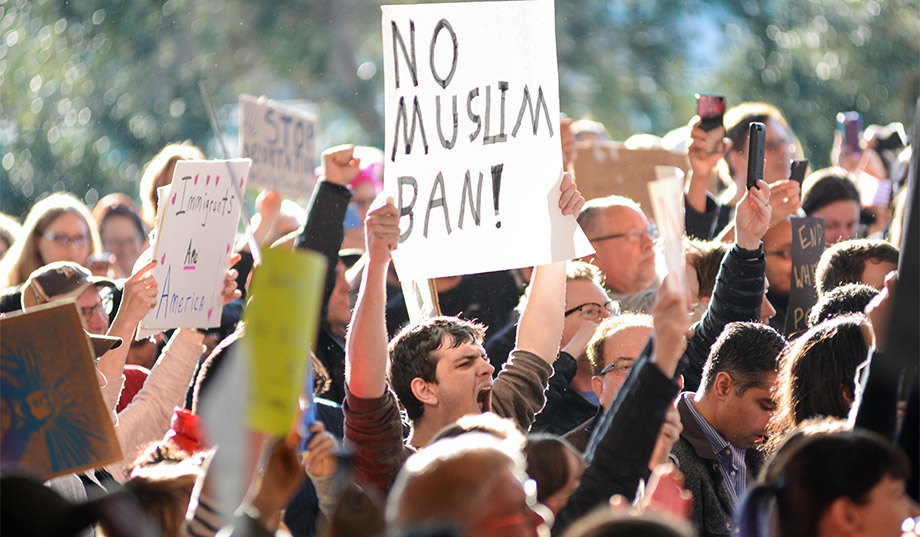 The seven Muslim-majority countries were initially targeted by Obama.
If President Donald J. Trump really wanted a "Muslim ban," as his manic critics insist, he would have barred from the Golden Door the citizens of Indonesia (Earth's most populous Islamic nation), Bangladesh, and Egypt, for starters.
Instead, of 51 Muslim-majority countries and territories, Trump has placed temporary travel limits on just seven: Iran, Iraq, Libya, Somalia, Sudan, Syria, and Yemen. While some 205 million people are affected by this 90-day order, notwithstanding court orders to the contrary, just north of 1 billion people in those 44 other places are as welcome here as ever.
Some "Muslim ban."
Trump's executive order actually grants federal officials a grand total of three months to figure out how to give people from those seven states stricter scrutiny — not because they are Muslims, but because those spots are awash in militant Islam.
"We will again be issuing visas to all countries once we are sure we have reviewed and implemented the most secure policies over the next 90 days," Trump stated January 29. "America is a proud nation of immigrants and we will continue to show compassion to those fleeing oppression, but we will do so while protecting our own citizens and border."
Trump's statutory authority to regulate immigration is incontrovertible, unilateral, and virtually absolute. In this area, the unambiguous power of the president of the United States resides in the Immigration and Nationality Act of 1952, popularly called the McCarren-Walter Act. According to 8 U.S. Code § 1182(f):
Suspension of entry or imposition of restrictions by President

Whenever the President finds that the entry of any aliens or of any class of aliens into the United States would be detrimental to the interests of the United States, he may by proclamation, and for such period as he shall deem necessary, suspend the entry of all aliens or any class of aliens as immigrants or nonimmigrants, or impose on the entry of aliens any restrictions he may deem to be appropriate.
And, by the way, how did Trump select the seven nations included in his executive order? Did Rush Limbaugh whisper them into his ear at an inaugural ball? Did the alt-right transmit them via semaphore?
Nope.
As the far-right CNN reported January 30, "The seven Muslim-majority countries targeted in President Trump's executive order on immigration were initially identified as 'countries of concern' under the Obama administration." Obama, not Trump, reduced access to the visa-waiver program for certain individuals who traveled to any of those seven nations. Obama's Department of Homeland Security, not Trump's, took these steps in 2015 and '16, it announced, because of "the growing threat from foreign terrorist fighters."
And that terrorist threat remains.
RELATED: Nothing to Worry about from Middle-Eastern Refugees? Think Again
Trump wants to shield Americans from the mayhem attempted and perpetrated by denizens of these seven nations.
Seattle-based U.S. District Judge James Robart asked a federal prosecutor last Friday how many citizens of those seven countries were arrested for terrorism in America since September 11. "Let me tell, you, the answer to that is none, as best I can tell," Judge Robart said. As the Associated Press and other news outlets detailed, the federal jurist now at the heart of this controversy is dead wrong on this fact.
‐Abdul Razak Ali Artan left Somalia in 2007 for Pakistan, where he and his family arrived as refugees. They moved to America in 2014. Last November 28, while enrolled in Ohio State University in Columbus, Artan drove his car onto a campus sidewalk, jumped out, and began stabbing fellow students with a knife. He wounded eleven of them before Ohio State police officer Alan Horujko justifiably and fatally shot him. Just before his attack, Artan issued this threat via Facebook: "By Allah, we will not let you sleep unless you give peace to the Muslims."
Omar Faraj Saeed Al Hardan (left) and Aws Mohammed Younis Al-Jayab
‐Omar Faraj Saeed Al Hardan pled guilty October 17 to attempting to provide material support to ISIS. The Iraqi refugee plotted to bomb two Houston shopping centers, including the Galleria Mall. He also learned to work an AK-47.
"I want to blow myself up," the 24-year-old wrote, CBS affiliate KHOU reported. "I want to travel with the Mujahidin. I want to travel to be with those who are against America. I am against America." Al Hardan moved from Iraq to America in 2009.
‐Prosecutors say that Al Hardan conspired with California-based Aws Mohammed Younis Al-Jayab, 23, yet another Iraqi refugee, and that the two men planned to enter Syria and join ISIS. He is charged with lying to federal officials about his terror-related travels.
"America will not isolate me from my Islamic duty," Al-Jayab said. "Only death will do us part."
#share#
‐Jaber Albakr, 22, a Syrian refugee, was arrested in Germany on October 10 on suspicion of plotting to bomb Berlin's airport for ISIS. Peter Frank, Germany's top prosecutor, said Albakr "developed a very high explosive for which special expertise was needed." Frank added: "We have to accept that we have hit squads and sleeper cells in Germany." Bavarian intelligence official Manfred Hauser told the BBC in August, "We have substantial reports that among the refugees there are hit squads."
‐Nabil Fadli registered as a Syrian refugee with Turkish officials on January 5, 2016. They missed the fact that, a few months earlier, Fadli's brother blew himself up while battling the Assad regime at a Syrian airport. Not to be outdone, Fadli traveled to Istanbul's beautiful Blue Mosque that January 12, approached a group of German tourists, and detonated himself. He killed ten and wounded at least eleven. In hindsight, authorities consider him an ISIS suicide bomber. According to the Wall Street Journal, Fadli triggered "concerns that extremists are using the migrant crisis to cross borders and carry out terrorist attacks."
‐Farhad Jabar Khalil Mohammad was born in Iran. By age 15, he had moved to Australia. In October 2015, he approached New South Wales Police staffer Curtis Cheng and shot him dead at police headquarters in Sydney. NSW police commissioner Andrew Scipione said, "We believe his actions were politically motivated and therefore linked to terrorism."
Wa'ad Ramadan Alwan (left) and Mohanad Shareef Hammadi
‐Mohanad Shareef Hammadi and Wa'ad Ramadan Alwan of Iraq entered America in 2009 as refugees. The FBI and DHS later found their fingerprints on IEDs in Iraq. They were arrested in 2011. That December, Alwan pled guilty to attempting to ship explosives from Kentucky to terrorists in Iraq. Hammadi pled guilty to those charges in August 2012.
‐According to Eric Tucker of the Associated Press, sociologist Charles Kurzman of the University of North Carolina at Chapel Hill found that fully 23 percent of American Muslims nabbed in radical-Islamic conspiracies since September 11, 2001, had family ties to the seven nations included in Trump's immigration order.
"We know that at least 40 individuals who were admitted to the United States as refugees have been convicted for, or implicated in, terrorism or terrorism-related offenses — and the total is likely much higher," said attorney general–designate Senator Jeff Sessions (R., Ala.). "Some were admitted as adults, others as children, but these cases refute the false assertion that those admitted to the United States as refugees never engage in terrorism."
Meanwhile, the very same leftists who bark at Trump today would howl from atop the Hollywood sign if immigrants from any of these seven nations entered America and launched a major, deadly terror attack. One almost can hear Ashley Judd, Ashton Kutcher, and Madonna now:
"Trump failed to do his job!"
"Trump didn't protect us!"
"Impeach!"
Trump's margin of error is only a few microns wide. He walks a path as broad as one of the gilded hairs upon his head.
Short of drinking hemlock, there is nothing Trump can do to satisfy his Leftist critics. Since he will get hammered, no matter what, he might as well endure the brickbats as he takes necessary steps to prevent the kind of carnage that refugees already have unleashed after departing the seven terror-tainted nations that he wants under a federal microscope until next April 28.