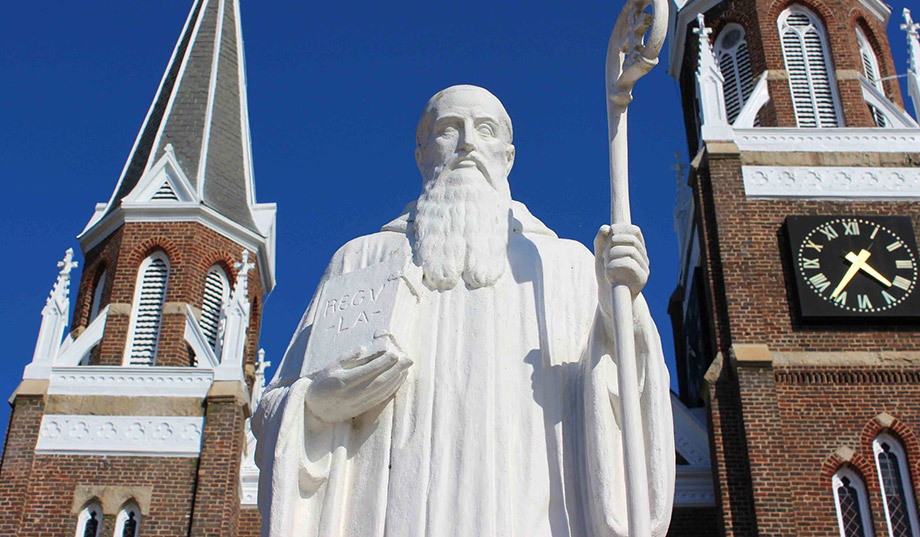 Celebrating faith and freedom, and solidarity with the persecuted.
People are buzzing about things Benedictine lately, particularly with the publication of Rod Dreher's The Benedict Option, which recommends the rule of St. Benedict as a tool for a well-ordered life and, more important, intentional authenticity among Christians in the world today.
On Friday night, the new Benedict Leadership Institute at Belmont Abbey College in Charlotte, N.C., awarded its first Benedict Leadership Award to Carl Anderson, head of the Knights of Columbus, highlighting the work the group does to buttress faith, civil society, and robust religious liberty in the U.S. Conor Gallagher, publisher of TAN Books and Saint Benedict Press, talks about the Institute, the Knights, and religious publishing today.
Kathryn Jean Lopez: What's a book publisher doing running a leadership institute? Does one have to do with the other? What's your mission as book publisher, and is this institute a natural outgrowth of that?
Conor Gallagher: Well, one of the things that happens when you run a family business is that you end up wearing many hats! At Saint Benedict Press, our mission is to help people become saints. Whether it's through our Saint Benedict Press parish programs, TAN books, or one of our many other imprints, we try to lead people into a deeper and more active Catholic faith.
There is certainly an overlap between my work as publisher and the founding of the Benedict Leadership Institute. Our company's name pays homage to the guiding influence of the Rule of Saint Benedict and particularly the motto of the Benedictine tradition — ora et labora ("pray and work").
Our world needs strong Catholic leaders who are willing to pray and work and ultimately transform society as the result of their faith. The mission of the Benedict Leadership Institute is to develop and inspire Catholic leaders.
Lopez: What's so special about Carl Anderson and the Knights of Columbus?
Gallagher: This is the first year we're presenting the Benedict Leadership Award, and we wanted to set the bar really high. We wanted to go for the best, and that's how we came up with Carl Anderson — someone who has had an extraordinary impact on the Church and the wider society, not only here in the U.S. but globally.
Anderson is the epitome of Catholic leadership. While there are many reasons he is worthy of the Benedict Leadership Award, we chose to honor him for his leadership in one area in particular: His resolute defense of persecuted Christians. This is an area of great concern to me and the rest of the Executive Committee of the Benedict Leadership Institute.
Lopez: What do you hope to impart to students and the Belmont Abbey community by honoring him?
Gallagher: The Benedict Leadership Institute exists to connect the students at Belmont Abbey with the best Catholic leaders around the globe. We want to give students the opportunity to meet great Catholic leaders, such as Anderson, so they can learn from their examples. I hope they'll be inspired to go out and become the next generation of leaders the world so desperately needs.
Lopez: Why is focusing attention on Christian persecution and genocide so important? Does it suggest that you might care more about Christians than other people?
Gallagher: Christians in the Middle East, as well as other at-risk minority groups like the Yazidis, need someone to speak out for them — and we should feel that obligation heavily. If we Christians in the West don't advocate for our brothers and sisters in the Middle East, who will?
ISIS has brought suffering to so many. But Christians and Yazidis have been targeted for genocide — and we need to keep this fact firmly in front of world leaders and the United Nations. They are also uniquely at-risk even in refugee camps, and when they stay away from those camps, they lose the opportunity to be vetted and resettled in the West.
Last year, Anderson and the Knights of Columbus succeeded in getting the State Department to end its silence about the ongoing genocide against Christians and other minority groups in Syria and Iraq. Since 2014, the Knights have donated $12 million to help persecuted Christians in the Middle East.
It is my hope that honoring Anderson with the Benedict Leadership Award will bring attention and relief to persecuted Christians and move the public to act more decisively on their behalf.
Lopez: Has Belmont Abbey benefited from the controversies over religious freedom that it has been enmeshed in recently? Perhaps it has prompted review and renewal of questions about the school's mission?
Gallagher: I think Belmont Abbey has benefited, first of all with the blessing promised in the beatitudes: Blessed are they who are persecuted. Following one's conscience is not without its cost. Belmont Abbey has had to fight, and pay, to follow its conscience regarding health-care coverage for contraception, abortion, and abortifacients.
But the blessings are real. We've had tremendous support for our position from faculty, students, and administrators, and tremendous leadership from our president Dr. William Thierfelder. Everyone knows without a doubt what is most important to Belmont Abbey College: following Christ. And that has attracted so many outstanding men and women, students, faculty, benefactors, to join or affiliate with us in some way.
Lopez: Do you have an opinion on the "Benedict Option" that Rod Dreher has publicized? Is TAN's upcoming book on the "Marian Option" intended to compete with Dreher's idea, or is it a complement and maybe even a compliment?
Gallagher: Rod Dreher is dead-on in his call in The Benedict Option for Christians and social conservatives to band together and provide alternative social, cultural, educational, and employment networks and institutions. Large public, corporate, and secular institutions are increasingly imposing upon Christians crises of conscience that may well demand a retreat or withdrawal. Think of the pharmacist compelled by her corporate employer to dispense abortifacients, or the public-school teacher who must assist and affirm his middle-school student in a gender transition, forbidden to bring any concerns to the parents.
Part of my job as publisher of TAN Books and Saint Benedict Press is to provide resources for these alternative networks: Curriculums for homeschoolers, continuing home education for adults who were denied a true liberal education in public schools, video programming (like our new Queen of Heaven series) that is as entertaining as anything seen on secular networks, but is also faithful, informative, inspirational.
At the same time, Christians can't stop trying to influence the larger corporate and secular and public institutions, even when we build up our own. We're called to leaven and transform the wider society. As a Catholic, I believe we have every reason for hope, with the Church's rich patrimony of art and beauty and scholarship, and above all with the power of the sacraments and the intercession of the Blessed Mother.
This is where The Marian Option by Carrie Gress has such a great contribution to make. Carrie documents the fascinating ways that Marian devotion has transformed society in the past and how actual interventions of Mary — as at Lepanto and Guadalupe, and during the Cold War through Fatima — rescued cultures on the brink. The Marian Option offers another way out of a corrupt culture. Not all of us can or should forsake the world for a monastery. But we should all turn to our mother.
Lopez: If there is one message you could transmit beyond your event this weekend, what would it be? One message that you could communicate, perhaps, to people who might never read a book you publish?
Gallagher: One message? That's tough. I think it would be what Carl Anderson told our Belmont Abbey students: "Give God permission." He heard Mother Teresa say this one time, and it stuck with him. He told the students (and it was exactly what I needed to hear) to give God permission to plan your life, to guide you through the journey. He said to "keep the long view" but also to always — always — do the next right thing in front of you. Only God knows if and how the next little step is connected with the long view. We have to let God do His miraculous work in our lives. Anderson never imagined being the Supreme Knight. But somehow, God gets us where He wants us, as long as we give Him permission.
This is a beautiful message for anyone — any customer of TAN or Saint Benedict Press. Give God permission. He will work wonders with you.
— Kathryn Jean Lopez is a senior fellow at the National Review Institute and an editor-at-large of National Review. Sign up for her weekly NRI newsletter here. She's currently working on a book for St. Benedict's Press.