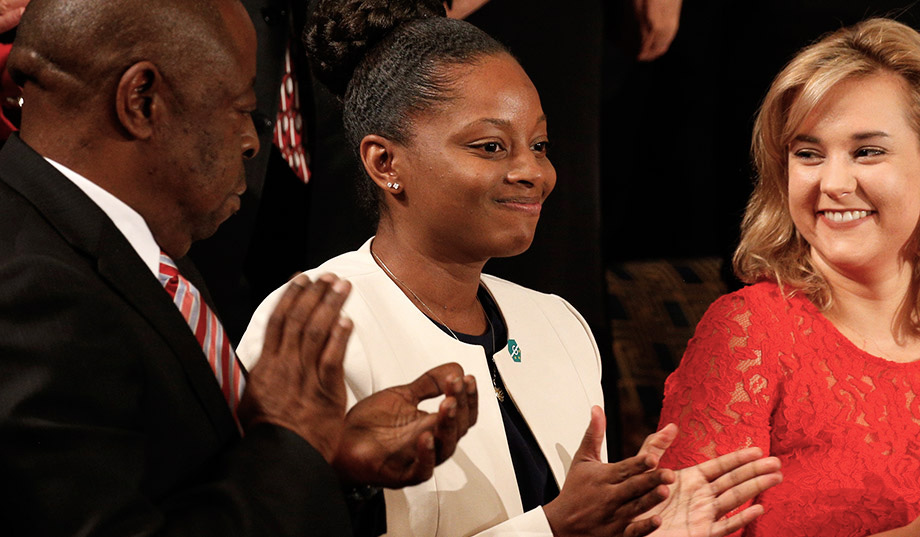 She talks about the real-life consequences of school choice.
'I went to about four or five different schools before sixth grade, but as far as I can remember I never did great in school. Whenever I walked into a classroom, teachers would sigh. I got into fights a lot as a student. I failed out of third grade twice," Denisha Merriweather tells me, explaining her early experience in public school on the east side of Jacksonville, Fla.
But that very same girl received a standing ovation on the floor of the House of Representatives during President Donald Trump's joint address on Tuesday, as the president lauded Denisha for becoming the first in her family to graduate from high school and college. And this spring, she will graduate from the University of South Florida with a master's degree in social work.
Her experience of Florida's education system began with several years of struggling through East Jacksonville's public schools. "My teachers knew the Merriweather name, and they didn't really expect a lot from me because that's who I was," Denisha explains. "My home life was really in shambles, and so I'd lash out. . . . I didn't feel like there was a reason to try."
She has come to believe that the structure of too many public schools makes it exceedingly difficult for children who have grown up in poverty — like all of the students with whom she attended grade school — to escape their situation. "I don't fault the public schools, and I don't fault the teachers there," she notes. "This is the system we've made, where all the kids from one really poor neighborhood go to one school together. And that's a lot of strain on the system, for teachers and administrators to have to figure out how to help all of these different kids, who are dealing with all of this crap at home."
After Denisha received word that she wouldn't be promoted to middle school owing to poor performance, she left her family's home and moved with her godmother into a Habitat for Humanity house. It was then that her godmother obtained assistance, through Florida's Step Up For Students tax-credit scholarship program, to send Denisha to a faith-based private school, Esprit de Corps Center for Learning.
On her first day at Esprit de Corps, Denisha was hugged by all of her teachers. "I kind of expected that on my first day, to be noticed because I'm the new kid, but I didn't expect that treatment the rest of the time I was there," she tells me. "That continued until the day I graduated, and even now."
During her earliest days at her new school, Denisha lagged behind in every subject. "To be honest, I went through a bit of low self-esteem at first, because I wasn't like the other kids. I thought they were smart, and I was dumb," she remarks. "I expected them to laugh at me, to snicker, and I was ready to fight them. But no matter how long it took me to read one paragraph, my teacher was patient. . . . Nobody laughed at me or teased me like they had at my old school."
Once she adapted to her new environment, Denisha started striving for excellence for the first time in her life, and she believes that the school's Christian spirit was essential to her growth in character. "It actually helped me to improve my behavior because now I wasn't going to school just for Denisha, to behave myself just because everyone told me to," she adds. "It was because God was interested in everything I did. . . . He cared about every aspect of my life, and me going to school and getting good grades was a very big part of that."
It wasn't until the seventh grade that Denisha discovered that Florida's tax-credit scholarship had enabled her to attend Esprit de Corps. "My godmother never talked about finances with me. Even now, she always says the money is her business," Denisha explains with a laugh. "And it took me even longer than seventh grade to realize that I got the scholarship because we were poor."
The financial assistance Denisha received didn't end with her scholarship; her school always filled in the gaps when her godmother couldn't. "When I couldn't afford field trips or my gear for basketball, the school comped the costs," she notes. "My school took me home if I wanted to stay late for something. They helped me pay for my college entrance exams and my college-application fees. One of my teachers drove me to St. Augustine so I could buy my first car."
Denisha is open about the fact that, without her scholarship, she wouldn't be where she is today. "My godmother wouldn't have been able to afford the school if it hadn't been for the scholarship I got. That school changed my life," she tells me.
That gratitude fuels her passion for the school-choice movement, but her dedication also stems from witnessing the struggles of her family. "All my younger siblings dropped out of school. Two of my brothers have been in and out of jail, and my youngest sister has failed out three times," she explains, "all because they didn't have the opportunity to get out of that public school."
The conviction in her voice is evident when she says that, without her scholarship, she would've followed in the footsteps of so many low-income students, as her siblings have done. "I think I would probably have dropped out of school, gotten pregnant, followed the narrative of my family," she adds. "That's the culture over there on the east side of Jacksonville. . . . I think I probably would've been on the same path, and it's sad."
Her sadness about her family makes her all the more motivated to lobby for increased education options: "I can advocate for school choice because this is happening in my own family. This isn't a distant issue. This didn't just happen to me, and school choice didn't change just my life. I can see how it's affecting my siblings that they didn't have the same opportunity I had."
It was because of her excellent private education that Denisha was able to attend and graduate from college, as well as continue on to graduate school. "For me, Esprit de Corps was a good fit," she explains. "I think that's the thing. Each school should be tailored for each child. Not every kid will flourish in every type of private school or in every public school."
Her excited tone indicates that Denisha is one of our new education secretary's most enthusiastic fans. "Betsy DeVos has been advocating for school choice since before I was even around," she notes. "You have this billionaire who doesn't have the life experience of poverty — the story of not being able to choose a quality school and having your kid go to a low-performance public school and not having a way out."
From Denisha's perspective, that separation from poverty makes DeVos all the more admirable. "She's totally distant life-experience-wise but so passionate about it, and she has dropped a lot of other things . . . to focus on this issue. Every time I see her, I am in awe. I understand why I do this, because I lived it, but I don't understand why she's doing it. She picked this above all of these other issues, and she didn't have to do that."
After DeVos was confirmed by the Senate last month, protesters at a public school in the Washington, D.C., area physically blocked her from entering the building over her support of school choice. "When I saw the protest video, I almost cried, because she doesn't deserve that," Denisha adds. "She has willingly walked into the fire for people and families like mine who don't have a voice . . . and she's taking all of that burden on herself."
"I took that video so personally because my family didn't have a way out of those schools, and now there are going to be better options," she continues.
Denisha believes that the anti-school-choice movement is fueled primarily by teachers' unions. "I think it's because people are afraid of change. The teachers' unions stake their entire existence on funding the Democratic party, and those politicians use the teachers' unions," she tells me. She has sympathy for people whose livelihoods depend on maintaining the public-school system as it is, especially now that the Trump administration is pushing for reform.
"But we have to bring the issue home," she adds. "This is for parents and their children, and our children need to receive a good education. This same old system is not going to work anymore. . . . We all want America's kids to have a high-quality education, and every kid is different and learns differently," she says. "We need to pay attention to that and support all of them."
Denisha Merriweather agrees with Trump's assessment that education reform is a civil-rights issue.
In her view, education policy ought to be a bipartisan issue, and she thinks the strength of the school-choice movement lies in its inclusive mindset. "I do feel like the public-school advocates or the teachers' unions always want an 'us or them' mentality. In their minds, you can't have both," she explains.
"And we on the school-choice side are not saying that at all. We're saying, 'Let's all be productive, and let's all serve our children.' That's one thing that really sets us apart from those who are pushing for the public-school system," Denisha continues. "Why can't we have more choices, and all the choices? [The unions] can't understand that we do want to keep the public schools. We just want all of these other choices, too."
She agrees with Trump's assessment that education reform is a civil-rights issue, and she mentions in particular her friendship with Reverend H. K. Matthews, who was on the front lines of the civil-rights movement with Martin Luther King Jr. At a pro-school-choice rally in 2010, she noticed Matthews marching at the very front with parents and students. "That's when it hit me that this is a civil-rights issue," she remarks. "This issue affects low-income minority people. Even within public schools, low-income kids are not able to attend school on a wealthy side of the neighborhood. Red tape keeps these poor kids all in one area. It's segregation."
Denisha is excited for the future of this movement, because she believes that the new administration will advance federal school-choice programs similar to the scholarship that altered the ruinous trajectory of her life. "I'm happy and honored to be in this new wave of school reform, to have my story be an example of all the kids who have benefited from having these options."