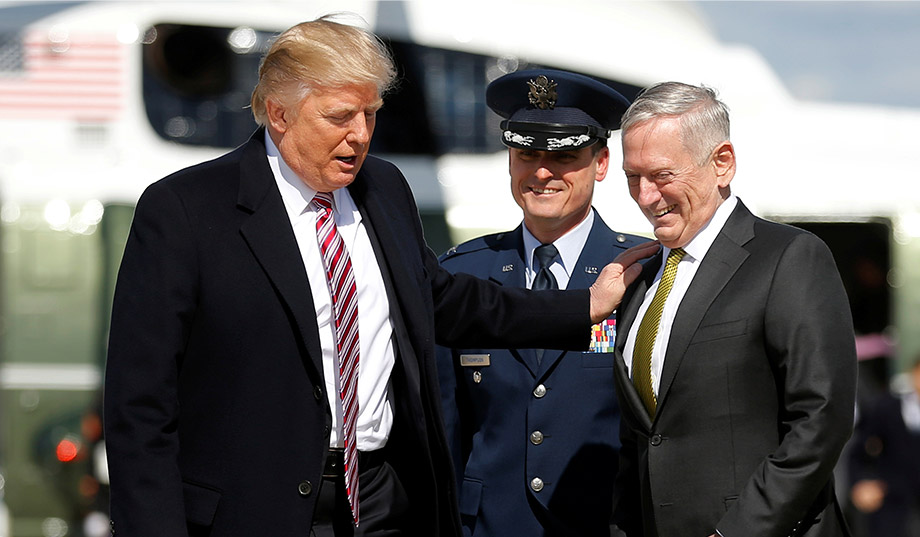 Defense hawks must take priority over budget hawks
Ten percent. Sounds at first like a significant increase. Whether it truly is, however, depends on context. To what shall we compare this number? And does it address our needs?
The answer is no. For we are speaking of America's defense spending, which has been gutted from budget sequestration and is inadequate to the scale of the threats our country faces.
"I am sending Congress a budget that rebuilds the military, eliminates the defense sequester, and calls for one of the largest increases in national defense spending in American history," President Trump said this week. It's a worthy goal — and an absolutely necessary one.
But the $54 billion in additional spending that's being floated in news reports? Not nearly enough. That amount may be 10 percent higher than the mandated budget cap. But it is only 3 percent more than the number projected in President Obama's final budget. And it comes nowhere close to the recommendations of the National Defense Panel and Senate Armed Services Committee chairman John McCain. As House Armed Services Committee chairman Mac Thornberry said in a statement this week: "We can and should do more than this level of funding will allow." The chairmen agree that an additional $37 billion, for a total of $640 billion, is necessary.
As an opening bid, Trump's number is awfully low. It won't buy him the 350-ship Navy, including 12 aircraft carriers, that he wants and America needs. The $54 billion could be easily swallowed up by readiness costs alone. And readiness is only one of two crises facing the Pentagon. The other is preparing the next generation of weapons systems, including nuclear, robotics, space, and cyber, to maintain our edge. Cool weapons are not only intimidating; they are expensive. And they have to be bought now, without delay, or else you lose the opportunity for a buildup worthy of the name.
These are costs America must be willing to pay. President Obama bequeathed to his successor more than a doubled national debt. He also left President Trump a world laced with dynamite: wars in Iraq, Afghanistan, Syria, Yemen, Somalia, Libya; an increasingly belligerent Russia and China; an Iran that harasses the U.S. Navy, funds sectarian conflict, and uses the nuclear deal as leverage; and a certifiable North Korea. Any one of these threats requires an increase in defense spending. Taken together they amount to a national emergency and require a major buildup.
President Obama bequeathed to his successor more than a doubled national debt. He also left President Trump a world laced with dynamite.
That's not what $54 billion gets you. What you get with $54 billion is more or less the status quo. So: Why this number? One reason must be Mick Mulvaney, the former South Carolina congressman turned Trump budget director. He's more a budget hawk than a defense hawk. And the difference is significant. Privileging the deficit over defense says a lot about Mulvaney's priorities — as well as this administration's.
I suspect Defense Secretary Jim Mattis feels differently, as would anyone who wakes up in the morning to news from Afghanistan, Iraq, Syria, the Baltic states, Venezuela, the Korean peninsula, the Persian Gulf, the South China Sea, wherever. Anyone who talks to soldiers, sailors, pilots, and technicians about outdated and overused equipment. Anyone who reads about ISIS drone swarms and Russian nuke-capable drone subs.
It's up to Trump to choose between his accountant and his favorite general. Seems obvious to me. Making the decision all the easier is consideration of politics and economics. National security factored heavily into Trump's election. Soldiers, veterans, and their families and friends and allies compose a large part of his base. Spending more on defense would not only fulfill a campaign promise but also reward this important constituency. And nothing bestirs national pride more than the peaceful display of our might — in parades, in flyovers, in exhibitions, in naval exercises.
There is also an economic benefit to defense spending. A buildup stimulates. Men and women are hired. The industrial base is utilized. Manufacturing output intensifies. Investments in research and development produce revolutionary technologies. "Such investments would not only create thousands of jobs across the country — and preserve jobs at risk from premature program terminations — but promote American exports and create a secure environment for global economic recovery," wrote American Enterprise Institute scholar Tom Donnelly in 2009.
Security, politics, and economics — they all point in the same direction. Artificial constraints such as the sequester, and the all too real but ultimately secondary constraint of the deficit, are less important than the overriding necessity of restoring America's deterrent, its military readiness, and its long-term capabilities. President Trump should follow his negotiating instincts, side with his generals, and bid high on America's defense.
And if he doesn't?
Then Congress will correct his mistake.
— Matthew Continetti is the editor-in-chief of the Washington Free Beacon, where this column first appeared. © 2017 All rights reserved