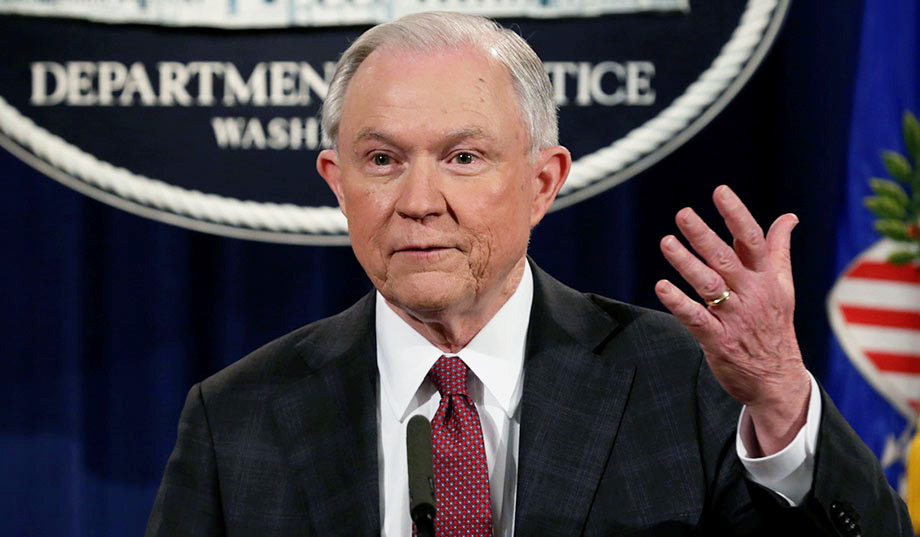 The attorney general did the right thing in recusing himself.
Congressional Democrats, including Senate minority leader Chuck Schumer, are calling on Attorney General Jeff Sessions to resign following reports that he was in touch with Russia's ambassador twice during last year's presidential campaign. Pointing to Sessions's failure to disclose these contacts during his recent confirmation hearings, House minority leader Nancy Pelosi, among others, is accusing him of lying under oath.
The available facts suggest otherwise. According to the Justice Department, the former Alabama senator met briefly with a group of ambassadors following his address at an event sponsored by the Heritage Foundation in July, amid the Republican National Convention. In a press conference on Thursday afternoon, Sessions acknowledged also meeting with Russian ambassador Sergei Kislyak privately last September. Sessions maintains that he met Kislyak in his capacity as a member of the Senate Armed Services Committee, and that some of his senior aides were present. Meetings between senators and diplomatic officials are, of course, common: Missouri senator Claire McCaskill, who attacked Sessions on Twitter for the sit-down, has in the past publicized multiple visits of her own with the Russian ambassador.
During his confirmation hearings, Sessions was grilled by Minnesota senator Al Franken. Citing recent reports that "there was a continuing exchange of information during the campaign between Trump surrogates and intermediaries for the Russian government," Franken asked Sessions: "If there is any evidence that anyone affiliated with the Trump campaign communicated with the Russian government in the course of this campaign, what will you do?" Sessions responded: "I'm not aware of any of those activities. I have been called a surrogate at a time or two in that campaign and I did not have communications with the Russians, and I'm unable to comment on it." In a follow-up questionnaire, Vermont senator Patrick Leahy asked, "Have you been in contact with anyone connected to any part of the Russian government about the 2016 election, either before or after election day?" Sessions answered: "No."
It's clear now that Sessions's response to Franken was inaccurate, and the whole episode could have been avoided had Sessions been clearer up front. But the context makes it fairly clear that Sessions was denying coordination with the Russians about the presidential election. There is no indication that Sessions willfully misled the Congress; based on what we know so far, Democrats' perjury accusations are fantasy.
Nonetheless, the cloud now around Sessions is unlikely to dissipate quickly. Given an ongoing FBI probe into various Trump associates with apparent links to the Russian government (former campaign manager Paul Manafort and former advisers Carter Page and Roger Stone), and Michael Flynn's recent departure from the administration after he misled White House officials about his own contacts with Kislyak, there is reason to take seriously concerns about Russia's attempts to influence last year's election and the new administration.
That is why a thorough congressional investigation is in order. As we've said before, the House and Senate Intelligence Committees, which have extensive oversight powers, ought to conduct a fair, transparent, and expeditious inquiry into the allegations against the White House, and also into the source of the illicit leaks that are responsible for many of those allegations. Sessions's contacts with the Russian ambassador ought to be a part of this probe. This is a political matter, and it is incumbent upon the people's representatives to investigate.
In the meantime, Sessions has rightly recused himself from any Justice Department investigations into the Trump team's links to Moscow. Government officials ought to avoid even the appearance of impropriety. Given that that standard has been honored mainly in the breach over the past eight years — especially in the Justice Department — Sessions's decision is a marked improvement on the conduct of his most recent predecessors.
Since his nomination to serve as attorney general, Jeff Sessions has been subjected to a deluge of partisan attacks, almost all of which have been meritless. There is little reason to think that this one will prove different. But Congress should do its job, and find out more about this episode and especially the larger Russian controversy.