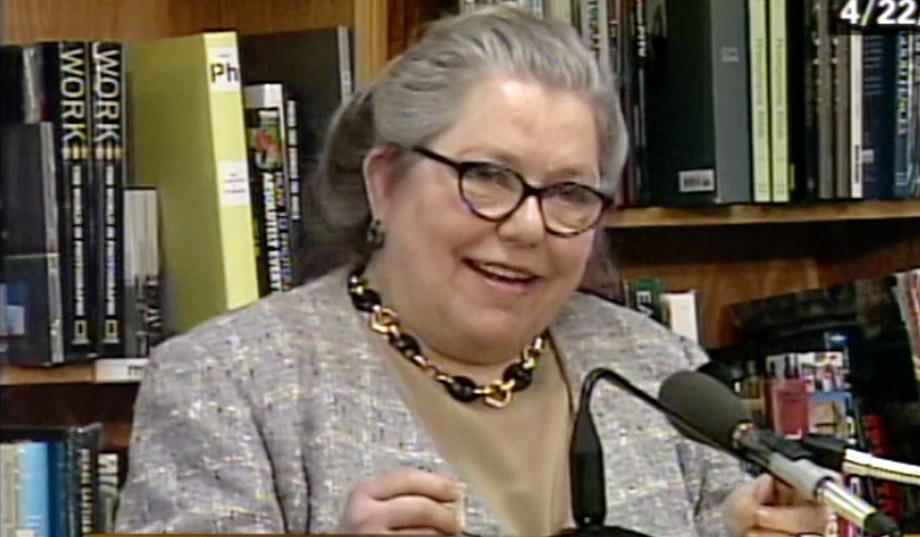 A protégé of Linda Bridges reflects on her friendship with the legendary, personable NR editor.
Like Jack Fowler a couple of years before me, I met Linda Bridges for the first time with Priscilla Buckley when I came to NR to interview for a summer editorial internship. Unlike Jack, I would not have been startled by any manner of eccentric dress — I came from a college where idiosyncrasy was commonly cultivated. What did stand out to me in that interview was Priscilla's and Linda's laughter, which always seemed to extend a little longer than one would expect from the joke, and which I found an unexpected feature of a job interview. Laughter is a very fitting thing to remember; Priscilla and Linda loved to see the humor in things, and in the days I worked there the editorial offices were always filled with laughter.
I was blessed to be given the summer job, and ended up staying happily for a couple of years. A few years later, when I was not sure what I wanted to do next, Linda talked to Priscilla and made room for me at the magazine again, for another year. The wages were meager, and the reward was to be able to work with the amazing people of NR — particularly, for me, with Linda, who was the heart that drove the production of the magazine.
The rest of us tried; really we did. But when Linda took off for one of her vacations (skiing at Cortina in Italy or attending the Shakespeare festival at Stratford, Ontario), the magazine was never quite as well done. We would get letters to the editor from readers pointing out typographical errors and, worse, errors of grammar or of fact. Linda was brilliant. She was always kind, and she and I were kindred spirits in many ways, both having studied Latin and loving the English language and conservative principles, but every once in a while she would cast her piercing look at me, and I would realize how ignorant I was.
She knew about almost everything. Once she confessed to having spent an unusual evening with friends while conversation focused on a subject of which she was ignorant, and she asked me to guess what it could have been. I thought, sports? But no. Linda could have talked baseball with anyone. I gave up. The answer? Bruce Springsteen. I can't think of many other topics Linda would not have been ready to discuss.
Linda treasured people. Yes, everyone will remember the manual typewriter on her desk, but in the back of her office she also had a huge chest of old-fashioned lead type and I suppose an entire Linotype machine — something she had salvaged from her earliest days at NR, when part of the biweekly routine had been a trip to Connecticut to proofread the magazine in its metal typeset form. Admittedly, she did collect things, probably more than was good for her, but when I asked her about the reason for keeping all the type, she would start to tell me about the typesetters up in Connecticut. The metal type was beautiful and valuable to her in itself, but also as an emblem of the people who had set it, and whom she had come to know and love. She became the embodied archive of NR memory because she didn't want any of its idiosyncratic and original people to be forgotten.
It's hard to write about Linda without writing more about myself than seems appropriate, and I think that's because she was such a great and good friend. Although as assistant managing editor she was my "boss," she made room for me in her life, and lunches with Linda and drinks one night a week with her roommate Alice and their friend Maureen became a part of my life. Over the first years of our friendship, she listened kindly and objectively as I gradually and by fits and starts decided that a career in the world she loved and inhabited was not appropriate for me. And for years after I left New York and NR, I would make trips "home" to NR, to visit her.
In those days, Linda was an active member of the C. S. Lewis Society and described herself as a "Catholic fellow traveler," an expression that, as the keeper of NR's oral history, she would conscientiously credit to its originator. (Now that she is gone, no one will be able to correct me if I am wrong in guessing that the phrase was Bill Rusher's.) However, it turned out that she had never been baptized. I was touched when, more than a decade after I had first met her, she invited me to sponsor her at her baptism. So, oddly, she was both my mentor and my godchild. She was baptized at the Episcopal Church of St. Mary the Virgin in New York, in 1995. Years later it seemed only fitting that I should ask her to be a godmother to my daughter. Once baptized, Linda threw herself into the life of her parish, and I am confident that she prayed faithfully for my child.
Linda spent little of her adult life around children, and I thought it likely that she would become more of a friend to my daughter now, as my daughter matures. I also always thought that I could make just one more trip "home" to New York, for drinks with Linda and to laugh with her and learn a little more, as I did almost every time we visited. Instead, I was busy with my life, and had been out of touch, and I gather that she lived through a very difficult last year, for which I am so sorry. It is a comfort to know that toward the end she was cared for by her NR friends and colleagues and her fellow parishioners, who were family to her. Although she was relatively young, many of the people she loved the most had already died, and I imagine she must have been in some ways ready to go. I'd like to think of her now looking down on us, loving all of us, and laughing a little longer than everyone else.