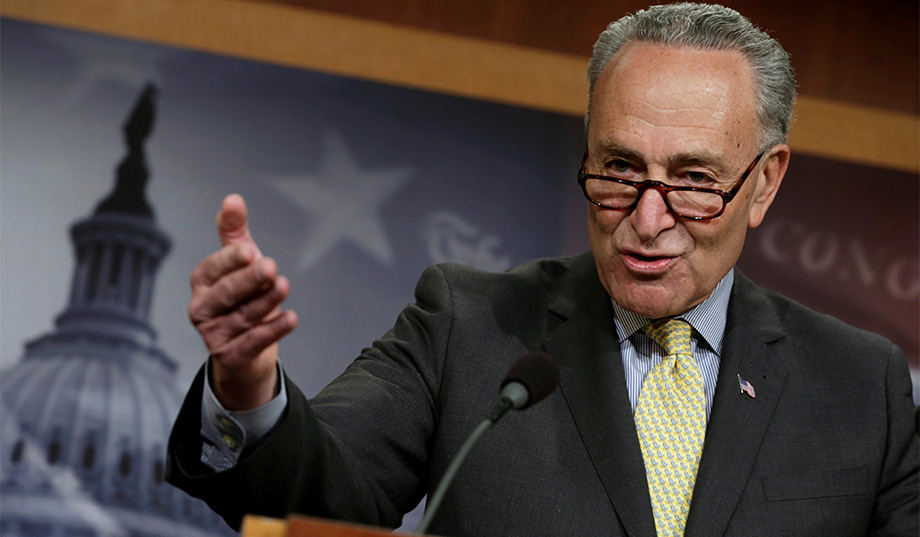 He might score points with his base, but he's unlikely to torpedo Neil Gorsuch's nomination to the Supreme Court.
On the Senate floor this morning, Minority Leader Chuck Schumer announced that he will filibuster Judge Neil Gorsuch's nomination to the Supreme Court and urged his fellow Democratic senators to join him.
Schumer said he remained unconvinced that Gorsuch would "be an independent check" on President Donald Trump. Gorsuch, he asserted, is "not a neutral legal mind but someone with a deep-seated conservative ideology. He was groomed by the Federalist Society and has shown not one inch of difference between his views and theirs."
So far, no senators have officially agreed to join Schumer's filibuster, but Bob Casey Jr., a Democrat from Pennsylvania, announced this morning that he will oppose Gorsuch's nomination. In his statement, Casey cited as a concern Gorsuch's "rigid and restrictive judicial philosophy . . . that employs the narrowest possible reading of federal law and exercises extreme skepticism, even hostility, toward executive branch agencies."
We're now on day four of Gorsuch's confirmation hearing before the Senate Judiciary Committee, as witnesses testify about his judicial career. The committee is expected to vote on his nomination on April 3, which would send it to the Senate floor for debate and a full vote by mid April.
There are eleven Republican and eight Democratic senators sitting on the Judiciary Committee; even if the vote were to take place on a strict party line —it's unclear whether the Democrats intend to vote as a bloc against him — Gorsuch's nomination would still have enough votes to reach the Senate floor.
Other than Schumer and Casey, no Senate Democrats have officially announced how they intend to vote on the nomination; most have said that they will wait until after the hearings end to decide. Several have noted their willingness to filibuster any nominee they consider "out of the mainstream," and the hearing questions from the handful of Democratic senators on the Judiciary Committee suggest that the caucus has serious reservations about Gorsuch's judicial philosophy.
In order to successfully filibuster Gorsuch, Democrats must prevent him from receiving 60 "yes" votes, meaning that the GOP must convince eight Democratic senators to cross the aisle and vote with them. If Republicans can't flip eight Democratic votes, Majority Leader Mitch McConnell could invoke the so-called nuclear option, allowing Gorsuch to be confirmed by a simple majority vote.
As the hearings wind to a close, the Democratic senators to keep an eye on are the ten — in addition to Casey — who represent states Trump won in November: Bill Nelson of Florida, Joe Donnelly of Indiana, Debbie Stabenow and Gary Peters of Michigan, Claire McCaskill of Missouri, Jon Tester of Montana, Heidi Heitkamp of North Dakota, Sherrod Brown of Ohio, Joe Manchin of West Virginia, and Tammy Baldwin of Wisconsin, as well as independent senator Angus King, from Maine, who caucuses with the Democrats. (Trump won only Maine's second congressional district, giving him just one of the state's four electoral votes.)
All of these senators other than Peters are up for reelection in 2018, and they will likely encounter political pressure from the right not to oppose Gorsuch, despite the push from top Senate Democrats to filibuster his nomination along party lines. In November, Trump took Missouri, North Dakota, Ohio, and West Virginia by wide margins, meaning that the Democratic senators from those states in particular will have a hard time opposing Gorsuch. (In fact, Manchin said in late January that he wouldn't filibuster any Supreme Court pick.)
Gorsuch's stellar credentials make it difficult for Democratic senators to justify fighting his nomination for any reason other than purely partisan animus. It's one thing for a Democrat from a solidly progressive state such as New York to lead a "principled" filibuster effort, but it's quite another for a Democrat from a red-leaning state to oppose the well-regarded Supreme Court pick of a Republican president who gained the support of his constituents. Schumer can preen for his base all he wants, but his filibuster is likely to fail.