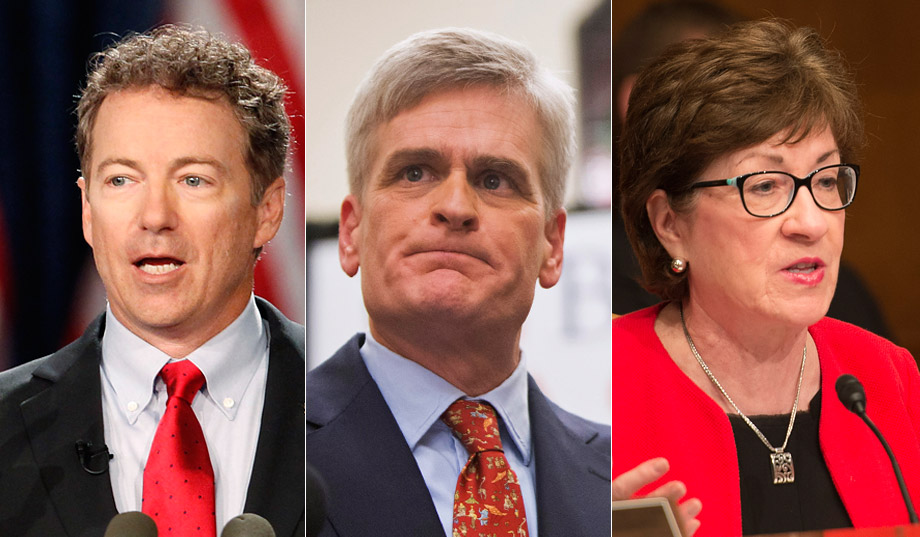 While conservatives in the lower chamber continue to raise loud objections to the current draft
Last week's rollout of a bill to repeal and replace the Affordable Care Act was a success for just about nobody. Even after much discussion on Capitol Hill, the only politicians backing the bill are the House GOP leadership and President Trump, with Democrats solidly against repeal of any kind and Republicans split between replacement options.
In the House, the Freedom Caucus has emerged as a loud and forceful GOP voice opposing the draft bill, which has already passed unscathed through the Ways and Means ommittee as well as Energy and Commerce. To get a sense of the tenor of this intra-party debate, consider an incident from the middle of the week. Freedom Caucus member congressman Justin Amash (R., Mich.) was asked on CNN whether he's truly prepared to vote against a Republican repeal-and-replace bill. His response? "It's not a Republican repeal and replace. It's a repackaging of Obamacare."
In the midst of the criticism coming at the House bill from every angle, Republican Jim Jordan introduced a clean repeal of the ACA that eliminates its taxes and mandates as well as removes federal funding from Planned Parenthood. The bill ought to look strikingly familiar to most congressmen; it is the exact same repeal measure that the House passed last year with 277 Republican votes.
The way many Freedom Caucus members see it, their election was largely due to their promises to repeal Obamacare, promises made to constituents who have suffered as the result of ever-rising premiums and decreases in health-care options. From the perspective of these members, the draft bill released Tuesday represents a half-hearted attempt at keeping those promises and is a failure of duty.
In the Senate, Mike Lee (Utah) has spoken out in favor of the same strategy. "Let's fulfill our Obamacare repeal promise immediately and then take our time and do reform right," he said in a statement. "Let's pass the 2015 repeal bill that Republicans in both houses of Congress voted for and sent to the White House just 15 months ago."
Senator Rand Paul of Kentucky has introduced his own Obamacare Replacement Act, co-sponsored by Pat Toomey (Pa.), which would repeal many of the ACA's regulations and requirements, including the individual and employer mandates. The plan protects those with pre-existing conditions by stipulating a two-year open-enrollment period, and it restores the existing HIPAA protections for these individuals. It would legalize inexpensive insurance plans and eliminate the Obamacare regulations that prohibited low-cost options from being made available to the public.
Paul's bill also authorizes a tax credit of up to $5,000 for individuals and families that contribute to health savings accounts. The bill allows individuals and small businesses to join together across state lines and through organizations to purchase affordable health care. And it gives states the flexibility to design their own Medicaid plans rather than imposing one federal system.
From the perspective of many Freedom Caucus members, the draft bill released Tuesday represents a half-hearted attempt by House Republicans to keep their promises.
Meanwhile, the most middle-of-the-road GOP replacement plan was introduced in late January by Senators Bill Cassidy (La.) and Susan Collins (Maine). Their bill, the Patient Freedom Act, is not so much an Obamacare replacement as it is a bipartisan compromise to largely preserve the ACA. The law would give states the option of continuing to operate under Obamacare or leaving the ACA's system to test out their own free-market alternative.
While it has an appealing federalism angle, the bill's structure means that, realistically, the choice it presents isn't much of a choice at all. Because the law would preserve the ACA's taxes, along with nearly all of its spending and subsidies, all taxpayers would be forced to continue paying to support the Obamacare system even if their state opted to leave it.
What's more, the law would leave in place the expensive federal regulations that Obamacare created, such as those requiring insurers to cover individuals with pre-existing conditions and prohibiting annual and lifetime caps on coverage. The respective merits of such regulations are beside the point. In effect, their existence means that even states opting out of the ACA would have to wrangle with the restrictions imposed by its regulatory demands.
The Cassidy-Collins plan does remove the ACA's individual mandate, but some conservatives have argued that the bill's replacement enrollment system might cause even more problems than the mandate. States that leave the Obamacare system can opt to establish federally funded health savings accounts (HSAs) for their residents. But the bill requires that states that use such HSAs auto-enroll all residents in a default, high-deductible plan, meaning that everyone will automatically have health insurance whether or not they want it, and they will have to act to opt out.
Though this bill is not without merit, no groundswell of bipartisan support for a moderate path forward seems to exist. Because Democratic senators overwhelmingly oppose repealing and replacing Obamacare in any fashion, and because many Republicans are set on overhauling the ACA much more extensively than the Patient Freedom Act does, forming a significant bipartisan coalition on the issue would be difficult.
As debate on the Hill continues over this week's draft legislation, the House Freedom Caucus is the group to watch, as its members' decisions will determine what bill is sent to the Senate.