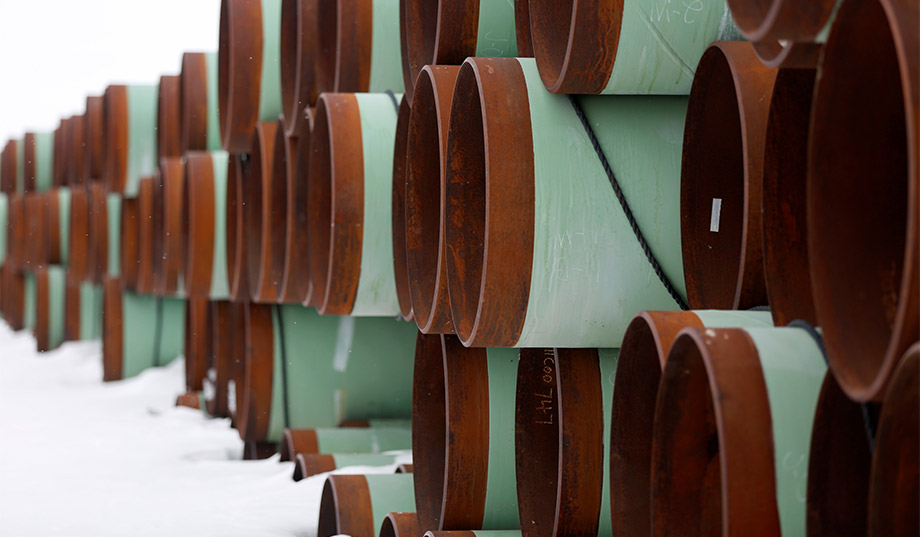 Without a quorum, the Federal Energy Regulatory Commission can't approve energy-infrastructure projects expected to create thousands of high-paying blue-collar jobs.
The Federal Energy Regulatory Commission is not the country's most well-known or controversial government agency. But if you care about building natural gas and oil pipelines or expanding the American power grid, it's pretty important.
FERC consists of five members who can approve or reject plans for major energy-infrastructure projects. The Trump administration has been slow to nominate candidates to some of the 600 or so significant positions in the executive branch, including the three empty spots on FERC, which has been short of a quorum since President Obama's appointed chairman, Norman Bay, resigned on February 3.
This doesn't mean FERC shuts down entirely; inspections, safety reviews, audits, and all the traditional duties of its staff continue even when it lacks enough commissioners for a quorum. The legalese determining what staff may do is complicated, but the upshot is simple: The less controversial a decision, the more likely that the staff can legally make it.
FERC does need a quorum of commissioners to vote on bigger matters, however, including new rules, applications for infrastructure projects such as natural-gas pipelines and liquid natural-gas facilities, petitions for rehearing or appeal of previous commission orders, and appeal of initial decisions by an administrative law judge.
The lack of a quorum thus puts an indefinite delay on some vital projects as they await the final green light from FERC.
For example, Enbridge Energy wants to build a new pipeline to transport Appalachian shale gas to high-demand markets in Canada and the Midwest, including Ohio, Michigan, Illinois, and Ontario. In addition to 255 miles of pipeline that is three feet in diameter, the project would involve the construction of "four new compressor stations, six new metering and regulating stations, and 17 new mainline valves in Ohio and Michigan." Once completed, it would be capable of transporting 1.5 billion cubic feet of natural gas per day. According to a union representative, welders and journeymen on the project would make $53 per hour plus benefits. The whole project would cost $2 billion and was originally slated to be completed this autumn.
But without a quorum, FERC can't give the project final approval. These are states that President Trump carried in November, states that could use the kind of blue-collar jobs that Trump promised to bring back, and that Enbridge's pipeline could deliver. (Project managers say 79 percent of the pipeline will be built by union labor.) One would think getting such projects approved would be high on the White House's priority list.
Some projects did get approval in the final days before Bay departed, but they may still have a cloud over their heads. FERC issued a certificate approving the Rover Pipeline, a $4.2 billion project that will move natural gas from processing plants in West Virginia, Eastern Ohio, and Western Pennsylvania to a distribution hub near Defiance, Ohio.  But under federal regulations, parties have 30 days from the date of a commission order to seek rehearing of that decision, and without a quorum, FERC can't act on a petition for rehearing. If project managers comply with all the terms and conditions of the FERC certificate order, they can ask FERC staff for approval to begin construction; work can proceed while petitions for rehearing are pending.
Not everyone agrees that projects should proceed while FERC lacks a quorum, either. Massachusetts senators Elizabeth Warren and Ed Markey wrote to Acting Commissioner LeFleur asking FERC to rescind one of their last decisions contending that because FERC lacks the quorum to hear appeals, "opponents are silenced." The senators want FERC to rescind authorization for Spectra Energy's Atlantic Bridge natural-gas-pipeline project. The $450 million Atlantic Bridge project would bring natural gas from the Marcellus Shale Basin into New England and Eastern Canada.
The good news is that three names surfaced in media reports in late March as likely Trump administration FERC appointees: Jones Day lawyer Kevin McIntyre, Pennsylvania Public Utility Commissioner Robert Powelson, and Neil Chatterjee, a former adviser to Senate majority leader Mitch McConnell. The bad news is that none of them have been formally nominated, and the nomination process usually takes one to two months. (At least Chatterjee has an old boss who may be able to help speed things along.) And the vacancy problem is set to get worse soon: Commissioner Collette Honorable's term expires on June 30, meaning the administration will need to fill four FERC seats in the coming months.
When the Trump administration comes under fire for the slow pace at which it has nominated candidates to fill key government jobs, the knee-jerk response from administration defenders is that the jobs themselves are unnecessary, and that the president is just shrewdly failing to fill them as a way of shrinking the government. These excuses might seem plausible to some conservatives, but they can't provide much comfort to the welders and pipefitters who voted for Trump, and who now find themselves waiting anxiously to get to work shoring up America's energy infrastructure.
— Jim Geraghty is National Review's senior political correspondent.
READ MORE: