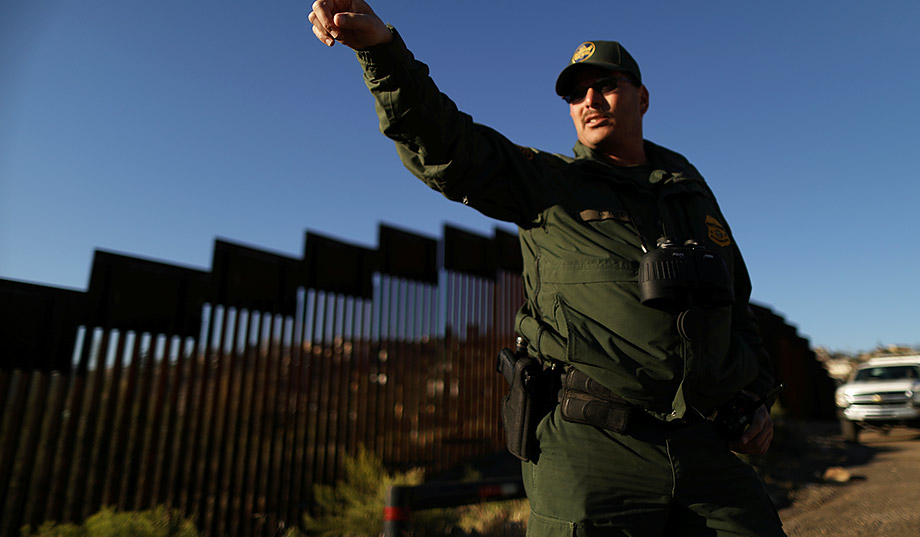 Ahead of a potential government-shutdown battle, President Trump is reportedly willing to forgo a congressional down payment on a "big, beautiful wall" on America's southern border. Despite his insistence on the wall's importance to his immigration-enforcement agenda, the president is apparently open to postponing negotiations on funding until September, when Congress will take up the 2018 budget.
The maximalist version of Donald Trump's proposed border wall was always a quixotic enterprise. From Brownsville, Texas, to San Diego, Calif., the U.S.–Mexico border stretches nearly 2,000 miles, often across rugged, harsh terrain — including Texas's Big Bend National Park and Arizona's Sonoran Desert. Building a single, monolithic wall is not feasible for much of this territory, as Trump himself acknowledges at times. The proposed route of a wall also cuts through privately owned land, raising serious legal questions. Nevertheless, more barriers in select places are welcome. We have repeatedly suggested as much and, the fulsome rhetoric of the president notwithstanding, this is the goal of the Department of Homeland Security.
But, as we have also suggested, physical barriers along the southern border ought to be just one element of a larger immigration-enforcement agenda. So far, President Trump has used his executive power fairly effectively toward this end, signing off on a series of orders that roll back some of President Obama's worst overreaches, and directing executive-branch agencies to aggressively enforce laws rendered toothless by his predecessor. He has encouraged Immigration and Customs Enforcement and the Border Patrol to hire. Last week, he signaled an interest in ending the well-documented abuse in the H-1B visa program, which employers have used to undercut American workers in high-skilled jobs.
These and other policies, and their (usually) clear promulgation, are already having an effect on the flow of illegal immigration into the U.S. DHS reports that border apprehensions of parents and children decreased 93 percent — from 16,000 to just over 1,100 — from December 2016 to March 2017. DHS secretary John Kelly suggests that news of the new administration's tougher line on illegal immigration is discouraging many would-be illegal immigrants from taking the risk of crossing the border.
E-Verify, a crackdown on H-1B abuse, and similar measures should be more important priorities than additional barriers at the border.
All without Trump's border wall. Rather than obsessing over the wall — let alone the preposterous idea that Mexico is going to pay for it at some future date — the president should focus on securing the gains that have already been made at the border and continuing to ramp up internal enforcement. Toward that end, his energies would be best spent working with congressional leaders to appropriate money to help swell the ranks of Immigration and Customs Enforcement and the Border Patrol; encouraging a bill to mandate nationwide E-Verify for new hires, which would help cut off the jobs magnet for illegal immigration; and pushing Congress to add muscle to H-1B enforcement. The bargaining chip he has available to play to try to get Democratic support is a formal, lawful amnesty for so-called DREAMers.
Since there is a finite amount of funding available for immigration enforcement, E-Verify, a crackdown on H-1B abuse, and similar measures should be more important priorities than additional barriers at the border. The purpose of the wall, after all, was to cut down, and ideally end, the steady stream of immigrants crossing our southern border illegally. We are now seeing how central enforcement in the interior of the country is to that goal. The wall Trump often describes may be big and beautiful, but it is also fanciful, and, when it comes to the things we need to do to establish a durable enforcement regime, largely beside the point.
READ MORE: