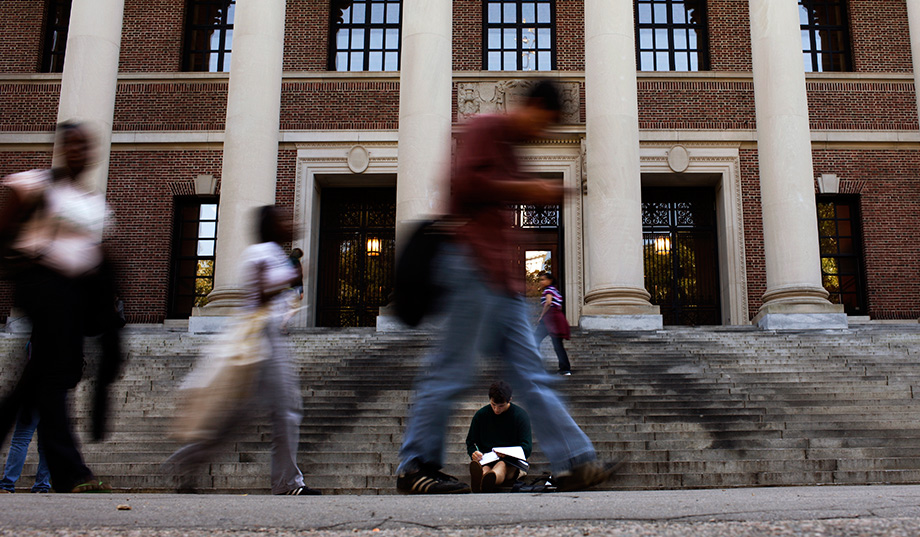 The students apparently thought posting the fake notices would be a good way to help people facing deportation.
A group of activists at Harvard University have apologized for posting fake deportation notices in dorm rooms, explaining that they were simply trying to get people to think about how bad deportation is. 
"We regret to inform you that a resident of this dorm has been detained indefinitely due to suspicious actions, suspected violent inclinations, or suspicion of being a deportable alien (i.e. questionable residency status)," the notice, which read "Harvard Special Investigations Unit" at the top, read. 
The back — and only the back — of the flyer clarified that it was, in fact, "not a real notice," and that the reason for the "unsettling nature" of it was to encourage "Harvard community members to reflect on the reality of people who face these kinds of unwarranted disruptions of life in unexplained suspicious circumstances before a state power that can hold 'suspects' indefinitely." It also included information about an upcoming panel on incarceration. 


According to an article in the Harvard Crimson, the notice was signed by Harvard Concilio Latino, the Harvard Islamic Society, and the Harvard Black Students Association "and orchestrated by the Harvard Palestine Solidarity Committee." The Crimson reports that students from at least two of the groups — Concilio Latino and the Palestine Solidarity Committee — have already apologized. 
In the apology statement from the Palestine Solidarity Committee, co-president Fatima M. Bishtawi explained that the purpose of posting those flyers was to make people think about the fact that people "do not always get to walk away from a notice knowing that it is fake." 
Bishtawi is right. Deportations and deportation notices are very, very real — but that's exactly what made this whole stunt so disgusting. These activists say that they were trying to help people who may face deportation by getting others to think about what it must be like to face deportation, but apparently, they never stopped to think about the fact that making people who may face deportation think that they are at risk of being deported might not be the nicest way to help them. 
Understandably, many undocumented students and students with undocumented family members were upset. Sophomore Karla V. Alvarado, who said she has had experience with deportation notices because both of her parents used to be undocumented, told the Crimson: 
"I was upset mostly because I think [the flyers] didn't take into account the feelings of people who have actually seen deportation notices or experienced the risk of deportation, or have loved ones who are at risk of deportation—their responses were not taken into account."
No kidding. Really, I can't even keep up with this anymore. I mean, I'm always hearing from student activist groups about how even seeing Donald Trump's name on a sign or in chalk is enough to traumatize students who fear deportation — but, apparently, actual fake deportation notices are just not as much of a concern. 
This story was previously covered in an article on Heat Street.
— Katherine Timpf is a reporter for National Review Online.
READ MORE: