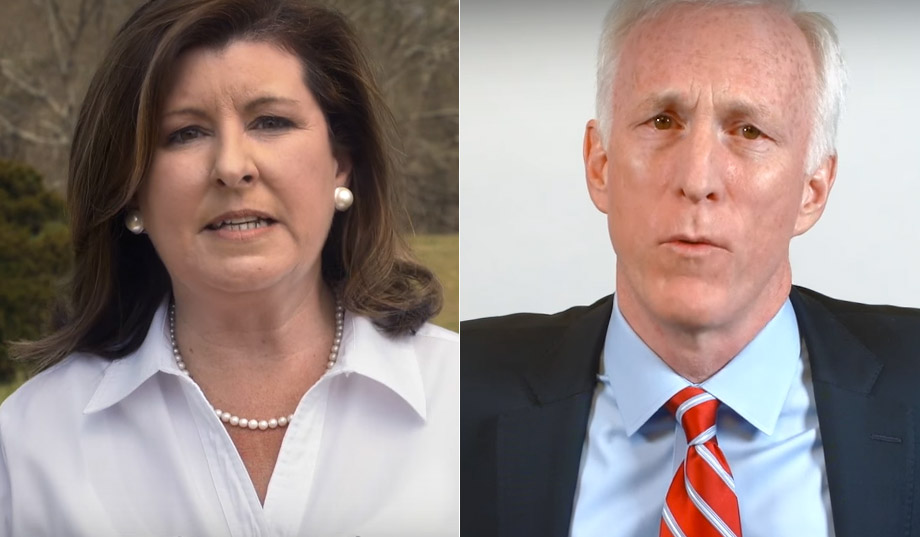 But it's a solid GOP district.
Alpharetta, Ga. — As we enter the final day of the special election to replace Representative Tom Price, the nation's attention is fixed on Georgia's sixth congressional district. Even at this late stage, the outcome of this race remains highly uncertain. But one thing is certain: The Democrat in the race has convinced much of the country that he will pull off the first big win for his party since the Republicans swept last November's elections. That candidate, 30-year-old Jon Ossoff, is a former Democratic staffer who has managed to rake in over $8 million in donations over the course of the race. Heading into Election Day, Ossoff appears to be playing with the house's money. He has come out on top of his Republican rivals in every poll for the past two months, and surveys indicate that he led the two weeks of early voting by a wide margin. Here, one hears a common refrain: "Could he really do it?"
Perhaps. Nevertheless, the format of this race will make it difficult for Ossoff to manage an outright victory tonight. Because neither party held a primary, the race features a total of 18 candidates. If no candidate reaches 50 percent of the vote, the top two candidates will face each other in a runoff in June.
Though Democratic support quickly coalesced around the dynamic young Ossoff, GOP voters have yet to settle on one front-runner, which helps to explain how the Democrat has easily outperformed his competition in every poll. Several Republican candidates have spent the past few months battling for top billing, but the latest numbers suggest that former Georgia secretary of state Karen Handel and local businessman and former Johns Creek city councilman Bob Gray are battling over the second slot in the June 20 runoff.
The district's long history as a Republican stronghold also seems to suggest that Ossoff will have a tough time snatching this seat from the GOP. Georgia's sixth congressional district — which is made up of the eastern part of Cobb County, as well as the northern parts of Fulton and DeKalb counties — has been represented by a Republican for nearly four decades straight, since 1979. For about two of those decades, the district's congressman was Newt Gingrich; he was followed by Johnny Isakson (who is now one of Georgia's two senators), and then Price. None of these candidates ever had any difficulty holding on to the seat.
John McCain and Mitt Romney won GA-06 by 20-point margins in 2008 and 2012 respectively. But, while Trump was able to take the district from Democratic presidential nominee Hillary Clinton last November, he did so by an unusually slim margin, which is a large part of why Democrats believe Ossoff has a good chance of pulling off a victory tonight.
Though the GOP has been bitterly divided by this race, they all seem to agree on one thing: None of them likes the way the national Democratic party has pushed Ossoff on the district.
Has he? Again: Maybe. But many who know the district well — much better than the outside Democrats who have swooped in to peddle Ossoff as the antidote to Trump — are quick to point out that, while GA-06 has long been Republican, it has never been Trump Republican. In the GOP presidential primary last year, Florida senator Marco Rubio won the district with nearly 40 percent of the vote. Trump came in a distant second with 28 percent, topped by a margin of about 14,000 votes. This may explain why voter enthusiasm in GA-06 paled in November.
It is worth noting, too, that, skeptical though they are of his strand of conservatism, Trump is faring better with voters in GA-06 than he is with the median voter. While his current national approval rating is at 42 percent, in March he had an approval rating of 51 percent in the sixth district.
Bob Gray is quick to note that he is the only GA-06 candidate who actively campaigned for President Trump during the general election. "If you weren't supporting the president, you were necessarily supporting Hillary Clinton," he says. "There were only two people running. You're either for Hillary Clinton or against her."
For her part, Handel doesn't think Trump has affected this race much at all: "I know some would like to make that the narrative of the race, for their own particular purposes, but I'm not seeing it or hearing it for myself out there."
The apparently friendly terrain has helped to foster a competitive primary. Throughout the race, Handel has consistently touted her record as a local and state politician, arguing that her proven track record makes her the best GOP option. "The people of this district know me," she tells me at a pizza joint in Alpharetta, Ga. "They trust me, and they've seen the kind of job I can do at delivering results for them."
Gray rejects Handel's narrative emphatically. "Karen is your consummate career politician," he insists. "She has run nine times for six races, won only twice, and never finished a term."
Local city councilman Joe Gebbia would likely disagree with Gray's portrayal of Handel's record. "I think she brings with her a good balance of expertise and understanding of the issues," he explains to me at Handel's event. "Her experience can't be discounted, especially her commission positions and as secretary of state."
Hostile as they might be toward each other, however, neither Handel nor Gray can name a specific policy question on which they disagree with the president. Gray says that he is completely onboard with all 22 promises Trump made in his joint address to Congress in late February.
Although she mentions no specific disagreement with the Trump administration, Handel says she has a reputation for being an independent thinker. "I'm not a yes gal by any stretch of the imagination. That's not going to change. Being a member of Congress and representing the sixth district is not being an extension of the White House."
Though the GOP has been bitterly divided by this race, they all seem to agree on one thing: None of them likes the way the national Democratic party has pushed Ossoff on the district.
"To be honest with you, I'm not particularly happy about the outside influence coming in and trying to sway this," Gebbia says, shaking his head. "I interpret that as the outside Democratic party trying to buy a seat here."
Gebbia also notes that Ossoff doesn't actually live in the district; he lives in the Emory area with his girlfriend and will move to GA-06 if he wins the election. While it is permissible for candidates to run for representative in a district where they don't reside, it reinforces Ossoff's appearance as an outsider in this race.
Gray contends that Democrats are wrong about Ossoff's support on the ground, adding that the influx of outside money and people has given the Democratic party the appearance of a groundswell against Trump. "As we've spent time across the district, I don't think they're correct that Trump and GOP are causing more Democrats to turn out," he says.
It is proving difficult to predict who is correct. Given the many fluctuations in the available polling and the notoriously unreliable turnout that marks special elections, this one really could go either way. The Democrats shouldn't proclaim victory just yet.
– Alexandra DeSanctis is a National Review Institute William F. Buckley Fellow in Political Journalism.
READ MORE: