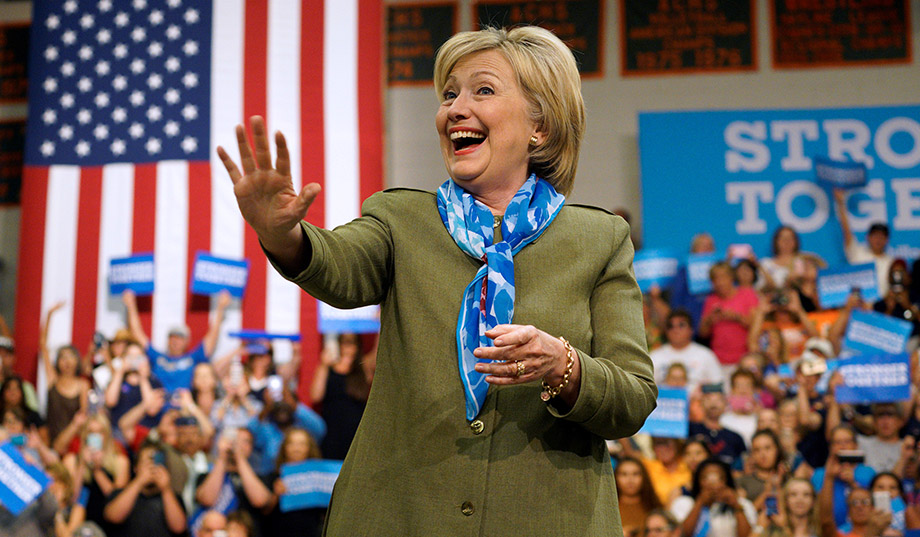 A new book reveals that Hillary Clinton's campaign was way more dysfunctional than we realized.
Shattered: Inside Hillary Clinton's Doomed Campaign, the new book by Jonathan Allen and Amie Parnes, is absolutely gripping reading, chock full of juicy, revelatory reporting about the Democratic nominee's campaign that you really wish you had read during the actual campaign. Alas, Allen and Parnes had to agree to save their best material for the book in order to receive the extraordinary access they were given.
The authors are blunt about how what they observed of Team Clinton behind the scenes was completely different from what most of the public saw:
Over the course of a year and a half, in interviews with more than one hundred subjects, we started to piece together a picture that was starkly at odds with the narrative the campaign and the media were portraying publicly. Hillary's campaign was so spirit-crushing that her aides eventually shorthanded the feeling of impending doom with a simple mantra: We're not allowed to have nice things.
Wouldn't it have been nice to know there was a "feeling of impending doom" inside the Clinton campaign last year?
It's not that there was no coverage of the campaign's infighting and stumbles. There just wasn't much to suggest that the dysfunction of Clinton's team would prove fatal, or even that it was worse than the usual clashing of egos in a high-stakes national race. The Trump campaign was usually portrayed as an out-of-control clown car, with feuding egos, bumbling incompetence, and campaign managers changing as regularly as Spinal Tap drummers. The Clinton campaign, by comparison, was perceived to be an experienced, well-funded, well-organized, well-oiled machine brimming with dozens of campaign offices in swing states and a proven ground game.
Except privately, the people running the machine had their doubts, and weren't shy about sharing them with Allen and Parnes.
In Shattered, we learn that ten speechwriters, consultants, and aides had a hand in writing Clinton's announcement speech, which unsurprisingly turned out to be a long, muddled mess. Obama speechwriter Jon Favreau, briefly brought in to help, concluded that the speech (and by extension, the whole campaign) "lacked a central rationale for why Hillary was running for president, and sounded enough like standard Democratic pablum that, with the exception of the biographical details, could have been delivered by anyone within the party."
Quite a few people knew that Hillary Clinton's campaign was a paper tiger.
We learn that Clinton's campaign manager, Robby Mook, chose not to spend money on polling, relying instead on analytics surveys. "In Florida, Craig Smith, the former White House political director, and Scott Arceneaux, a veteran southern Democratic political operative, had begged Mook to poll the state in October to no avail. Mook believed it was a waste of money." (Clinton's campaign spent $563 million during the cycle.) Bill Clinton reportedly told one aide the Friday before the election that Florida was "in the bag." Trump won the state by about 100,000 votes out of more than 9.4 million cast.
We learn that Clinton's Wisconsin volunteers lacked basic resources such as campaign literature to distribute while door-knocking. "What is the point of having a hundred people on the ground if you're not giving them any of the tools to do the work?" asks one unidentified "veteran Democratic organizer familiar with the Wisconsin operation."
We learn that in late October, after FBI director Jim Comey's letter indicating the bureau had reopened the investigation into Clinton's e-mails, longtime aide Jake Sullivan "believed there was a reasonable chance Hillary would lose the election, and he began pressing Mook and others to abandon efforts to expand the Electoral College map in favor of locking down states that added up to 270."
In other words, quite a few people knew that Hillary Clinton's campaign was a paper tiger. Loyalty to the Clintons (and fear of retribution) kept them from speaking publicly and honestly about it. It must have been a great relief to these frustrated, frightened Clinton staffers to vent to Allen and Parnes, knowing their words wouldn't risk influencing the outcome of the election. Allen and Parnes, on the other hand, knew that the public was getting, at best, a seriously incomplete portrait of the state of the race and the election dynamics, and they acknowledge the uncomfortable position this put them in:
We made one decision early on in our process that proved crucial in allowing us access to key players even at times when most of the media was walled off from Hillary and her senior staff. We agreed to conduct all of our interviews on background, which provided anonymity to our sources. That gave them an extra sense of security on the off chance that we broke a vow that we observed throughout our reporting: none of the material would appear before the election. . . . The trade-offs enabled us to get an extraordinary look at the last, tumultuous chapter of the Clinton era.
If the journalists with the best access to the front-running campaign hadn't had to save all of their best material for a post-election book, maybe the results of the 2016 election wouldn't have been so stunning.
— Jim Geraghty is National Review's senior political correspondent.
READ MORE: