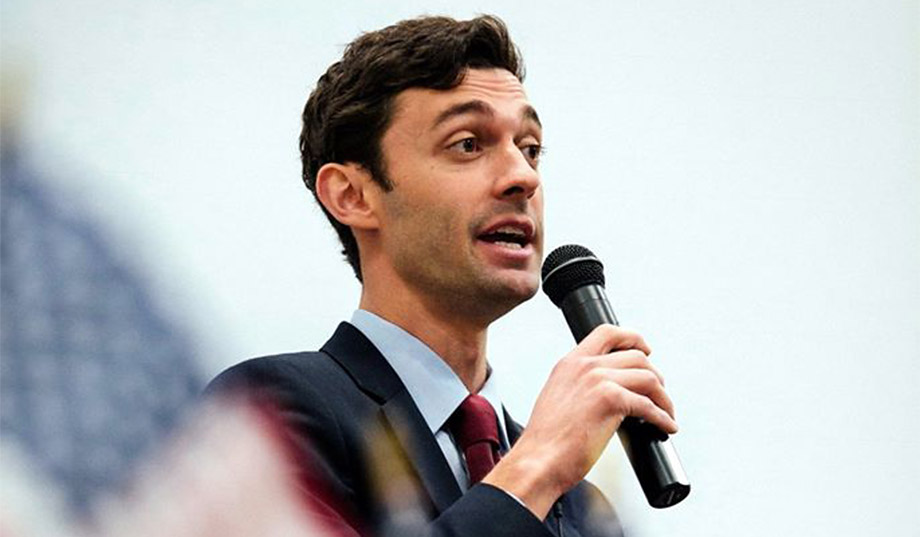 Special elections may give voters a chance to express their frustration with Trump and the GOP.
Republicans have reason to be nervous about next Tuesday's special election to replace Georgia's Tom Price, who resigned from Congress to join President Trump's Cabinet. If the GOP candidate performs as badly as the party's narrow winner of a special election in Republican Kansas did this week, nervous GOP majorities in Congress will be even less eager to take policy risks.
On one level, special elections often don't have national implications. Local candidates and conditions may be paramount in voter minds. But special elections can capture the public's mood, especially when it comes to the enthusiasm or lack thereof shown by voters of each major party. In Kansas, Republican state treasurer Ron Estes won by 53 percent to 46 percent over a little-known civil-rights lawyer, a poor performance in a district that Donald Trump carried with 63 percent of the vote just five months ago. More ominously, Estes won just 38 percent as many votes as Mike Pompeo, then the incumbent, did last year, and his Democratic opponent won 68 percent as many votes as the Democrat who lost to Pompeo. If the Wichita-based seat hadn't been so deeply Republican, that turnout differential would have sunk Estes.
It certainly would be enough to sink a Republican in the northern Atlanta suburbs, where voters will go to the polls next Tuesday to elect a replacement for Tom Price. The affluent district normally is heavily Republican, voting for Mitt Romney by 23 points in 2012. But Trump rubbed many educated voters the wrong way and he wound up carrying the seat by only 1.5 points.
Democrat Jon Ossoff, a 30-year-old documentary-film maker, would normally be cannon fodder for his party in the district. But his anti-Trump drumbeat ("Let's Make Trump Furious") has helped him raise an extraordinary $8.5 million. He will face eleven Republicans in Tuesday's open primary, with most of them attacking one another rather than him. Should he win more than 50 percent, he automatically wins the seat. Otherwise, he goes into a June 20 runoff against the top Republican. That is likely to be either Karen Handel, a moderate who once served as Georgia's secretary of state, or Bob Gray, a businessman backed by the free-market Club for Growth.
If the Republicans lose to Ossoff, or see him come close to a first-round victory, storm signals will go up. In the past, special-election losses have often signaled that incumbent presidents were a drag on their party. In 1993, Democrats barely held a Wisconsin seat in the first months of Bill Clinton's presidency. The next year they lost ancestrally Democratic seats in Oklahoma and Kentucky, an indication that they were in danger of losing the House that November (which they did). In 2007 and 2008, Democrats won GOP seats in Illinois, Louisiana, and Mississippi, a clear sign of a demoralized Republican base in the second term of George W. Bush.
But there are some differences. In the Clinton and Bush years, the opposition party was careful to run candidates that fit their districts and were able to disengage from the national party's liabilities. In the Louisiana and Mississippi races in 2008, both winning Democrats were pro-gun and anti-abortion.
In the past, special-election losses have often signaled that incumbent presidents were a drag on their party.
This year, Democrats are making no pretense of running moderates. In Kansas, Georgia, and an upcoming June special election in Montana, all three Democratic nominees come from the Bernie Sanders wing of the party and aren't hiding it. In Kansas, Republicans were able to rally the pro-life community by accusing Democratic nominee William Thompson of supporting late-term abortions. Thompson protested that his position had been mischaracterized, but unconvincingly.
The lesson for Republicans is that the old admonition of Ben Franklin to his fellow patriots during the Revolutionary War applies to them: If they don't hang together, they will hang separately. If Republicans fail to address Obamacare, tax reform, or immigration in a convincing way, they will likely see some of their voters stay home in 2017. If enough do, control of the House or Senate could be jeopardy.
In the cynical, performance-based mood that many disaffected voters are in, excuses will no longer suffice. Of course, Republicans might lose some voters by implementing real change. But Kansas shows that the greater danger is failing to deliver the kind of change a restless electorate clamored for as recently as last November.
— John Fund is NRO's national-affairs columnist.
READ MORE: