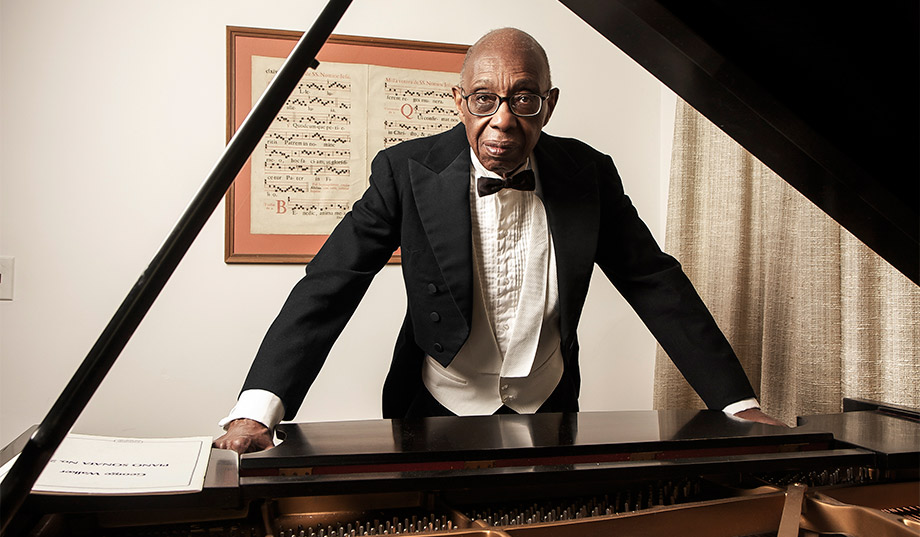 The composer George Walker
Editor's Note: In our May 15 issue, we had a piece by Jay Nordlinger on this remarkable musician. This week — today and tomorrow — he expands on it, Impromptus-style.
George Walker greets me at the door, smiling and dapper. I figured he would be (dapper). Mr. Walker is a gentleman of the old school. I've never seen a photo of him when he wasn't wearing a coat and tie. He is dressed that way now, in his own home. I have a feeling he wouldn't welcome a guest any other way.
He tells me that a neighbor once saw him mowing the lawn — in a tie. The neighbor got a kick out of it. (I'm not sure whether Mr. Walker was wearing a jacket. I kind of doubt it, but maybe.)
‐We are in Montclair, N.J., a lovely, leafy town some 15 miles from Manhattan. "I've lived in this house since 1969," Mr. Walker says. "I was the first black person in this neighborhood." I ask whether he ever had any problems. The answer is no.
‐Mr. Walker has many "firsts" to his credit. He was the first black person to graduate from the Curtis Institute of Music, the famous conservatory in Philadelphia. He was the first black person to earn a doctorate at the Eastman School of Music, the famous conservatory in Rochester, N.Y. He was the first black person to win the Pulitzer Prize for Music. And so on.
‐Obviously, George Walker is a musician — a composer and pianist. That's the right order, too. You can see it in the title of his autobiography (2009): "George Walker: Reminiscences of an American Composer and Pianist." There is something else about the title: the word "American," unqualified.
"I feel strongly about that," Mr. Walker tells me. "I've always disliked being called 'African-American.'" There are two reasons for this, basically. Mr. Walker's father was an immigrant to America from Jamaica. And young George was in and around the West Indian community in the city where the Walkers lived: Washington, D.C.
But beyond that, says Mr. Walker, "I just like the idea of being an American" — unqualified. He points out that his music is filled with American tunes: hymns, spirituals, pop standards, and the like. You may not hear them — they are planted in this classical music — but they're there.
In his piano concerto, he has a song by his fellow Washingtonian, Duke Ellington: "(In My) Solitude." In his Sinfonia No. 4, he has a couple of spirituals: "There Is a Balm in Gilead" and "Roll, Jordan, Roll."
‐He is a pianist too, don't forget — and he has big pianist's hands. "The piano is the instrument to which I have always been attached," he says. "I still am."
I mention that Casals, the great cellist, used to go to the piano every morning, to play Bach. I think it was a form of prayer. "George Crumb does too," Mr. Walker says. (Crumb is an American composer born in 1929.)
And Walker? "I don't really play," he says: "I practice." If he has something to work on — for a live performance or a recording — he works on it.
Also, when he composes, he does it the old-fashioned way: with paper and pencil, at the keyboard.
‐This summer, Mr. Walker will mark his 95th birthday. His latest composition is his Sinfonia No. 5. It will be played by the National Symphony Orchestra, in Washington, at the beginning of the 2018–19 season. Mr. Walker spends much of his time doing three things: seeking commissions; seeking performances of his works; and seeking recordings of them. That is the lot of a composer.
‐He was born on June 27, 1922. Harding was president. Mr. Walker's father — also named George — was a doctor. He had studied at the medical school of Temple University, in Philadelphia. Mr. Walker's mother, Rosa, worked at the Government Printing Office. Whereas her husband was an immigrant, she herself was native-born (and a high-school graduate).
Both Walkers observed standards. They did not even use slang — not even "okay," which was spreading like a weed.
‐I will give you a taste of Rosa Walker's character. Young George's piano teacher took him to concerts, and, once, there was an opportunity to hear Paderewski, the great Polish pianist (and former prime minister). But the event was in Constitution Hall — which was segregated. Mrs. Walker said no. George couldn't go.
(Marian Anderson, the great contralto — "The Lady from Philadelphia" — gave her famous Lincoln Memorial concert in 1939, when she was denied the use of Constitution Hall. Later, the hall welcomed her, and she sang in it many times.)
‐George Walker knew his grandmother — his mother's mother — very well. Her name was Malvina King. She had had two husbands. She lost the first one when he was sold at auction. The second had died. Mrs. King herself was an escapee from slavery.
One day, George asked her about it — about the experience of slavery. She uttered just one sentence: "They did everything except eat us."
Mrs. King lived to a great old age. No one knew how old she was. Probably, she didn't either. In 1946, Mr. Walker wrote Lyric for Strings, his best-known piece. It is dedicated to his grandmother. "My grandmother's piece," Mr. Walker calls it.
‐He went to Dunbar High, the famous school in Washington — the most famous high school for blacks in all of America. It produced a who's who of people, including Edward Brooke, the first black senator (popularly elected). Thomas Sowell has written of Dunbar High: It offers much food for thought concerning race and America.
Mr. Walker says that Dunbar had some very good teachers, yes, but some not-so-great teachers too. He really valued his classmates, frankly. He speaks of them with highest respect to this day.
One teacher he unquestionably valued was Clyde McDuffie, who taught Latin. The students spent one year — fourth-year Latin — on the Aeneid. Mr. Walker can still recite the famous opening: "Arma virumque cano . . ." Also, the poem impressed on him the importance of duty above personal desire.
‐He graduated from Dunbar at 14. Did his father pressure him to follow in his footsteps as a doctor?
By the way, some of the people in the neighborhood, and around town, had a nickname for young George: "Doc." "Hey, Doc, how's it going?" The father was a doctor. Why not the son?
Anyway, did Walker père ever pressure Walker fils to go into medicine? No, not at all. He never even brought the subject up, says Mr. Walker. That's amazing. That's restraint!
Young George would be a musician. And I'll continue tomorrow.
A word from the National Review Store: To get Digging In: Further Collected Writings of Jay Nordlinger, go here.