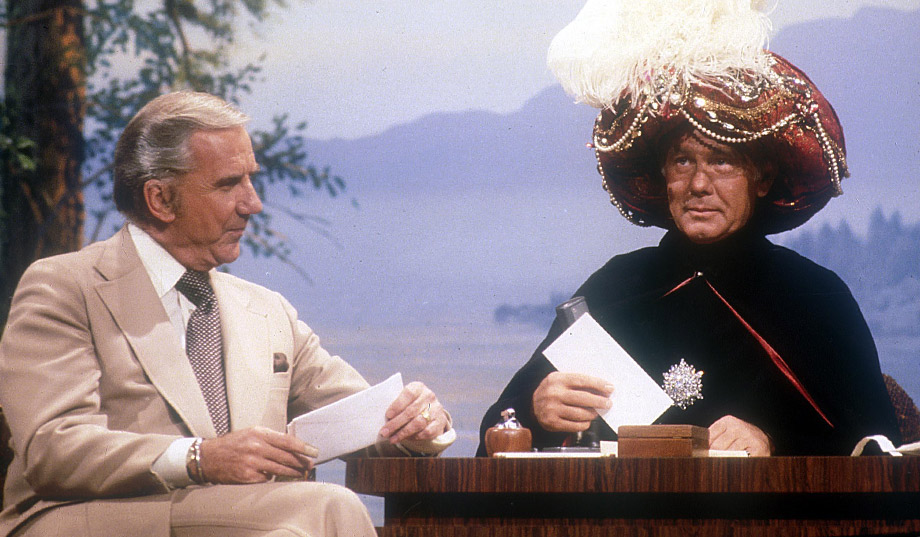 He treated political humor gingerly, making The Tonight Show something all of America could enjoy together.
It was exactly 25 years ago tonight that Johnny Carson signed off for the last time as the host of The Tonight Show, ending a 30-year run on NBC.
Jeff Sotzing was there. "It was an overwhelming outpouring of emotion," said Sotzing. "We didn't get standing ovations very often. But beginning that May we got them every night. On the final night, it lasted three minutes. It seemed like it would never end." Sotzing is now the president of the Carson Entertainment Group and oversees Carson's estate, including 20 years of Tonight Show episodes. He is also Carson's nephew. His famous uncle offered Sotzing a summer job in 1978. The summer never ended. Sotzing started out answering phones, sorting mail, and getting coffee. Within a decade, Sotzing had become an associate producer and eventually the show's producer.
A quarter-century ago, a case could be made that Johnny Carson was better known than the president of the United States. But for Millennials raised on Jimmy Fallon, Jimmy Kimmel, Stephen Colbert, Bill Maher, Samantha Bee, Trevor Noah, Seth Meyers, James Corden, Chelsea Handler, John Oliver, and, for that matter, Jon Stewart, Conan O'Brien, David Letterman, and Jay Leno, Johnny Carson is yet another figure in American history they aren't taught about.
Sotzing is trying to rectify that situation. First, Johnny Carson is back on TV. Since 2016, Tonight Show reruns have been airing on the retro network Antenna TV seven nights a week. Sixty-minute episodes from the 1980s and early 1990s are aired Sunday through Thursday; the 90-minute episodes from the 1970s are aired on Friday and Saturday.
Then There's . . . Johnny. Conceived by David Steven Simon and Paul Reiser, a frequent Carson guest best known for the 1990s NBC sitcom Mad About You, There's . . . Johnny is about a young man from Nebraska (where Carson spent his formative years) landing a job with The Tonight Show shortly after moving from New York to Burbank in 1972. There's . . . Johnny made its debut last month at the Tribeca Film Festival in New York and is expected to air as a web series on Seeso later this year.
"When Paul Reiser pitched the series to me eight years ago about a young man hired to work on The Tonight Show and working his way up, I told him, 'That's my life story,'" said Sotzing, who enthusiastically supported the project, signing on as its executive producer. He gave Reiser and Simon unprecedented access to the Tonight Show archives. The King of Late Night is back to reclaim his throne.
So what does Sotzing think of today's late-night talk-show hosts? Rather than single out any one, Sotzing spoke about how late-night TV has changed. "There's so much pressure to get huge ratings every second of the hour. It's difficult to be natural," said Sotzing. "On The Tonight Show, the atmosphere was casual and free-flowing. Johnny and Ed [McMahon] could spend eight minutes talking about how sharks and certain species of birds must remain in perpetual motion. That wouldn't be possible today."
There is also huge pressure to be political every second — see Jimmy Kimmel's foray into the health-care debate following his infant son's heart troubles, and more so Stephen Colbert's 60-minutes hate for President Trump, to say nothing of Meyers, Bee, Noah, and Oliver. Current Tonight Show host Jimmy Fallon was the subject of a blistering attack by Alexander Nazaryan in Newsweek, who called him late night's "least woke comedian." Nazryan also took aim at Carson:
Fallon's first Tonight Show was on February 17, 2014, well before Trump descended the escalator in his Midtown tower to ramble about Mexico and declare his bid to make America great again. During his first monologue, Fallon reminisced about how his parents let him watch Johnny Carson's monologue before bed when he was a kid. Carson has proven to be Fallon's biggest influence, a relentlessly chipper host who understood that any political stance he took was bound to lose him viewers.

Carson, though, is painfully irrelevant today. If the late-night comedy of 2017 has a precedent, then it is in The Dick Cavett Show. Cavett, the cool-blooded Yale graduate, became famous for his aggressive coverage of Watergate, which must have been strange terrain for a late-night host. Then again, Cavett was less comedian than witty conversationalist, one who has aged much better than his competitors (he frequently contributes political columns to The New York Times).
But for nationally syndicated conservative columnist and talk-radio host Dennis Prager, Carson's apolitical disposition is the very essence of his appeal:
Along with virtually every other American, I never knew Johnny Carson's politics. I would not have been surprised if he was a liberal or surprised if he was a conservative, a Democrat, or a Republican. In his 30 years as host of The Tonight Show on NBC, he never so much as hinted as to how he identified politically. He poked fun at whoever was in power, Republican or Democrat.

The reason he didn't let on where he stood politically is that he believed that he had a much greater responsibility — to offer Americans of all political persuasions an island of good-natured fun, a place where everyone could laugh together, every night.
Neither Nazaryan nor Prager paint a complete picture. For starters, Nazaryan might be unaware that Cavett was once a writer for Carson. If Nazaryan doesn't think Carson is much of a conversationalist, then he clearly hasn't seen Carson's May 1974 interview with Pulitzer Prize–winning syndicated columnist Jack Anderson, to whom he described Nixon's actions during Watergate as "almost un-American." Sotzing noted that his uncle stopped making jokes about Nixon when he learned that the 37th president was heavily drinking because of it. Carson might not have cared for what Nixon did, but he wasn't out to destroy him either. The same cannot be said of today's late-night talk-show hosts where it concerns President Trump. If Carson was still with us, he surely would have made fun of Trump's follies (as he did during Trump's bankruptcy woes in the early 1990s), but he would have done so without anger. Ditto for Hillary Clinton.
As for Prager, while he is correct that Carson poked fun at Democrats and Republicans in equal measure, he might be surprised at his October 1977 interview with Jane Fonda. When introducing her, Carson praised her political activism:
I admire her not only as a professional but as a person who has taken stands on issues that were at times unpopular and was willing to stand up and be counted. Called a radical. And it's a funny thing, how people who were called radicals at the time now are considered people, a lot of them, people who were considered right on — and lot of people wished they had taken these stands previously.
It's possible that Carson didn't agree with her actions in North Vietnam, but if that was the case, he didn't hold it against her. Carson was as comfortable conversing with Jane Fonda as he was with National Review founder William F. Buckley Jr., who appeared on The Tonight Show a dozen times between 1966 and 1987. Sotzing told me that he enjoyed the "wonderful pace of the give and take" between his uncle and WFB. Carson also frequently impersonated WFB, most notably in "Monday Night Football with William F. Buckley," a sketch in November 1983.
Despite the occasional appearance of politics, Sotzing said, "The Tonight Show was not Meet the Press. The Tonight Show was something all of America did together." Is there any individual who can bring Americans together in 2017? It could be said that Carson was a uniter, not a divider.
People watched Carson to see his monologues bomb while wondering how he'd find a way out of the hole he dug for himself. People watched him for his banter with Ed McMahon about the latter's drinking — and with Fred de Cordova about his age, with Tommy Newsom about his dearth of charisma, and, of course, with Doc Severinsen about the orchestra leader's outfits. Happily, Doc is still performing music as he approaches his 90th birthday this July.
People watched Carson for Carnac The Magnificent, Floyd R. Turbo, and Aunt Blabby. But most of all, people watched Carson for the conversations. He could talk to anyone between four and 104. Carson invited Americans to sit on his couch whether they were famous or not. There was the Button Man, the Potato-Chip Lady, and the town of Essex, Calif., which didn't have a TV signal. Carson invited the entire town to be in his audience one evening in March 1977, and he interviewed several of its residents. They were treated to the sight of Carson talking about the cosmos with Carl Sagan and Orson Bean. It was truly out of this world. Today, these people would probably be regarded as coming from "flyover country." But to Carson, people were people. He treated each of his guests with good humor and without a hint of condescension. America lost that after May 22, 1992. Can we ever find it again? More Americans should tune into Johnny Carson on Antenna TV at 10 p.m. every night. We cannot live in the past, but we can learn from it. And have a good laugh along the way.
READ MORE:
From Johnny Carson to Stephen Colbert
Don't Fire Colbert — Fire His Crowd
Samanta Bee & Liberals' Smugness Problem