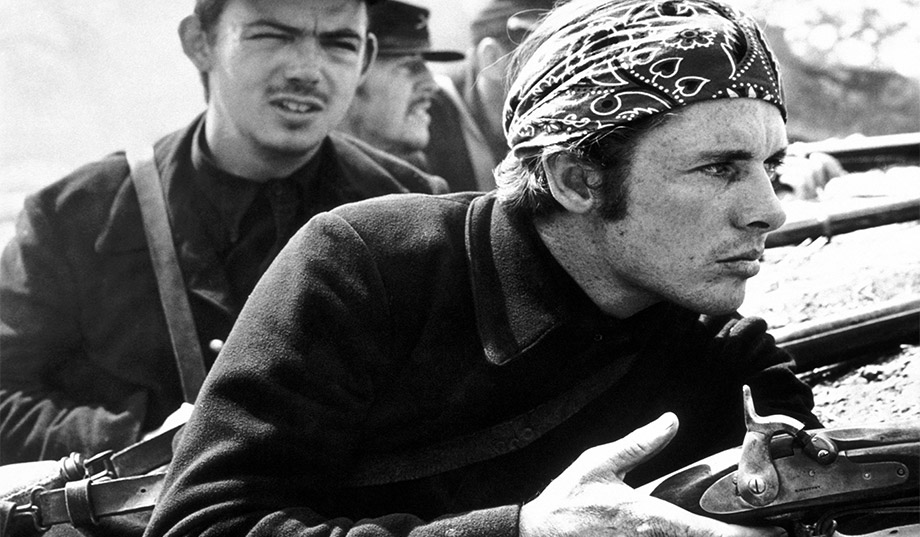 Unlike many of today's 'anti-war' duds, these seven works honor Americans who served in war.
Memorial Day is of course when we remember those who died serving their country in our armed services. There was a time when America's movie industry took pride in honoring American servicemen, both the living and the dead; there are a few actors and directors in Hollywood who still do. But since movies about Americans at war have largely gone in the opposite direction since Vietnam, this weekend it might be worthwhile going back to see seven movies that deal with war in an honest but not defeatist way. These works portray serving one's country in uniform as something to be revered and respected, not dismissed or derided.
The Big Parade , directed by King Vidor (1925). The one silent entry in the competition, and the only one for World War I (America's entry into that conflict was 100 years ago this year), this sprawling wartime epic stars John Gilbert as the affluent, rather happy-go-lucky young man who goes to serve in France with the Rainbow Division. While there, he experiences the horrors of trench warfare, the value of comradeship, and (inevitably) romance with a French country girl. Gilbert's career was ruined by the advent of talkies, because his voice sounded squeaky and hollow. But Big Parade reminds us of why he was one of the great actors of the silent screen.
They Were Expendable, directed by John Ford (1945). No list of Memorial Day movies is complete without one directed by John Ford, and one starring John Wayne — in this case as a lieutenant reluctantly serving on Patrol Torpedo boats while fighting the Japanese invasion of the Philippines. But the movie's real star is Robert Montgomery, who actually commanded PT boats during the war and who poignantly captures the movie's theme of sacrifice in the face of inevitable defeat. The entire film is poetry in motion, like any John Ford film, but it's worth remembering that "John Ford, Captain, USNR" (as the credits list him) and his film crew also risked their lives more than once doing work for the Navy in World War II.
Battleground, directed by William Wellman (1949). The story follows a squad of GIs in the darkest days of the Battle of the Bulge, when fear of death and defeat tests the courage and manhood of every character. The film's technical adviser was Lieutenant Colonel Harry Kinnard, who had been deputy commander of the 101st Airborne during the Battle of the Bulge, so you can be reasonably confident it's an accurate portrayal of the fighting. The standout performance is by James Whitmore, who won a Golden Globe award and who had seen action as a Marine in the South Pacific. Whitmore also does the voice-over narration for the next film on the list.
The Red Badge of Courage, directed by John Huston (1951). Memorial Day began as a holiday to honor the Civil War dead, so it's fitting that not one but two films on our list deal with the War between the States. This one is based on the classic story by Stephen Crane of a young soldier who experiences fear and panic on the battlefield but rallies to face the enemy and serve his country as well as his comrades. It stars Audie Murphy, who was a real-life war hero in World War II, and Bill Mauldin, who saw action as an artist and cartoonist on the Italian Front. The Badge is spare, sparse, and filmed in austere black and white, the studio chopped it from two hours to less than 70 minutes despite Huston's protests. It is still worth seeing. The person who finds those lost 50 minutes of Huston's favorite film will earn cinematic immortality.
Pork Chop Hill, directed by Lewis Milestone (1959). This is the Korean War's entry in our list, commemorating the seemingly pointless firefight of U.S. soldiers desperately holding their position against repeated North Korean and Chinese assaults while waiting for their superiors to negotiate the end of the war. Based on S. L. A. Marshall's best-selling book, it stars Gregory Peck as the officer who is forced to watch his command dwindle from 135 to just 25 men, in a seemingly pointless sacrifice. Directed by the same Milestone who delivered one of the most realistic battle scenes ever in All Quiet on the Western Front (1930), and shot in a nightmare landscape of light and shadow, the film stands as a harrowing, gripping tribute to courage and heroism. Watch for appearances by Martin Landau in his first movie, and by Gavin MacLeod — although we are a very long way from the Love Boat.
The Longest Day, directed by Ken Annakin, Andrew Martin, and Bernhard Wicki (1962). Do yourself a favor. Midway through watching this Darryl Zanuck–produced film about the D-Day invasion — and starring in cameo roles virtually every American movie star who could fog a mirror from John Wayne, Robert Mitchum, and Henry Fonda to Red Buttons, Sal Mineo, and Rod Steiger — break off and run the first 15 minutes of Saving Private Ryan. The rest of Spielberg's movie is largely worth skipping, but the Omaha Beach sequence gives a riveting meaning to the heroism and sacrifice of American soldiers on the Normandy beaches that Longest Day unaccountably misses. What the movie does have, however, is British actor Richard Todd, who actually served on D-Day in the attack on Pegasus Bridge that he is shown leading in the film.
With the totalitarian Left busy vandalizing and pulling down statues to these heroes, this is a film certain to drive your liberal friends crazy.
Gods and Generals, directed by Ron Maxwell (2003). The first documented Memorial Day celebration was led in April 1866 by the ladies of Columbus, Miss., who decorated the graves of both Union and Confederate dead. So it's worth winding up this Memorial Day tribute by watching a visually sumptuous film that honors both sides in the War between the States, with outstanding performances by Stephen Lang as Stonewall Jackson and Robert Duvall as Robert E. Lee. With the totalitarian Left busy vandalizing and pulling down statues to these heroes, this is a film certain to drive your liberal friends crazy — also because all the characters speak movingly of their devotion to God and service to the Almighty as well as to their country.
They say there are no atheists in a foxhole. I can't guarantee there won't still be atheists, and leftists, after watching these films this weekend. But everyone else will have a new sense of dedication to what this country stands for and to the memory of those who gave that last full measure.