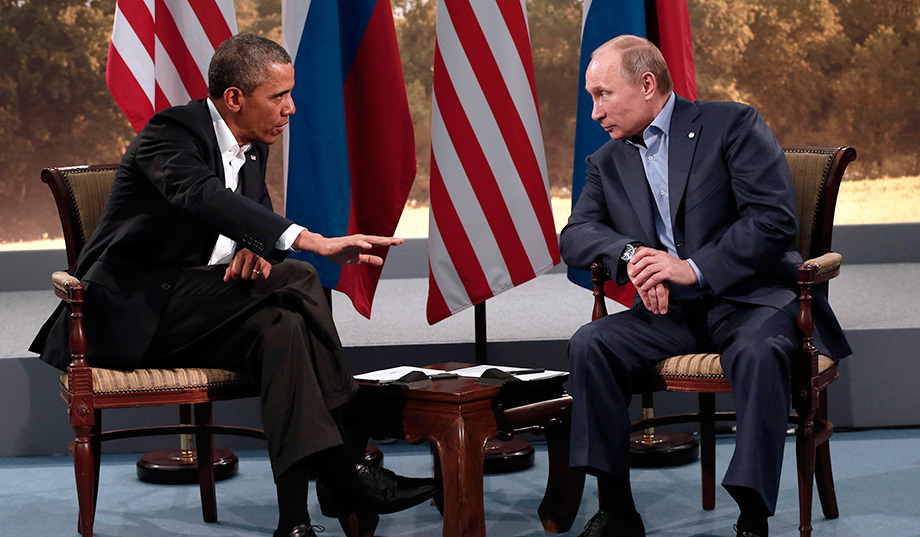 Obama gave Putin British nuclear secrets as Democrats and the media snored.
If you listen to breathless, Trump-loathing Democrats and their stooges in the liberal media, you would think President Donald J. Trump is the biggest traitor since Ethel and Julius Rosenberg sent Stalin the recipe for the atomic bomb.
As the Washington Post reported on Monday, President Trump met Russia's foreign minister and its ambassador to Washington in the Oval Office on May 10. They discussed ISIS's secret plans to detonate laptop computers aboard passenger jets. Trump said via Twitter Tuesday that he shared this intelligence — possibly from Israeli sources — because "I want Russia to greatly step up their fight against ISIS & terrorism."
National-security adviser H. R. McMaster vigorously insisted on Monday that Trump did not do what the Left accuses him of doing, including revealing how and from whom America acquired details on ISIS's laptop weapons.
"I was in the room," McMaster said. "It did not happen." He added: "At no time were any intelligence sources or methods discussed, and no military operations were disclosed that were not already known publicly."
This story emerged after someone found President Trump's handling of state secrets so worrisome that he or she blabbed those same secrets to the Washington Post. Go figure.
Despite the White House's denials, Democratic volcanoes erupted afresh.
"Congress must immediately investigate this irresponsible action and take steps to ensure that Trump does no additional damage to U.S. national security in his dealings with Russia," bellowed Senator Ed Markey of Massachusetts.
"I just think it's part of a pattern of recklessness that we've got to get a handle on," said Senator Martin Heinrich of New Mexico.
Representatives John Conyers of Michigan and Elijah Cummings of Maryland fumed in a joint statement: "After an unprecedented week in which many thought it would be impossible for President Trump to be any more irresponsible, he now may have sunk to a dangerous new low."
According to the Washington Post's Glenn Kessler: "Applause in the newsroom as the Russia-leak scoop breaks the Hollywood Access record for most readers per minute."
Keith Olbermann, MSNBC alumnus and host of GQ.com's The Resistance, exploded: "YOU are the leaker, you stupid, pea-brained, mother****ing traitor. RESIGN."
But where were these Democratic and left-wing Krakatoas when Obama gave Putin the identity and whereabouts of Great Britain's nuclear missiles?
The Telegraph of London cited U.S. Embassy cables that it received via Wikileaks and summarized in its February 4, 2011, edition.
"A series of classified messages sent to Washington by US negotiators show how information on Britain's nuclear capability was crucial to securing Russia's support for the 'New START' deal," Matthew Moore, Gordon Rayner, and Christopher Hope wrote. According to their report on the Strategic Arms Reduction Treaty (START), "the leaked cables show that Russia used the talks to demand more information about the UK's Trident missiles, which are manufactured and maintained in the US."
The authors continued:
Washington lobbied London in 2009 for permission to supply Moscow with detailed data about the performance of UK missiles. The UK refused, but the US agreed to hand over the serial numbers of Trident missiles it transfers to Britain.
"This appears to be significant because while the UK has announced how many missiles it possesses, there has been no way for the Russians to verify this," Professor Malcolm Chalmers of the Royal United Services Institute told The Telegraph. "Over time, the unique identifiers will provide them with another data point to gauge the size of the British arsenal."
Obama's treaty was amazingly cold as it back-stabbed America's cousins, from the Scottish Highlands to the white cliffs of Dover. The secret U.S. cable originated in "Mission Geneva." Dated February 25, 2010, it summarizes a meeting that had occurred on February 9 between American and Russian arms negotiators, including decisions on submarine-launched ballistic missiles. Item No. 13 detailed "an agreed statement on the transfer of Tridents II SLBMs to the United Kingdom."
The Parties agree that, in order to increase transparency in relation to the use of "Trident-II" SLBMs, transferred by the United States of America to equip the Navy of Great Britain, the United States of America shall provide notification to the Russian Federation about the time of such transfer, as well as the unique identifier and the location of each of the transferred missiles. The Parties agree that, upon conclusion of the life cycle of "Trident-II" SLBMs transferred by the United States of America to equip the Navy of Great Britain, the United States of America will send notification to the Russian Federation about the time and method of elimination, as well as the unique identifier for each of the transferred missiles.
"So, let me get this straight," says Steve Baldwin, former Republican whip in the California state assembly, who brought this travesty to my attention. "Trump shares intelligence with Russia about ISIS, a third-party terrorist group that both countries are fighting. All hell breaks loose. But Obama gives secrets about British nuclear missiles to Russia with no obvious benefit to the West, and our media ignore it?"
Precisely.
The Left's volcanoes stayed dormant as Obama rejected London's express wishes, betrayed America's closest NATO ally, and helped Vladimir Putin and his admirals count the nuclear-tipped missiles that shield the heirs to Winston Churchill and Margaret Thatcher.
This may be the ugliest example of an American president donating state secrets to an unsavory, unfriendly government, but there are plenty more precedents for such executive action that predate Trump.
• "Presidents have routinely discussed classified information with foreign officials," New York University historian Tim Naftali told Slate's Joshua Keating. "They discuss military capabilities, contingencies, and plans with allies and sometimes with adversaries."
'Presidents have routinely discussed classified information with foreign officials,' a historian told Slate. 'They discuss military capabilities, contingencies, and plans with allies and sometimes with adversaries.'
• Keating recalled Monday: "George W. Bush invited several foreign leaders to join him for his daily classified briefings, including British prime minister Tony Blair, Japanese prime minister Junichiro Koizumi, Spanish prime minister José María Aznar, and — yes — Russian president Vladimir Putin."
• "The Reagan administration, for its part, shared intelligence with Saddam Hussein to avert an Iranian victory in the Iran–Iraq War," Uri Friedman noted Tuesday on The Atlantic's website.
• As part of President Richard Nixon's overture to Red China, Friedman wrote, "Henry Kissinger wooed the Chinese by informing them that the United States was secretly providing military support to China's ally, Pakistan, during the Indo–Pakistani War of 1971."
Trump's sharing of intelligence, such as it was, represents the eastbound lanes of a two-way thoroughfare. The westbound half is controlled by Moscow, which has given Washington secrets as part of a mutual interest in crushing militant Islam.
• "Russian president Vladimir Putin has announced broad support for the war on terrorism," the Boston Herald observed on September 26, 2001, about a fortnight after al-Qaeda's September 11 attacks killed 2,977 and wounded some 6,000 others. "Putin has offered to share intelligence and open Russian airspace to search and rescue operations. . . . Russian support for the war on terrorism could mark the beginning of a new era of cooperation between Moscow and Washington."
• "Russia can prove to be a valuable ally, supplying assistance to a military effort and intelligence on Islamic extremists," the Los Angeles Times declared, according to UPI's "What Newspapers Are Saying" feature. "Putin faced hard choices and crossed a significant line, making Russia an important member of the anti-terror coalition."
• Russian officials warned the U.S. government in March and September 2011 to beware of Tamerlan Tsarnaev, a Muslim asylee who had settled in Massachusetts and adopted radical Islam. Despite these alerts from Moscow, federal authorities misspelled Tsarnaev's name, which let him glide past U.S. immigration officers after he visited Dagestan. Tsarnaev and his brother, Dzokhar, bombed the Boston Marathon on April 15, 2013. They murdered three and injured 264.
So, were President Trump's actions typical or anomalous?
"Revealing classified information to accomplish a foreign policy goal is Normal," Slate's Keating wrote. "Revealing highly classified intelligence casually in conversation for no particular reason, if that is in fact what Trump did, is Not Normal."
Whatever the tenor of President's Trump's remarks to the Russians, he hardly expressed them "for no particular reason," as Keating suggested and the Left desperately wants to believe — unless, they fantasize, the president's real purpose was to serve his KGB masters on Red Square. Rather, Trump hoped Moscow would assist U.S. efforts to foil ISIS's laptop plot in particular and annihilate ISIS in general. What would those now raging at Trump say had he clammed up around Russian foreign minister Sergey Lavrov and ambassador to the U.S. Sergey Kislyak, and next September 11 a laptop blew up aboard an Aeroflot flight, raining jet engines, luggage, and dead passengers onto private homes near New York's JFK Airport? Trump's very same enemies would roar like Vesuvius: "Why didn't Trump stop this? He failed to connect the dots. IMPEACH!"
The beleaguered White House Press Office immediately should stage a briefing where President Trump's national-security team can present these and other pertinent facts to the bloodthirsty, anti-Trump hyenas in the media, as well as gutless GOP lawmakers whose knees chatter even as they flee into the tall grass.
READ MORE:
Intelligence Lapses and Double Standards
Trump's Defense of His Russia Leak Is Not Reassuring