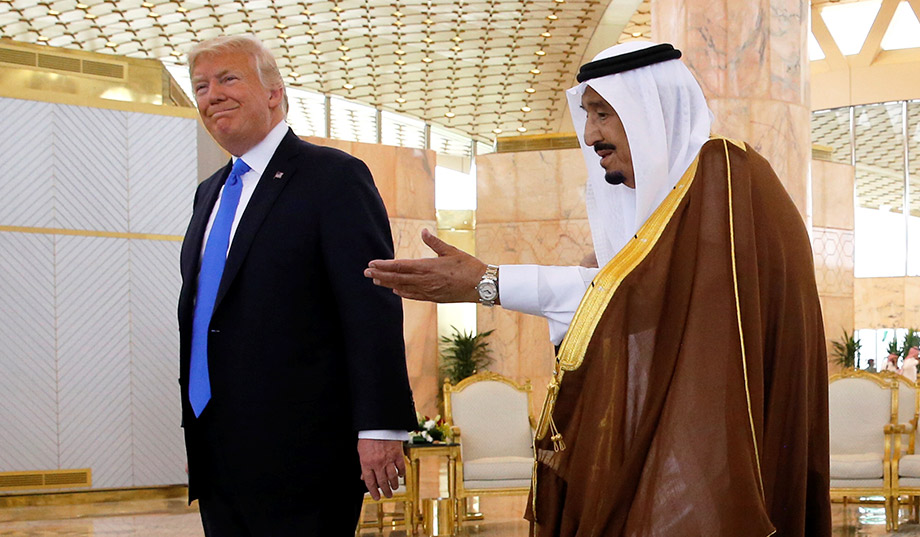 The principal fiction in the president's speech in Saudi Arabia was the claim that we share 'common values' with the sharia society.
So for what exactly is the "extreme vetting" going to vet?
That was the question I could not shake from my mind while listening to President Trump's speech in Saudi Arabia on Sunday to dozens of Sunni Islamic leaders and a global television audience.
There were certainly some positives in the president's rhetoric. Trump did not cite American policy or "arrogance" as a contributory cause of jihadist savagery, as President Obama was wont to do. He was less delusional about the splendor of Islam than were Obama and President George W. Bush. Gone were absurd inflations of Islam's historical achievements and place in the American fabric; gone were allusions to the "religion of peace and love." In their place was an acknowledgment that Islam is besieged by a "crisis" of terror that is engulfing the world, a crisis that is ideological in nature and that only Muslims themselves can solve.
All true. Nevertheless, the theme that came through the speech is that terrorism is something that happens to Islam, rather than something that happens because of Islam. That is simply not the case, even though it is true, as Trump asserted, that the vast majority of those killed by Muslim terrorists are themselves Muslims.
There is thus a good deal that is not real about "Principled Realism," Trump's name for what he heralds as a new American strategy — "new approaches informed by experience and judgment," a "discarding" of strategies "that have not worked."
The principal fiction in "principled realism" is that we share "common values" with Sunni Arab sharia societies. That is problematic because these purported "common values" — in conjunction with "shared interests" — are said to be the roots of Trump's approach.
The president stressed that during his first overseas trip as president, he would be "visiting many of the holiest places in the three Abrahamic faiths." The irony was palpable, at least to some of us. Trump is not visiting the holiest places of Islam.
Yes, upon departing Saudi Arabia, he headed to Israel where he prayed at the Western Wall in Jerusalem. In the offing is a jaunt to Rome, to the Vatican for an audience with Pope Francis. But for all the treacle about "why I chose to make my first foreign visit a trip to the heart of the Muslim world, to the nation [Saudi Arabia] that serves as custodian of the two holiest sites in the Islamic faith," Trump sidestepped the fact that he is not welcome in those two sites, Mecca and Medina.
Why? Because the president is a non-Muslim. Non-Muslims are not allowed to step their infidel feet in Islam's sacred cities.
That iteration of Islamic intolerance is squarely based on scripture — see, e.g., the Koran's Sura 9:28: "Oh you who believe! Truly the idolaters are unclean, so let them not, after this year, approach the sacred mosque" — a verse that specifically relates to the Grand Mosque in Mecca (Makkah), and has been extended by Islamic scholars to Medina. That is why Trump's House of Saud hosts enforce a ban on entry by non-Muslims to both cities.
I say that this ban is just one "iteration of Islamic intolerance" for two reasons.
First, there are many other iterations. Scripturally based Islamic doctrine systematically discriminates against non-Muslims in many particulars, and against women in many others. Since Trump's "principled realism" is said to be rooted in "common values," it might be worth a gander at the guidance Trump's State Department provides to Americans pondering a trip to the kingdom:    
Criminal Penalties: You are subject to local laws. If you violate local laws, even unknowingly, you may be expelled, arrested, imprisoned, subject to physical punishments, or even executed. Penalties for the import, manufacture, possession, and consumption of alcohol or illegal drugs in Saudi Arabia are severe. Convicted offenders can expect long jail sentences, heavy fines, public floggings, and/or deportation. The penalty for drug trafficking is death . . .

Faith-Based Travelers: Islam is the official religion of the country and pervades all aspects of life in Saudi Arabia.

‐Saudi authorities do not permit criticism of Islam, religious figures, or the royal family.

‐The government prohibits the public practice of religions other than Islam. Non-Muslims suspected of violating these restrictions have been jailed. Church services in private homes have been raided, and participants have been jailed.

‐Muslims who do not adhere to the strict interpretations of Islam prevalent in much of Saudi Arabia frequently encounter societal discrimination and constraints on worship.

‐Public display of non-Islamic religious articles, such as crosses and Bibles, is not permitted.

‐[And, of course . . .] Non-Muslims are forbidden to travel to Makkah (Mecca) and Medina, the cities where two of Islam's holiest mosques are located . . .

LGBTI Travelers: Same-sex sexual relations, even when they are consensual, are criminalized in Saudi Arabia. Violations of Saudi laws governing perceived expressions of, or support for, same sex sexual relations, including on social media, may be subject to severe punishment. Potential penalties include fines, jail time, or death.
The State Department guidance suggests that readers consult the International Religious Freedom Report produced in 2015 by State's Bureau of Democracy, Human Rights and Labor. It relates the brutal punishments meted out by some Islamic countries — not jihadist organizations, but governments in Muslim-majority countries — for blasphemy and apostasy. The paragraph on the Kingdom is worth reading:
In Saudi Arabia, media and local sources reported that the General Court in Abha sentenced Palestinian poet Ashraf Fayadh to death for apostasy in November, overturning a previous sentence of four years' imprisonment and 800 lashes (the death sentence was subsequently overturned in February 2016 and a sentence of eight years' imprisonment and 800 lashes imposed). Officials from the Committee for the Promotion of Virtue and Prevention of Vice initially arrested Fayadh in August 2013, after reports that he had made disparaging remarks about Islam. In a separate incident in January, authorities publicly lashed Raif Badawi 50 times in accordance with a sentence based on his 2013 conviction for violating Islamic values, violating sharia, committing blasphemy, and mocking religious symbols on the Internet.
This is why, watching Trump and his senior aides prance about the palace in Riyadh, doing "the sword dance" with their fellow male revelers, I couldn't help but wonder if they realized how often their host regime uses the scimitars to carry out beheadings for violations of Islamic law. There were 153 decapitations last year and 158 in 2015.
It is worth emphasizing: That is not something that was done by ISIS for violations of sharia. It was done by the government of Saudi Arabia for violations of sharia.
Which brings us to the second reason why Islamic intolerance must be noted in our consideration of "principled realism": That intolerance is the foundation of "extremism," the studiously unexamined term Trump now applies to jihadist terrorism, just as Obama and Bush did before him.
There was much ado in the lead-up to and delivery of Trump's speech regarding how he would describe the phenomenon he labeled "radical Islamic terrorism" throughout the 2016 campaign — ridiculing the craven political correctness of rivals who shied away from this terminology. As with much else Trump said on the hustings, the label is the subject of intense infighting in his administration.
Reflecting the view of former military commanders who serve in the administration's top ranks (and who carried out Bush's "Islamic democracy" building and Obama's embrace of our Islamic "partners"), national-security adviser H. R. McMaster is said to be repulsed by the term "radical Islamic terrorism," apparently seeing it as needlessly provocative. Other Trump strategists, who supported the campaign's promise to be unflinching in illustrating the nexus between Islamic scripture and Muslim terrorism, strongly favor the term. Trump, who simultaneously wants (a) profitable relations with the Saudis, (b) the refutation of claims that he is anti-Muslim, and (c) credit for being honest about the connection between Islam and terror, seems torn.
The intramural squabble was evident during the speech. As prepared, the text had the president calling for "honestly confronting the crisis of Islamist extremism and the Islamist terror groups it inspires" (emphasis added). But when he actually delivered his remarks, Trump departed from the script, speaking instead of "honestly confronting the crisis of Islamic extremism and the Islamists and Islamic terror of all kinds."
An unidentified aide insisted to the New York Times that the president was "exhausted" and simply misspoke when he invoked "Islamic." To the contrary, I believe he is struggling to resolve this tension. As I pointed out prior to his inauguration, however, it is unclear that Trump grasps why the tension is significant: For him, it may reflect concern over the inevitable criticism if he abandons hot campaign rhetoric, not over whether the distinction between Islamic and Islamist is viable.
We draw this distinction out of a conviction that Islam the religion should not be confounded with Islamism the political ideology. This conviction may be more a matter of wishful thinking than anything that can be called "realism." That is manifest when we review the afore-described State Department guidance. Intolerance of non-Muslims and subjugation of women is not a reflection of jihadist "extremism"; it is mainstream Islam as practiced and codified in sharia societies.
So here is the problem: The definition of "extremism" that Trump's "principled realism" sets itself against is artificial and incoherent. It is true, of course, that not all Muslims who support the intolerance rooted in Islamic doctrine and expressed by the policies of majority-Muslim regimes will become violent jihadists. Nonetheless, violent jihad is a natural progression from that intolerance. Yet Trump's "principled realism" holds that the American people and sharia societies share "common values" that will cause the latter to fight jihadism.
How could anyone believe this is the case unless he is willfully blind to how the kingdom is governed, the longstanding support Saudis have provided for terrorism, and the number of Saudis complicit in anti-American terrorism? Trump is trying to have it both ways: acknowledge that the threat is ideological (and demand plaudits for brave political incorrectness in doing so), but pretend that the violent aspects of the ideology can be — indeed, have been — compartmentalized from the intolerant dehumanization of non-Muslims at the core of the ideology.
If this is Trump's position, then why all the fuss about "extreme vetting"?
If you are myopically focused on terrorism, you are missing most of the challenge posed by sharia encroachment.
The imperative to enhance the vetting process for people trying to enter the U.S. from hotbeds of radical Islam was a major plank of the Trump campaign. It is the eventual goal hovering over disputes over temporary travel bans the president has tried to impose since the start of his administration. But does anyone remember the objective of "extreme vetting"? It was to bar entry to those adherent to the ideology (which I prefer to call "sharia supremacism") that promotes not just terrorism but anti-Americanism and anti-constitutionalism. Our immigration law already vets for ties to terrorism.
In his "principled realism" speech, however, the president takes the position that we're only concerned about violence. "We are not here to lecture — we are not here to tell other people how to live, what to do," he says. Our "goal is . . . to conquer extremism" — a term the president narrows to mean terrorism — lest he insult his "gracious hosts." If you are myopically focused on terrorism, however, you are missing most of the challenge posed by sharia encroachment. Jihadist terror is not pointless; its purpose is to impose sharia — a version of it similar to what the Saudis enforce.
The president is up in a balloon because, as he explained in his speech, he has "signed historic agreements with the Kingdom that will invest almost $400 billion in our two countries and create many thousands of jobs in America and Saudi Arabia." Perhaps his strategists could inform the president that when Saudi Arabia invests in America, the result invariably includes the construction of schools and mosques that propagate the ideology that causes the State Department to issue the travel guidance outlined above. (See, e.g., my 2010 profile of the Dar al-Hijra mosque in Virginia.)
According to the president, "principled realism" is based not only on purported "common values" but also "shared interests." That does make sense. The Trump administration is returning American foreign policy to its pre-Obama orientation against the Shiite jihadist regime in Iran. The Sunni states also oppose Iran. That is the "shared interest." It is a significant area of agreement, but a narrow one. We should not delude ourselves into thinking it signifies "common values."
In a passage that could as easily have been spoken by President Bush, and probably even by President Obama, President Trump asserted:
This is not a battle between different faiths, different sects, or different civilizations. This is a battle between barbaric criminals who seek to obliterate human life, and decent people of all religions who seek to protect it. This is a battle between Good and Evil [capitalization in White House-issued text].
So we're back to the question whether Islam has anything to do with Islamist (or Islamic) terrorism.
I'll take it from the Saudi perspective. Let's say, as the president does, that we are truly engaged in a battle between good and evil. When you read the State Department's guidance regarding travel to Saudi Arabia — guidance that is necessary because of the way the Saudi government treats non-Muslims, women, apostates, and homosexuals — do you suppose the Saudis and their Sunni confederates see the United States as the "good" or the "evil" side?
President Trump is banking on the former. I'm not.
READ MORE:
President Trump's Statesmanlike Speech in Riyadh
President Trump's Saudi Speech: Pretty Good