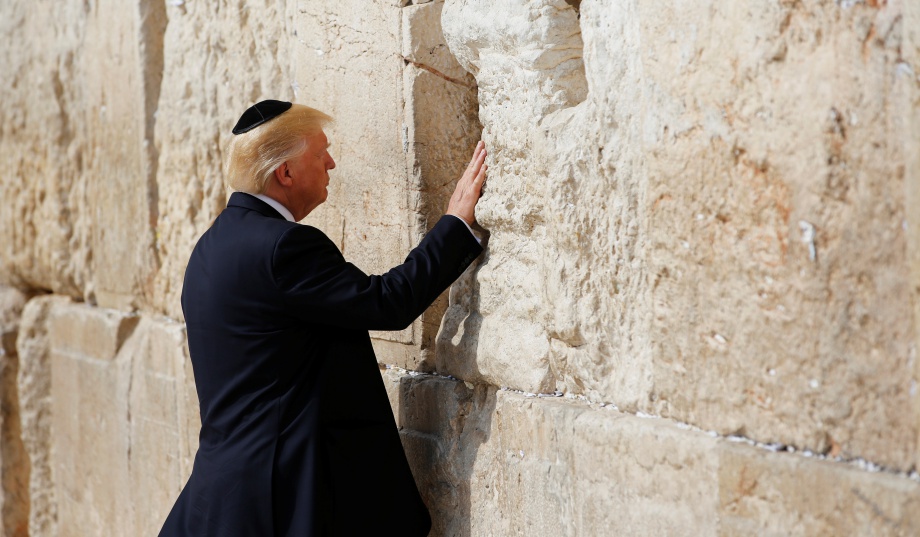 Ultimately, it was hope, optimism, and gratitude that characterized his Israel visit.
Jerusalem, Israel — "We have returned to the cisterns," legendary Israeli songwriter Naomi Shemer crooned exactly 50 years ago in her famous song "Jerusalem of Gold," which she revised to reflect Israel's historic liberation of the Holy City. "A ram's horn calls out on the Temple Mount in the Old City."
On Monday, an American president visited Jerusalem for the first time in four years, and Donald Trump, in a symbolic gesture not lost on anyone here, visited the Western Wall at the base of that Temple Mount — the first sitting president ever to do so.
Trump, who campaigned vigorously as more pro-Israel than Hillary Clinton, has appeared determined to mend fences with the Jewish state, fences that President Obama, unfortunately, allowed to fall into disrepair.
Yet the president's appearance in Israel coincides with a highly turbulent stretch of his young presidency, a delicate period in the relationship between his administration and the Jewish state, and a joyous but fraught moment in Israeli history.
Trump's political and legal troubles require no rehearsing in this space, but suffice it to say he desperately needed to fashion a great success out of his first foreign trip.
Some of those troubles, however, were implicated in the very places he visited.
Take, for instance, the recent White House dustup over sensitive intelligence disclosures Trump supposedly made to the Russian foreign minister and ambassador to Washington.
The origin of the information the president allegedly shared — which reportedly concerned an ISIS plot to smuggle explosives onto commercial airliners in laptops — apparently came from Israeli sources, possibly including an asset who had infiltrated the terror organization. Some news organizations reported that Israeli officials were "horrified," "furious," and "fuming" over the revelations, while other outlets claimed the original source of the intel was Jordanian.
Ultimately, while the political echelons in both countries appeared to have mended fences, with Netanyahu at their joint press conference in Jerusalem praising intelligence cooperation as "terrific," the longer-term consequences for intelligence-sharing between Israel and the U.S. remain uncertain.
Then there was Trump's visit to the Western Wall itself, which Israel conquered from Jordan in a defensive war in June 1967.
The Wall, known in Hebrew as the Kotel, is one of the holiest sites in the Jewish religion, and while Arab control of the holy city barred Jews for decades from visiting it, Israel's unexpected liberation of Jerusalem made all holy sites available to people of all faiths.
So when Israeli prime minister Benjamin Netanyahu first proposed visiting the Kotel alongside the president, Israelis were surprised to hear from an American consular official that the United States did not regard the Wall as part of Israel. The administration walked back that intemperate comment, but Trump persisted in declining to be joined by any Israeli officials at the Kotel — a decision that arrived just as a recent poll found Trump's support in Israel sagging.
And then, too, there was the president's visit to Saudi Arabia immediately before arriving in Israel, which represented an effort to restore yet another alliance corroded by the Obama administration.
But the Israeli-Saudi relationship is, well, complicated.
On the one hand, the kingdom does not recognize the Jewish state, and the Wahhabi brand of Islam it espouses and exports has inspired murderous acts of terrorism across the globe. The Israeli security establishment has traditionally regarded with suspicion American efforts to cozy up to the Saudis, and the recently-announced $110 million arms agreement (reportedly facilitated by Jared Kushner) was no exception.
"Saudi Arabia is a hostile country," groused Yuval Steinitz, Israel's Minister of Energy, about the deal "and we must ensure that Israel's qualitative military edge is preserved."
Israelis, who almost uniformly adore the United States and our shared values and freedoms, have always delighted in hosting American visitors.
On the other hand, the Saudis and Israelis over the last decade have found themselves united against Iran and its proxies, a common enemy that Trump expressly highlighted during his time in Riyadh.
Yisrael Katz, the Israeli Minister of Intelligence, predicted that the president's visit would "strengthen[] the anti-Iranian camp in the region and present[] an opportunity to advance regional security and economic cooperation as a foundation for regional peace."
Indeed, the kingdom has recently made overtures to the Jewish state, reportedly offering to normalize relations in exchange for progress in peace negotiations with the Palestinians; Trump's flight from Riyadh to Tel Aviv was the first of its kind, but at the welcoming ceremony at Ben Gurion airport, Netanyahu expressed hope that he could one day make the same journey in reverse.
And ultimately, it was hope, optimism, and gratitude that most clearly characterized Trump's visit to the Holy Land.
Israelis, who almost uniformly adore the United States and our shared values and freedoms, have always delighted in hosting American visitors, including even presidents like Obama, who despite receiving low marks from Israelis because of his harmful policies was warmly welcomed during his visit.
Trump, too, was showered with affection by Netanyahu (who thanked him for his "powerful expression of your friendship"), President Reuven Rivlin, and other officials.
And in the end, the president's visit to the Wall proved inspiring: He was accompanied, simply, by two rabbis, the first lady, and Ivanka and Jared, who are both Jewish — an understated yet unmistakable affirmation of the importance of the Kotel, and of Jerusalem in general, to the Jewish people. There may not have been a ram's horn, but Trump's visit — setting aside politics and scandals — boldly heralded Israel's return.
READ MORE:
Donald Trump's Middle East Policy
Trump's Russian Leaks & Israel
Israel's Two-State Solution & Donald Trump
— Michael M. Rosen is an attorney and writer living in Israel. Reach him at michaelmrosen@yahoo.com.