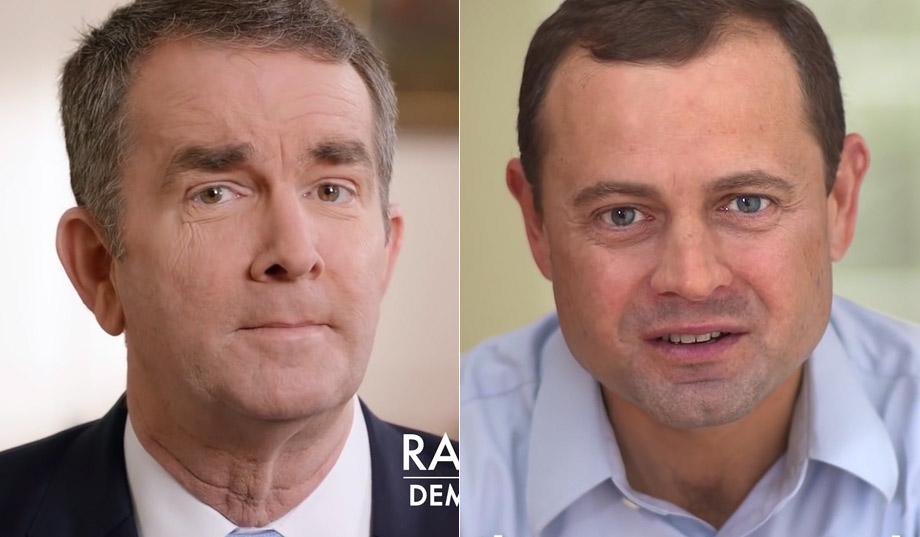 The gubernatorial candidates vie for the progressive mantle.
At a union hall in Richmond, Va., earlier this week, one bold solution was repeatedly offered as a panacea for many of the state's woes: a universal, tuition-free pre-school program. This proposal is a good example of just how far left Virginia's Democratic party has drifted of late, and it was only one of many policy questions on which the two Democratic candidates for governor agreed on Tuesday night, even as each attempted to display his left-wing credentials at the expense of his rival.
The two men facing off in the third Democratic-primary debate — one of just two such races taking place in the country this year, the other being in New Jersey — bore a striking resemblance to the two politicians who debated in last year's Democratic presidential primary.
While neither Ralph Northam nor Tom Perriello resembles either Hillary Clinton or Bernie Sanders in temperament, both men were clearly engaged in a similarly calculated race to the left, wrestling over the state's progressive primary voters. And, like Clinton and Sanders, these two men are fighting over the direction of a Democratic party beset by the specter of Donald Trump.
Northam, Virginia's current lieutenant governor, seemed eminently self-assured throughout the debate, confident that his track record as a longtime Virginia politician gives him an edge over his upstart competitor. Like Clinton, he's been around the block a time or two. Unlike her, however, Northam remains largely popular among the party's movers and shakers, and they've uniformly consolidated around him. In fact, Virginia attorney general Mark Herring backed out of the gubernatorial race in the fall of 2015 to make room for Northam.
Perriello, on the other hand, has already drawn the wrath of some the state's Democratic insiders for his last-minute disruption of a race that was widely seen as Northam's to win or lose. Perriello served just one term in the U.S. House of Representatives at the start of Barack Obama's presidency, and, unsatisfied with Northam's record, jumped into this race last December to offer a supposedly more left-wing alternative. The most recent polls have shown the two men to be in close competition.
An intensely progressive approach to economic justice undergirds Perriello's campaign, and his rhetoric sounds much like that of the average Democratic activist on Twitter, pumping up the #Resistance against Trump and the Republicans in Washington. Just yesterday, he tweeted a crack at Republican candidate Ed Gillespie over health care: "Put down Twitter and pick up a spine."
The Virginia gubernatorial race, which takes place every four years, is often viewed as a referendum on the party holding the White House, taking place as it does the November after every presidential election. Perriello's presence in this race strengthens that narrative and transforms what was supposed to be an uncontested primary into a high-stakes competition between a solidly establishment Democrat and a would-be anti-Trump figure running on his desire to take the party even farther left.
The only problem with Perriello's strategy is that Northam is no moderate. Though he has admitted to having twice voted for President George W. Bush — a fact Perriello needled him for on Tuesday night — he has steadily moved leftward over his time in public office, to the point where he now campaigns inside abortion clinics to demonstrate his commitment to "women's health."
Northam also commands the respect of his entire party in the state, garnering the endorsements of sitting governor Terry McAuliffe, both of Virginia's senators (Democrats Mark Warner and Tim Kaine), and all of Virginia's Democratic representatives in the U.S. House save one, Gerry Connolly, who is remaining neutral in the primary. He's also close to the state's sitting Democratic legislators, and his ties in Richmond would likely enable him to accomplish much more politically if elected.
Perriello has yet to snag the support of even one prominent Virginia Democrat — and he likely will remain without such support, since all those worth mentioning threw their names behind Northam long ago — but he did earn the recent endorsement of one Vermont senator: independent Bernie Sanders.
As Northam has rightly pointed out, though, Sanders's support might not take Perriello far; the race is taking place in Virginia, after all, not in Vermont. And the Sanders endorsement has not gone off as smoothly as Perriello supporters might've hoped: At a rally in early April, the Vermont senator butchered Perriello's last name, calling him "Tom Perrioli."
Nevertheless, the former congressman has reason for hope. For a campaign aimed at pushing Virginia's Democratic party farther left than McAuliffe and Northam have moved, he could do worse than blazing down the campaign trail with Sanders at his side. He's also garnered the support of nearly 30 former members of President Obama's White House staff. Because the state's usual Democratic-primary voters will more than likely consolidate around Northam, Perriello says he hopes to claim the votes of those left-wing Virginians who haven't traditionally turned out.
Despite these distinct campaign models, the two candidates sounded markedly alike on the debate stage on Tuesday night — and sounded markedly progressive. Perriello repeatedly tried to distinguish himself from his competitor with a tax-reform plan that will supposedly allow the state to fund eight weeks of paid leave, four years of free community college, and a universal pre-K program.
The two candidates sounded markedly alike — and markedly progressive.
But Northam managed to display his own left-wing bona fides while also making a convincing case that uncompromising progressivism like Perriello's will never work in Virginia. Returning to his long record as a tested and respected Virginia Democrat, Northam made his progressive stances sound much more like commonsense policies, while Perriello came across as a less enthusiastic version of Sanders.
"Virginia is a fiscally responsible state," Northam said. "My plan costs about $37 million. His plan costs close to half a billion dollars. That's not possible here."
Northam noted, too, that Virginia's General Assembly is currently held by Republicans, and, unless it is reclaimed by Democrats in November, it's important that he is – as he believes — better equipped to work with the opposing party than Perriello would be. (Given his record, he's probably correct in that belief.) But that reality doesn't make his policy proposals any less progressive, and that fact might be what dooms the Perriello campaign next month.
Whichever of these men comes out on top in the June 13 primary, he will more than likely face longtime Virginia GOP politician Gillespie, who leads his Republican rivals by high double digits. But as Gillespie sits back and waits for the general election, expect the Democratic-primary fight to get even more vicious than it was on Tuesday night.
Editor's Note: This piece has been amended since its original publication.
READ MORE:
Georgia Special Election Goes Pretty Much as Predicted
Will 2020 Be Another 1972 for Democrats?
Democrats Aren't the Party of Science