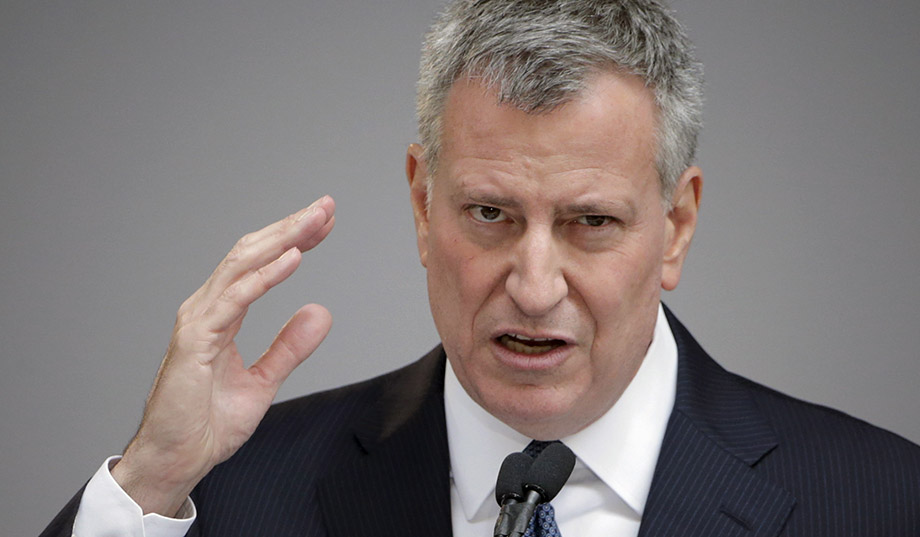 He's attempting a straddle that won't work.
This week New York City mayor Bill de Blasio provided an amusing display of how ideologically committed leftists who value their political viability try to map out an in-between position on left-wing terrorism.
It can't be done. You either reject it or you don't, and the record de Blasio has compiled these past few weeks on the convicted Puerto Rican terrorist Oscar López Rivera is an embarrassment. Worse than that, given recent events in London and Manchester, it's shocking. De Blasio's inability to see clearly on the matter ought to make every New Yorker question the judgment of the leader of a city where terrorism is, or ought to be, the principal worry.
To recap: This year, the organizers of New York City's annual Puerto Rican Day Parade, set for June 11, chose to turn the event into a vehicle for honoring López Rivera, the vicious Marxist-Leninist co-founder of a murder gang, by bestowing upon him the unprecedented title of "National Freedom Hero." When I criticized that decision a few weeks ago, only one sponsor had dropped out, but days later others followed.
For years, the Left has enjoyed shaming corporate America into voicing support for its agenda, but for once it had gone so far that the likes of JetBlue, Coca-Cola, AT&T, Univision, and Telemundo could not stomach following along. Major nonpartisan organizations such as the Daily News, the New York Yankees, the Patrolmen's Benevolent Association, and the Hispanic societies for the Fire Department of New York and the New York Police Department also withdrew, as did New York's liberal Democratic governor, Andrew Cuomo.
De Blasio, by contrast, defended the organizers' decision and said he would march as usual. But the mass exodus left the parade's committee staggering and confused. It put out a statement acknowledging that López Rivera, who co-founded the radical 1970s Puerto Rican–independence group FALN, which carried out 146 bombings and killed five people, was "controversial," but said, "Some people call him a terrorist while others think of him as a freedom fighter, as was the case with Nelson Mandela." López Rivera, convicted of seditious conspiracy for transporting guns and explosives with the intent to commit violence, served barely half of what was to be a 70-year stretch after President Obama commuted his sentence in the final week of his presidency. Three bags of dynamite and bombing materials were once found in his Chicago home.
Under pressure, López Rivera meekly stood down, announcing last week in an op-ed that he would decline the honor offered by the Puerto Rican Day Parade but march in it anyway, as an ordinary citizen.
With even López Rivera now seeming to acknowledge the shadow he had cast on the parade, de Blasio performed an abrupt volte-face on Monday. All of a sudden he was saying not only that he disagreed with the parade's association with López Rivera, but that he had delivered behind the scenes an ultimatum threatening to withdraw from the parade if it continued to honor the terrorist.
"Sometimes to get something done, you hold your tongue in public," the mayor said Monday. But he had not been holding his tongue at all.
Rather, he had been rationalizing and speaking out in López Rivera's behalf. "All things considered," de Blasio said last month, "I understand why so many Puerto Ricans — that's almost 700,000 people in this city — respect that he fought for Puerto Rico in their eyes." He added later, "I believe he renounced terrorism. He was part of an organization that obviously did employ violence. He was not involved directly in that violence."
This was a week after López Rivera had been quoted in the New York Times as saying, upon his release from a Puerto Rican halfway house that week, "We are a colonized people, and according to international law, that says all colonized people have a right to struggle for its independence, using all methods within reach, including force."
De Blasio, who spent a summer working for the Nicaraguan Sandinistas and his honeymoon in Cuba, is attempting a straddle that won't work. He represents the city of New York, unlike López Rivera.
And even López Rivera felt the need to dodge his past in his op-ed, saying he would decline the honor offered by the parade organizers. "I personally, and we as a community have transcended violence — it's crucial for people to understand that we're not advocating anything that would be a threat to anyone," he wrote, though he offered no apology whatsoever and has continued elsewhere to insist that "force" is legal when used by people who believe themselves to be "colonized."
De Blasio, who spent a summer working for the Nicaraguan Sandinistas and his honeymoon in Cuba, is attempting a straddle that won't work.
Too late, and too little. The parade is far too strongly associated with him by now. If its organizers want to be disassociated from López Rivera, they should make it clear that they renounce him and everything he stands for. The parade's most enthusiastic backer, Puerto Rico-born city-council speaker Melissa Mark-Viverito, did the opposite, saying, "The award continues to be given to him, but he's decided to bestow it on the people." Another supporter, Daily News columnist Juan Gonzalez, said he would march with López Rivera — "at the front of the parade."
New Yorkers will see through the half-hearted attempt by both sides to put some space between the terrorist and the parade organizers who adore him. As Gonzalez put it, he is marching "to send a clear message to the city's corporate, media and political elite — Puerto Ricans don't need your approval to choose their heroes." Since Lopez Rivera hardly enjoys the unanimous support of Puerto Ricans, the message that's actually being sent is that leftists reveal their true nature when questioned about their views on left-wing terrorism.
READ MORE:
Honoring a Terrorist at the Puerto Rican Day Parade
Bill de Blasio Will March Behind a Terrorist
Bill de Blasio's Lawless Data-Destruction Plan
— Kyle Smith is National Review's critic-at-large.