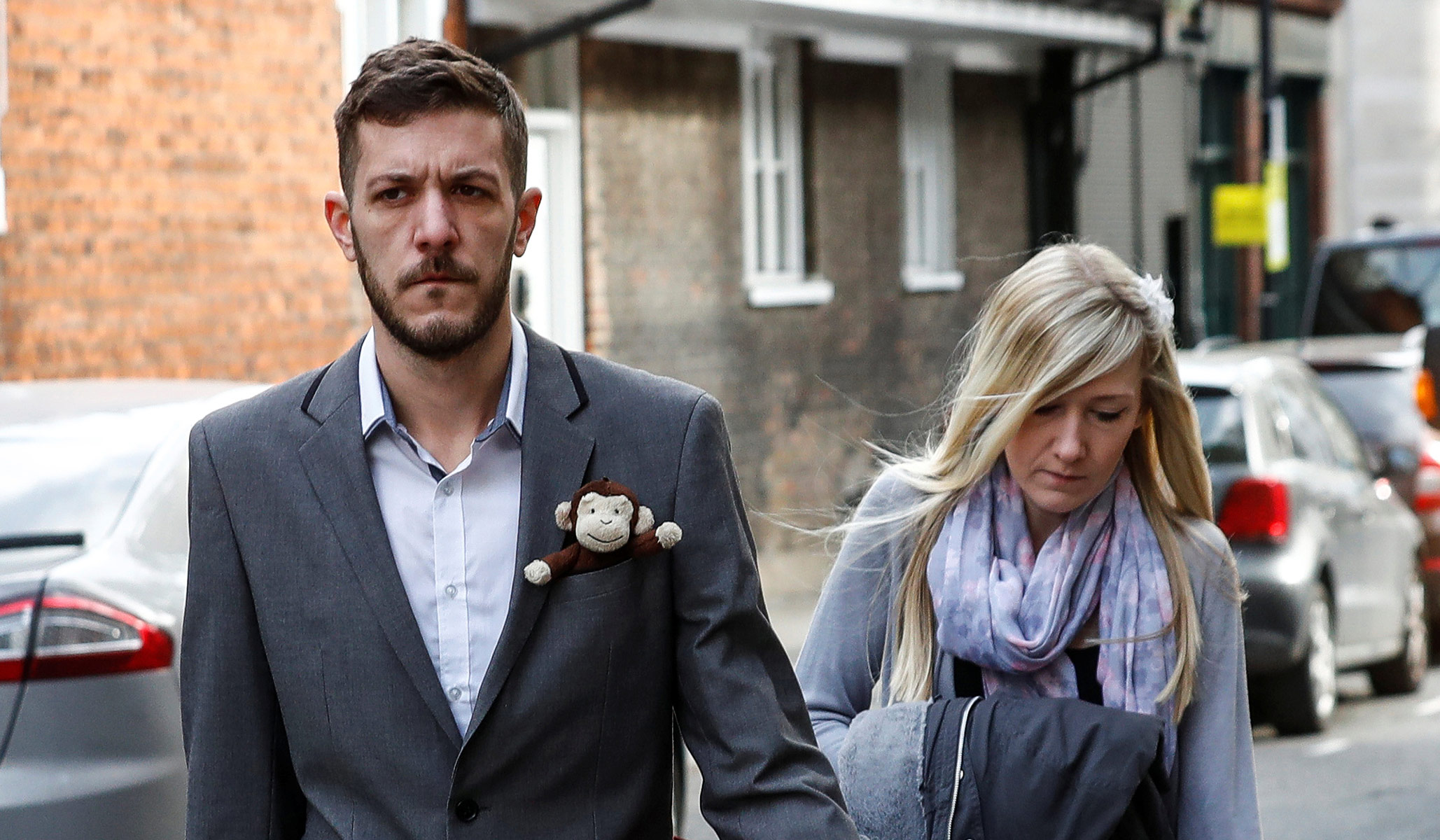 It's in his best interest, judges say, to die sooner rather than later.
Any day now, they'll kill Charlie Gard.
Charlie Gard, born last August, suffers from an inherited disease called infantile onset encephalomyopathic mitochondrial DNA depletion syndrome, generally referred to as "MDDS." The disease is extraordinarily rare: At present, there are only 16 known cases worldwide. Most patients who suffer from it die in early infancy. Charlie is unable to breathe unaided, suffers from seizures, and has severe brain damage.
For ten months, Charlie has been living in the intensive-care unit at Great Ormond Street Hospital in London. In March, his doctors decided that there was nothing more they could do for him, and they recommended that his parents, Connie Yates and Chris Gard, withdraw his ventilator. They refused, on the grounds that an untried experimental treatment was available in the United States. The hospital, in accordance with British law, applied to the courts to forestall further treatment. In April, the High Court found for the doctors and against the parents. In May, the Court of Appeal upheld the initial decision. In early June, the Supreme Court agreed. And this week, the European Court of Human Rights — the last court of jurisdiction — refused to intervene. Charlie's parents have raised enough money from private donations to fund the experimental treatment, but the court decision prohibits his removal to the U.S. Whenever they see fit to do so, the doctors at Great Ormond Street Hospital can now remove Charlie's life support.
According to the Honourable Mr. Justice Nicholas Francis of the High Court's Family Division, who authored the decision subsequently upheld by the higher courts, death is "in Charlie's best interests." There was no "scientific basis" for believing that Charlie would respond positively to the experimental American treatment; meanwhile, there is "unanimity among the experts from whom I have heard that nucleoside therapy cannot reverse structural brain damage." "If," wrote Justice Francis, "Charlie's damaged brain function cannot be improved, as all agree, then how can he be any better off than he is now?" It was "with a heavy heart," the judge said, that he sided with the doctors. Charlie should be permitted "to die with dignity." In conclusion, Justice Francis praised the parents he had just overruled: "Most importantly of all, I want to thank Charlie's parents for their brave and dignified campaign on his behalf, but more than anything to pay tribute to their absolute dedication to their wonderful boy, from the day that he was born."
So it was that successive courts in the United Kingdom and in Europe simultaneously found that Connie Yates and Chris Gard had devoted themselves unhesitatingly to their son's welfare for ten months, and also that Yates and Gard could not be trusted to act in their son's best interests.
The logic of this decision — that a patient's best interests can be conclusively determined by an objective third party possessed of adequate "scientific" knowledge — will be familiar to anyone who has watched state power over issues of life and death expand throughout the Western world in recent years. In the early 2000s, this logic was at work in the Terry Schiavo case, in which American courts took it upon themselves to ascertain Schiavo's unexpressed will and enact it; inevitably, they endorsed her death, on the grounds that she would not want to live "with no hope" in her present vegetative state. Likewise, in Europe, medical "expertise" has been not simply a justification for, but an encouragement to, assisted suicide; guidance from medical professionals has more than a little to do with the fact that, in Belgium and the Netherlands and elsewhere in Europe, assisted suicide is now an acceptable remedy for people suffering not just from terminal illnesses but from depression, autism, and anorexia.
Under what circumstances should the tightest bonds of affection — those between parent and child — be subordinated to the judgment of the state?
These decisions, too, were probably products of "compassion." But the state does not suffer with the sick. Justice Francis did not "look at the question from the assumed point of view of the child," as the law naïvely demands; Justice Francis looked at the question from Justice Francis's point of view.
The question, then, is not what would Charlie Gard want — a question no one can answer. The question is what do we owe to people such as Charlie, who cannot speak for themselves? What duty of care do we owe them simply on account of their being human beings, who are by nature possessed of an inalienable dignity? What obligations do we have to those who suffer, and how should we understand their suffering? And, pertinent to this case, under what circumstances should the tightest bonds of affection — those between parent and child — be subordinated to the judgment of the state?
The precedent established by Charlie Gard's case will metastasize, as similar decisions have. It will be made to apply to children with more-familiar illnesses and better prognoses; it will be used to dismiss the input of parents whose values and priorities when it comes to medical care and end-of-life issues do not align with those of the state; it may be used simply to clear beds for "worthier" patients in a health-care system with very limited resources. This, presumably, will be "compassionate," too.
Any day now, they'll kill Charlie Gard. But it's in his own best interest. Don't you see?
READ MORE:
Why the Left Fears Ultrasound Technology
When Does Life Begin? Pro-Choice 'Science' Ignores the Facts
Little Known Facts about Roe v. Wade
— Ian Tuttle is the Thomas L. Rhodes Fellow at the National Review Institute.
[Editor's Note: This piece has been amended since its original posting.]