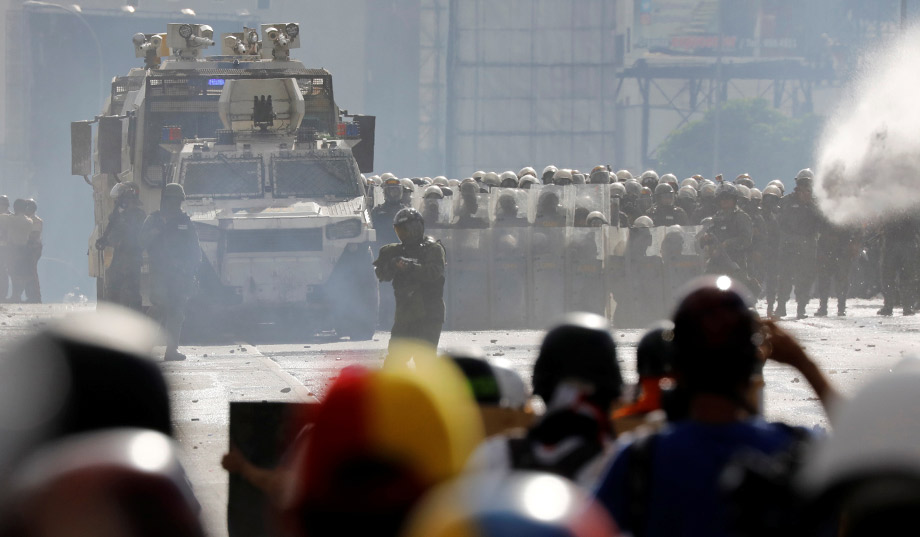 A narco-state is setting down roots in South America.
As the crisis in Venezuela hurtles into its third month at the cost of more than 60 dead and thousands more injured and imprisoned in street demonstrations against the socialist government of Hugo Chávez heir Nicolás Maduro, indications are the Trump administration is ready to discard the do-nothing policy of Barack Obama.
According to a recent Reuters report, the administration is weighing sanctions on Venezuela's critical oil sector, including the state oil company PDVSA. (The oil-rich country remains the third-largest supplier to the United States.) In addition, the administration is considering further sanctions on individual Venezuelan senior officials involved in drug trafficking, corruption, and human-rights abuses.
At first blush, it would appear the administration's ramped-up effort to penalize the Maduro regime for its violent crackdown on protesters is inconsistent with characterizations of President Trump's "America First" foreign policy as one of withdrawal and retrenchment. After all, what vital U.S. interests are at stake in Venezuela? Why would we need to interfere in what is essentially a dispute between a corrupt government and its fed-up people in Latin America?
Yet what happens in Venezuela does matter to the United States, because beyond issues of defending democracy and human rights in our own neighborhood, hanging in the balance in Venezuela today is whether the U.S. winds up with a full-fledged narco-state closer to our East Coast than is Los Angeles.
Until strident populist Hugo Chávez's untimely death by cancer in 2013, the international media reveled in his flamboyant and incessant anti-American rhetoric. Less reported on under his watch was Venezuela's conversion into a major transshipment point for illicit narcotics headed for the United States, with the direct complicity of Venezuelan officials.
It was not until 2009, by which point evidence had built up for years, that the legendary New York district attorney Robert Morgenthau published an op-ed in the Wall Street Journal outing Venezuela as a "global cocaine hub" involving not only the narco-terrorist FARC next door in Colombia but the Iran-backed terrorist group Hezbollah as well.
Chávez expelled the U.S. Drug Enforcement Administration in 2005 — and the amount of cocaine trafficked into Venezuela from Colombia skyrocketed from an estimated 60 metric tons in 2004 to 260 metric tons in 2007, according to the Government Accountability Office. Soon thereafter, as much as 24 percent of the cocaine shipped out of South America to the U.S. and Europe passed through Venezuela. A large percentage of that haul is trafficked through Central America, sowing the criminality and gang violence that is the main cause of out-migration from those countries to the U.S.
But where Obama dithered, promoting a feckless "dialogue" between the government and opposition, the Trump administration is demonstrating the will to act by ramping up the pressure on the Maduro regime.
Not one month in office, the administration imposed sanctions on Venezuelan vice president Tareck El Aissami for facilitating shipments of narcotics aboard planes leaving from a Venezuelan air base, as well controlling drug routes through Venezuelan ports. In March, the administration also announced sanctions against eight corrupt Venezuelan supreme-court justices for stripping the opposition-controlled legislature of its powers.
El Aissami joins a long list of senior Venezuelan government officials who have been sanctioned or indicted by U.S. law enforcement for complicity in drug trafficking to the United States. That includes the current minister of justice, Nestor Reverol; the former head of military intelligence, Hugo Carvajal; sitting governor Henry Rangel Silva; former interior and justice minister Ramón Rodríguez Chacín; and several others.
Diosdado Cabello, the powerful head of the ruling party, is also believed to be complicit in drug trafficking. And last year, two nephews of President Maduro pleaded guilty in a New York courtroom to conspiring to ship 800 kilos of cocaine to the United States, using the presidential airplane hangar in Venezuela's main airport.
There is nothing inevitable about the regime's collapse.
Today, the crucial point is that even as Venezuelans fed up with the hapless and corrupt Maduro regime continue to face off against heavily armed security forces across the country, there is nothing inevitable about the regime's collapse. And if it survives, the United States will confront an entrenched regime dropping any pretense to democracy and rule of law — supported by Cuba, Russia, and China, and heavily involved in trafficking poison into American neighborhoods.
Sanctions, of course, are no magic bullet. But targeted sanctions against corrupt Venezuelan officials, in concert with aggressive multilateral diplomacy, can serve to further delegitimize the Maduro regime before the Venezuelan people and international public opinion, as well as send a signal to nationalists in the Venezuelan military that they are no longer defending the Venezuelan constitution but the criminal interests of a drug-trafficking conspiracy.
READ MORE:
The Road to Serfdom Runs Through Venezuela
In Venezuela, Socialism Is Killing Venezuelans
— José Cárdenas served in senior foreign-policy positions at the State Department, the National Security Council, and the U.S. Agency for International Development during the George W. Bush administration, focusing on Latin America and the Caribbean.