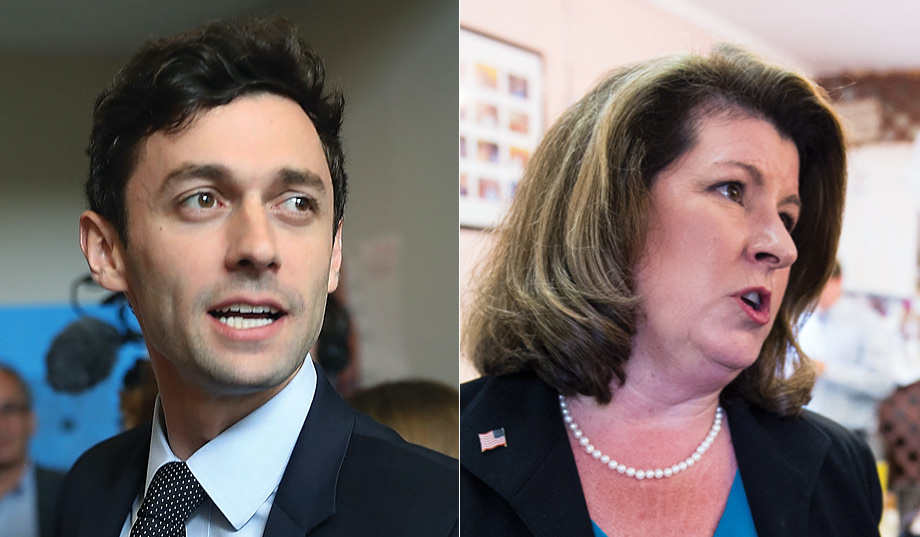 In the most expensive House race in history, polls show the Democrat pulling slightly ahead.
If you were fishing for historical parallels to what is going on in Atlanta politics right now, you might cast back to a special election that occurred in the period immediately after World War II. The February 1946 special election in Georgia's fifth congressional district, which encompassed all of Atlanta, featured 17 candidates. According to Atlanta chronicler Frederick Allen, the election was supposed to be won by Thomas L. Camp, the heir apparent of outgoing moderate Democrat Robert Ramspeck. Instead, it was won by Helen Douglas Mankin, a former World War I ambulance driver, lawyer, and state legislator whose tomboyish personality and progressive politics made her an unlikely candidate to become the first congresswoman elected in Georgia without having been preceded in the office by her husband.
Mankin benefited from a seismic shift in the district's electorate. This was one of the first elections in the state open to its sizeable black community, largely as a result of mistakes by the segregationist establishment, which failed, probably through sheer inattention, to organize the then-customary whites-only primary. Mankin was the only candidate of 17 to show up at a town-hall meeting organized by black leaders from both parties. Those leaders endorsed her the night before the election, spreading the news ("Vote for the woman") by word of mouth to minimize the chance of white backlash. Their support was just enough for Mankin to prevail: She was carried over the top by votes in the last reporting precinct, the black area around Ashby Street.
The surprise victory garnered national media attention. Mankin, "no fragile magnolia," according to Time magazine, had won because of the black vote in the deep South: "The Negro vote did it." The unexpected outcome also drew the ire of Georgia governor Eugene Talmadge, a demagogue known for flashing his trademark red suspenders at campaign rallies ("Show us yer galluses, Gene!" allies planted in the audience would shout). He nicknamed Mankin the "Belle of Ashby Street" and began stumping to defeat her. He didn't have long to wait: Mankin was defeated in the regular election later that year, not because she lost the mandate of the people — she narrowly won the popular vote — but because of the state's county-unit system, which was designed to give outsized political power to rural counties that voted overwhelmingly for her more traditional opponent.
Talmadge and the political establishment succeeded in throwing Mankin out, but only because of advantages they had built into the system during decades in power. The election signaled that the old way of doing things would no longer go uncontested. Atlanta's previously disenfranchised black population was coming into its own as a political force. It was a warning to the establishment that change was coming.
In a similar but far less dramatic way, the special election for Tom Price's old seat in Congress — he left to become President Trump's secretary of health and human services — could be a harbinger of change for the establishment in the now-Republican state of Georgia.
The sixth congressional district, in north Atlanta, was considered ruby red until recently, but demographic changes and distaste for Donald Trump have thrown that assumption into doubt. Thirty-year-old Jon Ossoff, a long-lost son of Georgia who has returned after years as a congressional aide and documentary filmmaker, threatens to win the district for the Democrats for the first time since the 1970s; pairing a moderate public image with a red-meat promise to "make Trump furious," he nearly won the election outright in the first round of voting by consolidating support from Democrats and independents in a field of 18 candidates. Opposing him is Karen Handel, a fixture of mainstream Georgia politics who emerged from the scrum as the top Republican vote-getter.
National observers see the race as a bellwether, which explains the extraordinary attention they have paid to it. If the district's traditionally Republican electorate chooses Ossoff, it could presage major losses for Republicans in 2018 and signal the political viability of the anti-Trump resistance movement. Perhaps more concerningly for Republicans, it could indicate that upper-middle-class suburbs are rejecting a populist-inflected GOP. On the other hand, if voters reject Ossoff, it could suggest that the Republican party will be able to maintain control in the suburbs while competing in new parts of the country, including the Rust Belt.
Knowing the stakes, Republicans, Democrats, and outside groups have sunk roughly $30 million into this special election for the lower chamber of Congress, making it the most expensive House race in U.S. history. Progressive activists, rallied by the website Daily Kos, have showered cash on Ossoff, a conventional liberal akin to Hillary Clinton rather than a progressive darling like Bernie Sanders. As Ossoff's opponents love to point out, 95 percent of his donations have come from outside the state.
As Ossoff's opponents love to point out, 95 percent of his donations have come from outside the state.
Republicans have scrambled to close this fundraising gap. The Congressional Leadership Fund, a Republican-allied super PAC, is dropping millions to tell voters that Ossoff is not the moderate he claims to be. President Trump himself jetted down to Atlanta for a big-ticket fundraiser for Handel that netted $750,000. Hours after the event, Democrats circulated a photo of Handel hugging the president, an embrace that could damage her in a district Trump carried by just one percentage point.
If recent polling is to be believed, Ossoff has a slight lead, enhanced by a steady stream of news about Trump's bungling and the stalled Republican legislative agenda. The runoff election scheduled for June 20 will determine whether Ossoff will play the role of a Mankin-like upset winner, with Handel the conventional, unexpected loser.
Of course, Atlanta has changed a lot since 1946, so similarities between the two special elections must be taken with a heaping of salt.
Back then, the local baseball team was the minor-league Crackers, whose stadium boasted a magnolia tree in deep center field; balls that went into it were considered live. Now Atlanta has the best baseball franchise in the Southeast and a spanking-new stadium, SunTrust Park, that cost $600 million. A Whole Foods sits on the plot of land where the Crackers once played.
Back then, Talmadge ruled the roost like a dictator, openly flouting laws that stood in the way of his plans. When faced with a state treasurer alarmed by his unauthorized spending, Talmadge had him physically removed from office — and then dispatched locksmiths to crack the state vault, burning through nine steel plates with acetylene torches to try to get to the booty inside. Georgia's current governor, the business-friendly Republican né Democrat Nathan Deal, is nothing like that.
Back then, Allen recounts, segregationist sentiment was strong enough that Talmadge could damage a political foe by hiring a look-alike to "campaign" across the state in a car driven by blacks. Today, Handel's opponents for the nomination of the conservative Republican party included a black Trump supporter, Bruce LeVell, and a Muslim economist, Mohammad Ali Bhuiyan. Black Georgians are registered to vote, and they vote at rates similar to those of their white counterparts.
All this is to say that, in the post-war period, Atlanta was transformed from a scorching-hot provincial city, prosperous only by the low standards of the South, into an air-conditioned international metropolis, home to the Coca-Cola Company, CNN, and the 1996 Summer Olympics. Today, approximately 5.8 million people live in the 28 counties that compose the statistical area known as metropolitan Atlanta, and that population is growing at the red-hot rate of 1.5 to 2 percent per year. Four counties in the metropolitan area have more residents than the least populous state in the union, Wyoming. Republicans should note that all four voted for Hillary Clinton in November. The massive economic and cultural changes that made this possible resulted from several factors.
One was city leaders' preoccupation with Atlanta's image, which helps to explain their relatively incrementalist approach to civil rights. Atlanta as "the city too busy to hate" was a conscious creation of city leaders in the 1960s to market it to CEOs and convention organizers. The slogan wasn't always true in practice. Atlanta was home to such arch-segregationists as Lester Maddox, segregationist groups (including Maddox's Georgians Unwilling to Surrender, or GUTS), and even a short-lived neo-Nazi group called the Columbians, which patrolled the race line wearing lightning-bolt armbands. Basically all forms of integration met with panic from whites, necessitating gentle persuasion, bargaining, and occasional trickery by city leaders to integrate greater swathes of Atlanta society. Frederick Allen recounts that when Atlanta mayor Bill Hartsfield integrated the public golf courses, he announced the wrong tee time to avoid a media feeding frenzy.
However, the slogan was the sincere aspiration of many Atlantans who wished to differentiate themselves from the "poor dirt farmers" and "little people" courted by race-baiters such as Talmadge and Maddox. And it was true enough to attract new minority residents and businesses interested in moving to the Sun Belt but wary of its racial legacy. Atlanta's fortune in this regard can be contrasted with that of nearby Birmingham, whose brutal resistance to civil rights scared off Yankee capital and accelerated the industrial town's decline.
The city's diversity and concern about respectability are evident even today. When Time released its 2017 list of the 100 most influential people, the two Georgians on it reflected the changing face of Atlanta. First was John Lewis, the old-school civil-rights leader and Democratic brawler. Second was RuPaul, the drag queen. They beat out such influential Georgians as CNN's Ted Turner and Agriculture Secretary Sonny Perdue for the honor.
Another recent example: While southern cities such as Charlottesville, Va., and New Orleans acrimoniously debated the fate of Confederate memorials the past few months, the City of Atlanta found a middle-way solution when disposing of its Cyclorama, a round panoramic painting that depicts a fictional Confederate victory, complete with Rhett Butler. It leased the painting to the Atlanta History Center, which will display it as a historical artifact rather than a public monument, with the civic endorsement that would imply. Atlanta's sensible approach between iconoclasm and idealization of the Confederate past generated no controversy, just an approving comment in The Economist.
In Atlanta's upper-middle-class suburbs, concern with respectability has taken the form of distaste for Trump, the New York vulgarian. Respectable Atlantans rejected him.
In Atlanta's upper-middle-class suburbs, concern with respectability has taken the form of distaste for Trump, the New York vulgarian. Respectable Atlantans rejected him. Ossoff, the explicitly anti-Trump candidate, fell just short of the 50 percent support he needed to win the special election outright. LeVell, the most explicitly pro-Trump candidate, got 455 votes — 0.2 percent of the total.
Atlanta's explosive growth is forever entwined with another factor, transportation. The city was created in the 19th century as a railroad end-station and named according to its function: Terminus. A young officer in the U.S. Army stretched his legs at this remote waystation in the 1840s, when it had been given a somewhat homier name, Marthasville. That officer, William Tecumseh Sherman, returned with an army 20 years later to conquer the railway hub of the Confederacy.
Atlanta lifted its gaze heavenward in the first decades of the 20th century, and the resulting air traffic was a commercial blessing. The city's Charles Danforth, a lieutenant colonel in the Army Air Corps, was early to recognize that the battle for business and prestige in the 20th century would be fought from the air. Danforth, along with future mayor Hartsfield, lobbied hard to have Atlanta designated a federal airmail stop and, during World War II, a military airfield. They poured money into improving Candler Field, an airstrip that doubled as a racetrack. The effort paid off, resulting in a steady buzz of government and private planes. Atlanta began to "eclipse . . . the other cities of the Deep South," Allen writes. He recounts that when Hartsfield visited poor Birmingham, a competitor for the airmail designation, a newspaper bitterly dubbed him the "great airport hijacker."
Today, the Hartsfield-Jackson Atlanta International Airport is the busiest in the world. The 207-gate airport hosted 94.4 million travelers in 2013, beating out second-place Beijing Capital International Airport by 13.7 million travelers, according to the Airports Council International. Without exaggeration, the airport's website describes it as the "economic jewel of Georgia" and "Atlanta's strongest economic engine," facilitating nearly $35 billion in economic activity and employing 63,000 people. Every three minutes, the sleek ATL SkyTrain whisks passengers to a convention center and rental-car facility, which holds thousands of cars ready to transport them into the leafy suburbs of metro Atlanta.
When Tom Wolfe wrote his Atlanta-based novel A Man in Full (1998), he situated the fictional Croker Concourse, a boondoggle real-estate development, in the farthest reaches of exurbia — Cherokee County, population 130,000 at the time of the book's publication. Cherokee County's population has nearly doubled since then, and the family-friendly Cherokee town of Woodstock is a fixture on lists of Atlanta's fastest-growing communities. Contemporary real-estate developers have charged past Wolfe's hubristic Charlie Croker, envisioning development in such far-eastern counties as Barrow, which is closer to the University of Georgia in Athens than to far-off Georgia Tech in Atlanta.
For statistical purposes, the metropolitan area encompasses 8,376 square miles, bigger than Massachusetts and almost as big as New Hampshire. Only about 8 percent of the area's 5.79 million residents live within the city's boundaries, while the rest congregate in large "edge cities" mostly to the north and east. This startling fact helps to put Atlanta in perspective: The City of Atlanta is still the economic heavyweight in the area — home to Hartsfield-Jackson, the Atlanta Falcons' brand-new Mercedes-Benz Stadium, the downtown business district, and old-money neighborhoods such as Buckhead — but politically it is one player in a decentralized, haphazardly coordinated federation of municipalities.
The sixth congressional district is a small but influential part of this immense space. Located just northeast of the city, it encompasses the first layers of suburban development in the metropolitan area and, consequently, some of its most prosperous communities. As Bloomberg columnist and native Atlantan Conor Sen has pointed out, it is the best-educated Republican congressional district — better-educated even than the prosperous San Francisco district represented by Nancy Pelosi. The stereotypical resident is a white, middle-aged-to-elderly professional, and its representatives have followed this pattern for decades. Its most recent congressman was Tom Price, a mild, somewhat wonky orthopedic surgeon with the fastidious eyeglasses of an accountant. Before him was Newt Gingrich, a mild, somewhat wonky history professor with buttery jowls, a distinctly southern feature. Both were very conservative, but, in keeping with the district's bourgeois respectability, neither was a firebrand; Gingrich might have ridden into power in 1994 on a wave of discontent, but he did so while yammering on about moonshots and the Tofflers.
The white-bread stereotype of the district doesn't tell the full story, however. In the three years between the last redistricting and 2015, the last year for which census data are available, the Republican-leaning white population dropped by three percentage points to 60.5 percent, while the Democratic-leaning black, Asian, and Hispanic populations grew by about a point apiece. Parts of the district reflect this growing diversity. In the far south of the district is Plaza Fiesta, a Hispanic mall jammed with vendors selling quinceañera dresses, rosaries, and practical household goods; progressive organizers with clipboards register voters on weekends, and Ossoff has held campaign events there. His southern campaign office, located nearby, is in the same building as a Hispanic health clinic.
Plaza Fiesta is in the younger and less monochrome DeKalb County, which broke strongly for Clinton and Ossoff. Traveling north through the district on GA-400, one reaches more-established upper-middle-class vistas in Fulton and Cobb Counties: quiet residential neighborhoods insulated from the buzz of Atlanta traffic by a blanket of trees; country-club golf courses with gravid, rolling hills; and, to the far north of the district, historic Roswell Town Square, a picture of irenic small-town life surrounded by craft-beer shops and fine dining.
This is Handel-Price-Gingrich Country, the home turf of ladies who lunch; but, in an upside-down world, even their support has been thrown into question. In the first round of voting, Republican pollsters noticed a significant dropoff in support from Republican-leaning and moderate suburban women. Call it the "grab 'em by the p***y" effect. Whoever wins the runoff election will need to win over these voters, all while maintaining turnout from their base. There is a case to be made for both candidates in this respect.
Karen Handel is a competent public servant and, for better or worse, a known entity in Georgia politics. Best of all, she's a woman, and one distinctly lacking in Trumpian characteristics, both the bad (vulgarity) and the good (personal magnetism). She was praised for her fiscal acuity as chairwoman of the Fulton County Commission, reducing spending by $46 million to address a substantial shortfall in county funds. Her reputation at that time was that of a typical, business-oriented Republican. Since then, three separate events have placed her in the public eye. First was a failed run for governor against Nathan Deal in 2010, a nasty race that turned personal and resulted in deeply held grudges between the two camps. At its lowest point, the president of Georgia Right to Life called Handel "barren and infertile" because of her support for IVF. Second was Handel's involvement in the decision to cut off funding from Susan G. Komen for the Cure to Planned Parenthood in 2012, a move that was reversed after it led to unwanted media attention for the apolitical nonprofit. Handel resigned from Komen after that incident but left with enhanced credibility as a social conservative. Third was a failed run for the U.S. Senate in 2014 in a crowded field of Republicans. She finished a close third behind David Perdue, the eventual general-election victor, and Jack Kingston, a former U.S. representative.
Now Handel has prevailed in another crowded field of Republicans, and the magnitude of the Ossoff threat has united a state party riven by faction and feud. One week after the special election, several of the defeated candidates appeared onstage with Handel at a Republican event as a show of unity, but several major vote-getters were absent. Now there is only one holdout, Dan Moody, who Georgia insiders say has a temperament to match his name. Even Nathan Deal's team has set aside old grudges to come to the aid of the party.
If Handel could appeal to suburban female voters as a conventional working woman, Jon Ossoff could appeal to them as an obvious son of the sixth district. Bright, ambitious, and articulate, he has all the marks of someone who attended Atlanta's elite Paideia School and, later, Georgetown University. He went on to become a staffer for Georgia representative Hank Johnson (D.) and founded a documentary-film company with an international focus. With this kind of résumé, Ossoff is indistinguishable from any number of neighborhood kids who won top prizes in the meritocratic sorting game.
This sense of familiarity to sixth-district residents could make up for his big downside: his youth and seeming immaturity. Ossoff is almost eight years younger than the average resident in this graying district, according to 2015 census data. Unfortunately for him, media coverage has played up this fact in subtle ways. A New York Times interview took place "at his parents' spacious suburban home," a bad look that simultaneously reminded readers that Ossoff is not a resident of the district. He lives near Emory University with his girlfriend of twelve years, a tidbit that earned mockery from Rush Limbaugh. Ossoff leaned into the punch shortly afterward by proposing to his girlfriend, which brought the story back into the news.
Nevertheless, Ossoff has managed an impressive feat by tapping into the resources and energy of the national anti-Trump resistance movement while presenting an acceptable, handsome face to voters who may be open to voting for a Democrat for the first (or second) time in many years. Especially woke celebrities, including Samuel L. Jackson and Chelsea Handler, have lent Ossoff their support, while actress Alyssa Milano traveled to the district to drive Ossoff voters to the polls. Ossoff's rank and file, meanwhile, is bolstered by moms wearing Lululemon. When I popped into his DeKalb County office shortly after the first round of voting, I was greeted by a fiftysomething woman who had never before volunteered for a campaign.
It is possible that Ossoff, an attractive but unexceptional candidate buoyed by national trends, came a little too soon for metro Atlanta. Millions in political spending could take their toll in convincing voters he's too liberal, too young, too much of a risk. Even if he wins, he will be hanging on to the seat by his fingernails, vulnerable to a Helen Mankin–like defeat in the next bout with the state's dominant party.
But the fact that any Democrat is polling ahead of a Republican in this slice of suburbia should be a firebell in the night for establishment-GOP leaders. Having been reduced to rubble during the Obama years, Democrats are reemerging in unexpected places. The cracks of a populist–cosmopolitan split with national implications may be widening in the suburbs. Atlanta, the city of Mankin and Talmadge, is familiar with that kind of change.
READ MORE:
Georgia's Special Election Gives Democrats an Opportunity
Georgia's Special Election Results in Runoff
Georgia's Karen Handel Raises $1 Million for Campaign in One Week
– Blake Seitz is a graduate of the University of Georgia. He lives in Washington, D.C. This article first appeared in the June 26, 2017, issue of National Review.