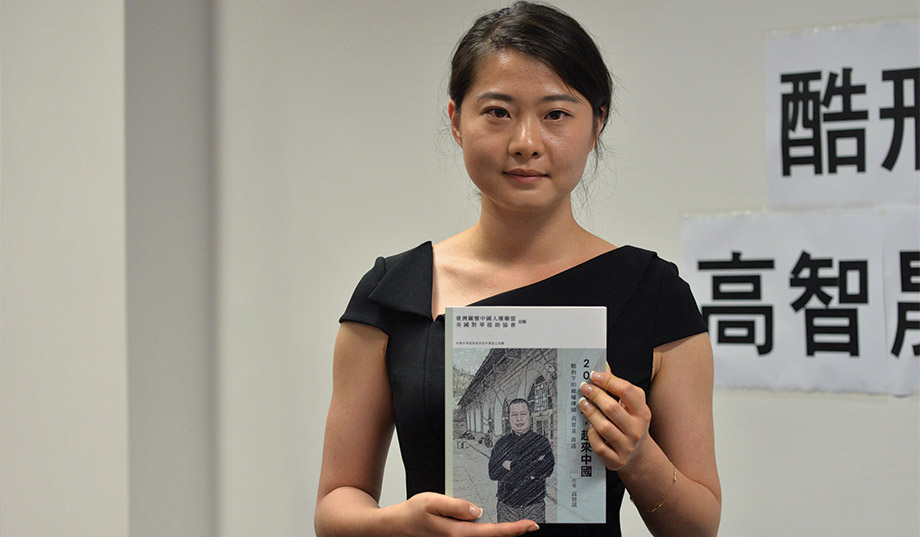 The hard life of Grace Gao
Oslo — On January 9, 2009, Grace Gao woke up with a strange feeling. She sensed that someone was going on a long journey. Yet no one in the apartment was packing. Everything was normal — as normal as it ever was.
Her dad was holding her brother tightly, however. Then he held her and her mom tightly. So she knew: It was they — mother, daughter, and son — who were going on a long journey.
On that day, they escaped China. First they went by motorbike. Then they hid in the luggage hold of a bus. Eventually, they reached Thailand. From there, they went to America.
Grace was 15 years old. She had been through unspeakable hell. In America, the family learned English from scratch. Grace graduated from high school when she was 20. She is now in college — about to graduate.
I am sitting with her at the Oslo Freedom Forum, the annual human-rights gathering in the Norwegian capital.
Her dad is Gao Zhisheng, one of the most prominent dissidents in China. He is a human-rights lawyer, and he has endured years of imprisonment and torture. Grace and I talk about the outlines of his life.
He was born in 1964 in a village located in Shaanxi, a province of central China. His parents were subsistence farmers. They could not afford elementary school for Zhisheng. He sat outside the classroom window, listening. And he taught himself, by whatever means he could.
He joined the army, where he met his wife, Geng He. He also joined the Communist party. After the military, he sold vegetables for a living. Then there was an instance of "fate," as Grace puts it.
Gao noticed a newspaper in the middle of the road. He picked it up and his eyes fell on an article saying that China was in need of lawyers. He decided to become one. And he became a brilliant one.
In 2001, he was named by the Ministry of Justice itself as one of the ten best lawyers in all of China. "It was quite big," says Grace, with a smile. "It was on television." But Gao would soon have a problem: his clients. He represented some of the most vulnerable people in China, including members of religious minorities, such as Christians and Falun Gong practitioners. He usually worked pro bono.
What accounts for Gao's consciousness? His daughter thinks it was his upbringing in poverty. He has great reserves of sympathy.
"When everything started, I was twelve," says Grace. She had come along in 1993. Her brother came along in 2005, the year "everything started." What is "everything"? Her father's arrests, jailings, and subjection to torture.
When he was away in prison, a team of eight state agents lived in the Gaos' apartment. They watched everything they did, including in the bathroom. Outside the apartment, there were ten, twenty, thirty other agents, at all times. Just for this one woman — Geng He — and her two children.
They followed Grace to school, every day — seven or eight agents. At school, too, they observed her in the bathroom. They warned other students not to talk to her. If they did, the agents said, their parents would go to jail, just like Grace's dad. The other students "avoided me as if I had some contagious disease," says Grace. Furthermore, the agents would beat her up in front of her classmates.
You can imagine what this did to a girl. She attempted suicide, more than once.
One night, she had a showdown with her father: Couldn't he look after his family rather than the Chinese people? Gao Zhisheng's eyes filled with tears. It took him a long time to respond. Finally, he said, "Give me a couple of more years. I have convictions to pursue. Then I'll devote myself to the family."
The family is still waiting, as Grace says.
I have given the date of their escape: January 9, 2009. On February 4, Gao Zhisheng was disappeared. No one knew where he was until 13 months later, when the authorities resurfaced him, briefly. Then they disappeared him again.
To make a long story short, Gao was in prison from 2009 to 2014. I will not dwell on the torture he endured. Suffice it to say, it was the worst: bamboo sticks through genitals, etc. They kept him in solitary confinement for three years. He was not allowed to stand or talk. In fact, he forgot how to do these things. For a year and a half, they blared Communist propaganda into his cell.
When he was released, he was consigned to a strict form of house arrest, back in the village where he started from, in Shaanxi. He has little contact with his family in America. Any meaningful contact, the authorities would regard as "politically sensitive," and therefore verboten.
His physical condition is poor. Because of malnutrition, he has lost all his teeth. He cannot eat solid food. The authorities have denied him medical care. And yet, says Grace, his mental health is good. Remarkably good. How has he been able to hold on to his sanity? His Christian faith, says Grace. Gao himself has said, "God is healing me from within."
While under house arrest, he managed to write a memoir — by hand. He is denied higher technologies. In bits and pieces, the memoir was smuggled out by supporters, to be typed up and later published. Solzhenitsyn's Gulag Archipelago made it to the world in much the same way.
The book is banned in China, needless to say. But it is available in Taiwan. And the American Bar Association has made an English translation of it, under the title "Unwavering Convictions."
Unwavering, indeed. Gao has said that trying to bring about freedom, democracy, and human rights in China is "the mission that God has given me."
Gao Zhisheng has said that trying to bring about freedom, democracy, and human rights in China is 'the mission that God has given me.'
Does Grace wish she had a more normal dad? Oh, yes. Every day. At the same time, she understands him, and admires him, and supports him.
Unwavering though Gao may be, he is not without feelings of guilt. On the contrary. He wrote a letter saying that the physical torture was bad — but not as bad as the knowledge that he had caused his family pain. He had specific words about his children: "It was unfortunate for them to be born in this country," the People's Republic of China. "It was more unfortunate to have me as a father."
Gao's wife, Geng He, has played a familiar role, a role played by dissidents' wives for many years. Whether the couple is from China, the Soviet Union, or Saudi Arabia, it never changes. If she is safe in exile, the wife tries to bring attention to her husband's case, in the hope of freeing him, or at least mitigating his suffering.
A few months after Geng He arrived in America with her children, she sent a letter to the U.S. Congress. Here is an excerpt:
I remember that, when my husband was still free, whenever major human-rights cases arose in China, he would always look towards the United States. He always said: The United States is the cornerstone of world freedom, human rights and social order; the United States would not tolerate despotic rule and the wanton abuse of the weak and the masses.
The couple's daughter, Grace, is grateful to be in the United States, living freely. This is obvious. But, naturally, she does wish that the United States would pay more attention — not just to her father's case but to human rights in China generally.
The Chinese Communist Party, under the leadership of Xi Jinping, has rounded on human-rights lawyers such as Gao Zhisheng viciously. In July 2015, some 250 of them were arrested, in what has become known as the "709 Crackdown." (The term refers to the date the crackdown started, July 9.) Some of the lawyers have been tortured into insanity.
At the end of our conversation, I ask Grace a standard question: "What would you like the world to know?" "The truth," she says. "It's a powerful thing. The more people know about what is going on in China, the more people will care, and maybe one day this will lead to a dramatic change."
I will talk again to Grace about ten days after the Oslo Freedom Forum. She is in the middle of final exams. Graduation is two and a half weeks away. The Chinese government has completely cut off her access to her father, thanks to her appearance in Oslo.
The Communist system — wherever it is installed — is evil in a thousand ways. But not least in what it does to girls like Grace, and to families like Gao Zhisheng's.