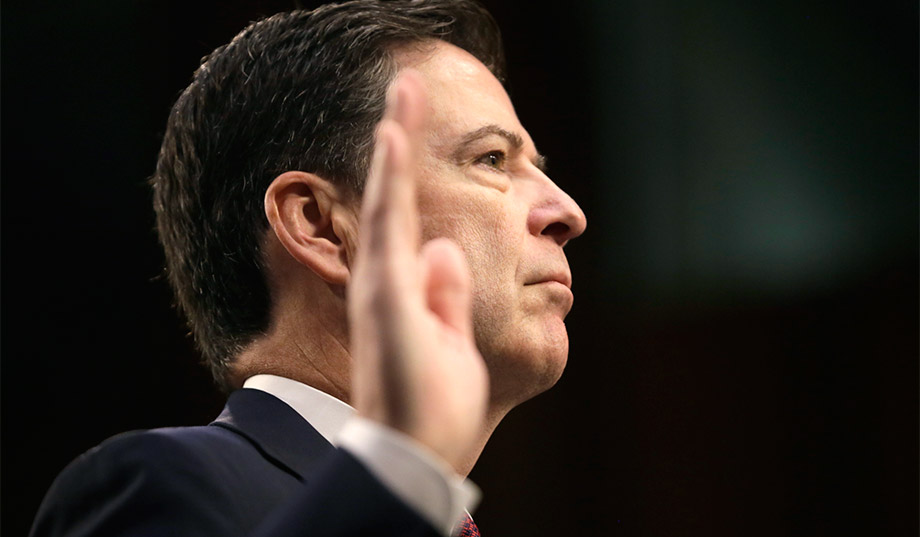 James Comey's much-anticipated testimony before the Senate Intelligence Committee largely confirmed what we knew already.
The former FBI director painted a deeply unflattering portrait of the president, as self-serving and dishonest. Comey said that he felt compelled to carefully document his interactions with President Trump because he did not believe that Trump would portray those interactions truthfully, if the need ever arose. Comey also had harsh words about the White House's misleading explanation for his firing, initially portrayed as a reaction to his handling of the Hillary Clinton e-mail investigation. This character indictment cannot come as a surprise to anyone who has observed Donald Trump over the past two years.
Nonetheless, the legal case that Democrats are trying to mount against the president remains far-fetched. According to Comey, earlier this year President Trump asked Attorney General Jeff Sessions and adviser Jared Kushner to leave the room so he could talk privately with Comey. During the one-on-one, says Comey, the president said that he "hoped" the bureau could "let go" of its investigation into former NSA director Michael Flynn, the subject of an ongoing criminal inquiry. Democrats have suggested that this statement, taken in concert with Comey's precipitous firing, constitutes an obstruction of justice. The former FBI director said that he understood the comment about the Flynn investigation as a "directive."
There are gaping holes in this legal case. The president never followed up on his comment about the Flynn affair, and Comey continued the Flynn investigation (meaning he didn't really consider it a directive); Trump did not object to investigations into other members of his team, even going so far as to say it would be "good to know" if his subordinates were engaged in wrongdoing; and the only explicit request Trump made of Comey regarding the Russia probe was to state publicly that Trump himself was not under investigation. In this connection, Comey affirmed that he did, in fact, tell the president that he was not personally under investigation — and on three occasions, as President Trump had previously claimed. (As we have noted, and as Comey reiterated in his testimony, the FBI's inquiry pertaining to the Trump campaign was a counterintelligence, not a criminal, probe.)
In other words, Comey's testimony largely backed up what has seemed to be the case for a while: The president, hypersensitive to unfriendly press coverage, behaved irresponsibly by badgering his FBI director about an ongoing investigation and creating yet another situation in which James Comey would have to choose one side of a partisan divide — not unlike the situation into which he was put by Loretta Lynch during the Clinton e-mail investigation. Given his legal power over the FBI director — he has the authority to end any investigation, provided the motivation for doing so is not corrupt, and he has the authority to fire the FBI director at will — it is incumbent upon the president to avoid creating any impression of a conflict of interest. Donald Trump did not do that. However, this is still a far cry from obstruction of justice, as defined by law.
What was almost entirely missing from the hearing was the ostensible center of the Russia investigation — which is Russia itself. Indeed, the last several weeks have signaled a shift in focus of the Democrats and the media from alleged Russia collusion to alleged obstruction. In other words, it's the supposed cover-up rather than the (so far as we can tell) non-crime.
Although Comey is getting hailed by all the great and good, his own behavior is hardly blameless. One interpretation of his extensive note-taking, coupled with his reluctance to tell his superiors of his concerns about Trump in real time, is that he was saving up ammunition for when it would serve his own purposes. His decision to leak his memos (written to contain no classified information, so they could be spread around as necessary) to the press, instead of taking them to Congress, in order to prompt the Justice Department to appoint a special counsel is a reminder that Comey is a practiced manipulator of the media and the Washington bureaucracy.
What is needed in the aftermath of the Comey hearing is no different than what was needed all along: a thorough, independent investigation of the swath of concerns raised by Russia's attempted intrusion into last year's election. The Senate Intelligence Committee's ability to conduct a hearing largely devoid of grandstanding and circus antics is encouraging in this regard. President Trump's nominee to replace Comey at the FBI, Christopher Wray, a Bush-administration hand, has been well received on both sides of the aisle. And while we remain wary of special counsels, Robert Mueller (Comey's predecessor at the FBI) has a wide investigatory brief and a reputation for doggedness. More facts are sure to come out over the next several months.
In the meantime, President Trump would do well to refrain from insinuating himself any further into this mess. The last several months have shown that Donald Trump's personal crisis-management is likely to lead only to more crisis.