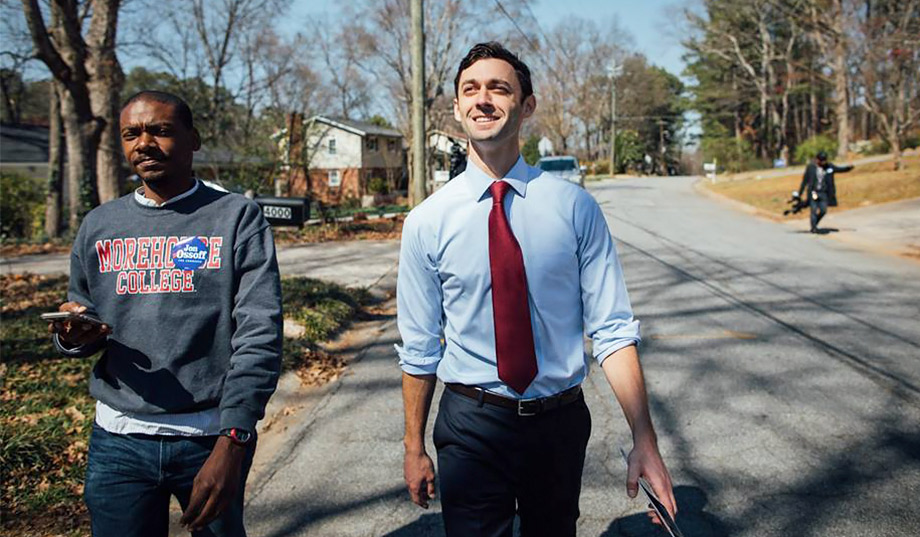 Jon Ossoff might represent anti-Trump sentiment, but the district is still Republican.
The upcoming special congressional election in Georgia's sixth district has attracted so much national attention — and spending — that it now ranks as the most expensive House race in history, by far. Detailed records of campaign-spending numbers go back only to the early '90s, but as of last week, Georgia's race had outstripped its closest rival, the 2012 House race in Florida's 18th district, by over $10 million.
Despite the plethora of cash that has flooded the district — and in turn been pumped out by the campaigns over the airwaves of northern Atlanta's Fulton, Cobb, and DeKalb counties — there's still little certainty about which way the race will break next Tuesday. The latest poll shows Democrat Jon Ossoff leading Republican Karen Handel by three percentage points, with 3 percent of voters still undecided and a nearly five-point margin of error. While Ossoff has led by a similarly slim margin in a handful of recent polls, the margin indicates that it's still too close to call.
So far, the race has pulled in over $40 million, over half of which has been raised by Ossoff. Heading into the first round of voting on April 18, he had accumulated an unprecedented $8.3 million, but that still wasn't enough to help him capture the 50 percent of the vote needed to take the House seat outright.
Meanwhile, his GOP competitor Karen Handel had raised just $460,000 heading into April 18, clearly hampered by the presence of several viable Republican-primary candidates jousting with her for a spot to face Ossoff in the runoff.
Once the field had narrowed to just Ossoff and Handel — the longtime Georgia Republican politician slid in at a distant second with about 19 percent of the vote on April 18 — the Republican party was able to begin pouring resources into the campaign. National GOP groups have funneled nearly $10 million into the district, trying to help Handel compete with Ossoff's enormous fundraising hauls.
Since coming in first in the "jungle primary," the Democratic hopeful has raised a shocking $15 million, adding up to an overall $23 million, unheard of for a congressional candidate, much less an untested one such as Ossoff. The 30-year-old's main political experience was his five years as a national-security staffer in Congress.
While it is difficult to assess exactly how much of the overall $40 million has actually been spent so far — and how it has been spent — a Wall Street Journal review of Center for Responsive Politics records discovered that, from April to late May, ad-spending orders filed with the Federal Communications Commission for the race added up to over $27 million.
The Wall Street Journal also gave several examples of sixth-district constituents who are getting sick of having the airwaves swamped with special-election ads, and they're ready for it to stop. Given that the latest polls show that a mere 3 percent of likely voters remain undecided, it's questionable what attack ads are really accomplishing in this final week.
And yet, just yesterday, the Handel campaign released a new radio ad featuring Georgia senator Johnny Isakson, endorsing the Republican candidate for her desire to repeal and replace Obamacare, as well as pass "tax reform to get the economy going."
Last week, the campaign featured two debates between Ossoff and Handel, neither of which seemed to result in a clear winner. Given how little of the vote they're competing over, it's unlikely that a particularly sharp canned line from one or the other candidate would mark a significant turning point as the race nears its end.
One takeaway from both debates, though, is the fact that Ossoff is still very much portraying himself as both rabidly anti-Trump and relatively moderate, promising frequently, for example, to cut "wasteful spending" by $16 billion. His television and radio ads sound very little like a man trying to attract progressive voters, despite the way the Democratic party and its celebrity supporters have forcefully cast him as a national symbol of the progressive "#Resistance."
In fact, it almost appears as if there are two different races taking place: the one the nation has been fixating on for months and the one actually taking place in the district. While many voters in Atlanta's northern suburbs did vote for Ossoff on April 18 as a rejoinder to Trump, the Democratic candidate himself seems to realize that he can't attract swing voters or district Republicans with Bernie Sanders–style "resistance" rhetoric — a realization that many national Democrats don't seem to share.
If Ossoff triumphs next week, it won't necessarily be a sign that Georgia Republicans are fleeing the party.
The fact that many Republicans in Georgia's sixth are cool toward Donald Trump doesn't mean they're ready to push for his impeachment or register as Democrats. In the 2016 GOP presidential primary, Florida senator Marco Rubio won nearly 40 percent of the district, while Trump came in a distant second with only 28 percent, topped by a margin of about 14,000 votes. The fact that Trump won the sixth by just over 1 percent in the general says less about an ideologically shifting electorate than it does about the type of Republicans living in Georgia's sixth. Handel's triumph over explicitly Trump-style Republicans such as Bob Gray and Bruce LeVell makes the same case.
If Ossoff does triumph next week, it may be a testament to anti-Trump sentiment in northern Atlanta, but it won't necessarily be a sign that Trump has caused Georgia Republicans to flee the party altogether. And it certainly won't mean that Georgia's sixth district is turning blue for good.
READ MORE:
Georgia's Special Election Has Republicans Worried
A Portentous Election in the Peach State
All of a Sudden Partisan Redistricting Unconstitutional? Now?