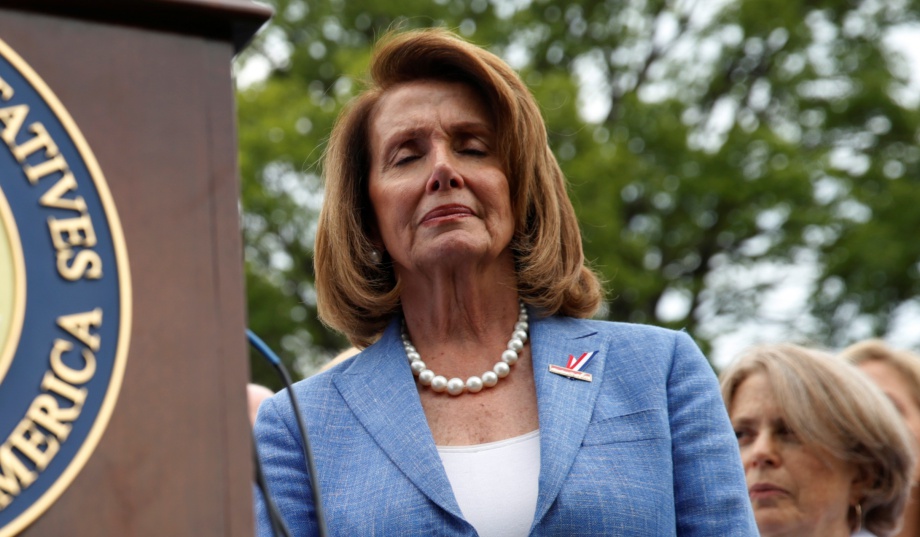 Some Democrats are floating the possibility.
Democrats have been doing plenty of self-reflection since they lost the special election in Georgia's sixth district on Tuesday. As a result, several House Democrats have intensely and publicly criticized Democratic minority leader Nancy Pelosi. Several congressmen have gone so far as to suggest that Pelosi ought to step down and allow the party to rebrand itself moving forward.
"I think you'd have to be an idiot to think we could win the House with Pelosi at the top," said Filemon Vela, a Texas Democrat who supported Pelosi when she ran for the leadership last year. "Nancy Pelosi is not the only reason that Ossoff lost," Vela told Politico. "But she certainly is one of the reasons."
"Nancy Pelosi was a great speaker. She is a great leader. But her time has come and gone," Kathleen Rice, a Democratic congressman from New York, said on MSNBC yesterday morning. "I sat in a meeting the other day, and I listened to a rationale as to how we should be happy as a caucus because we didn't lose as badly . . . two days ago as we did a year ago," Rice added. "But we're still losing."
In an interview with Politico, Rice was even more blunt: "There comes a time when every leader has to say, 'For the good of the order and for the betterment of the party, it's time for me to step aside.' And I wish that that would happen right now."
Rice said she has spoken with a number of other House Democrats following Tuesday's loss, and some of those members — including Democratic whip Steny Hoyer and assistant Democratic leader Jim Clyburn — share her concerns about the current leadership,.
Last year, Rice backed a leadership challenge from Ohio Democratic congressman Tim Ryan, who ran against Pelosi for minority leader but was defeated by a vote of 134–63. For his part, Ryan hasn't said that Pelosi should step down, but he does say he is very concerned about the obvious decline of the Democratic brand.
Ryan was asked on CNN whether Pelosi is more toxic in today's discourse than President Donald Trump is. "The honest answer is in some areas of the country, yes, she is," he replied. "I think that in certain areas, like in some of these special-election districts, it doesn't benefit our candidates to be tied to her."
"This is certainly something that we have to discuss, because it's clear that, I think, across the board in the Democratic party we need new leadership," said Massachusetts Democrat Seth Moulton on CNN. "It's time for a new generation of leadership in the party."
When asked on NBC about possible leadership changes, Democrat Bill Pascrell of New Jersey replied, "We're always reviewing that, believe me."
Republican candidate Karen Handel consistently labeled Democrat Jon Ossoff 'Nancy Pelosi's handpicked candidate.'
Meanwhile, in one of his first campaign moves, Joe Cunningham, a Democrat challenging Mark Sanford for a House seat in South Carolina, spoke out against Pelosi the morning after the Georgia results came in. "The Democratic Party needs new leadership now," he tweeted. "If elected, I will not vote for Nancy Pelosi for speaker. Time to move forward and win again."
These Democrats might be on to something, especially in light of the way Pelosi figured into the Republican campaign in Georgia. Throughout the two-month campaign, Republican candidate Karen Handel consistently labeled Democrat Jon Ossoff "Nancy Pelosi's handpicked candidate." Many of her campaign e-mails told supporters that Pelosi and the "resistance" were pouring millions into the district to sway the results in Ossoff's favor.
That tactic clearly paid off. Handel was able to defeat Ossoff by nearly four points, despite Ossoff's historic fundraising numbers and the additional millions infused into the race by the national Democratic party.
While there were surely many reasons for Ossoff's eventual failure to flip the sixth, his loss has provided Democrats with an excuse to do some necessary soul-searching as 2018 approaches.
— Alexandra DeSanctis is a National Review Institute William F. Buckley Fellow in Political Journalism.