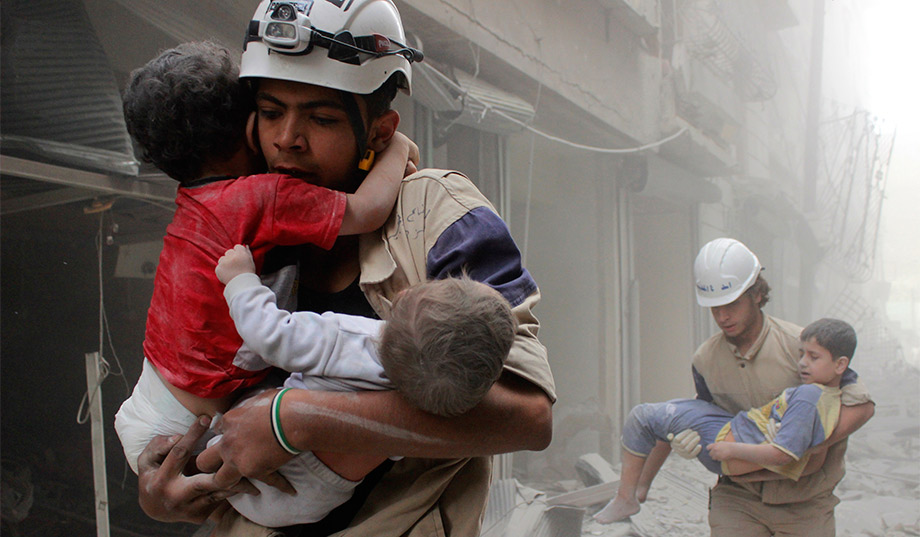 Syrian rescuers, North Korean diplomats, Norwegians in the sun, and more
Editor's Note: The Oslo Freedom Forum took place last week. This is the annual human-rights gathering in the Norwegian capital. Jay Nordlinger has been writing a journal on this gathering, and related matters, and the previous parts can be found at the following links: I, II, III, IV. The journal concludes today.
The Syrian Civil Defense is more commonly known as the "White Helmets." They try to extract people from rubble. Their slogan is something like, "When the bombs go off, we go in."
At the Nye Theater, we are hearing from Abdulrahman al-Mawwas, an official of this organization. He tells us about "barrel bombs" — which have the force of something like 8 on the Richter scale. He asks us to imagine these bombs going off constantly, menacing, terrifying, and killing civilians.
The White Helmets have 3,000 volunteers. They are organized in 120 teams. They have saved 92,000 lives. In the course of their work, 191 White Helmets have been killed.
Many of those fell victim to "double strikes," says Mawwas. These started at the end of 2015, when Russians partnered with the Assad regime. What happens is this: Government forces drop a bomb. Rescuers rush in. Then, ten or fifteen minutes later, government forces drop another bomb, getting the rescuers.
In addition to the 191 dead, 500 White Helmets have been injured.
They suffer a further indignity when they are subjected to propaganda — to "fake news." For instance, Russia's RT says that the White Helmets are part of al-Qaeda. This propaganda is meant to discourage financial support of the White Helmets, says Mawwas.
He says that the White Helmets are targeted for three big reasons: (1) A tyrant doesn't want there to be witnesses to his crimes. (2) The White Helmets have witnessed the use of weapons that are banned by international law. (3) They have proof.
"Like other Syrians, I was just an ordinary person when the war started," says Mawwas. He had just finished his studies in mechanical engineering. He wanted to go off and pursue his career. But he stayed in order to help his countrymen.
Not bad.
‐Firuzeh Mahmoudi founded a group called United for Iran. She lives and works in the San Francisco Bay Area. The regime in Tehran labeled her an "anti-revolutionary fugitive." She liked the phrase so much, she put it on her business card.
She talks about an Iranian political prisoner, Narges Mohammadi, an amazingly brave woman. She is a human-rights defender. She is locked up in Evin Prison, a place whose name is a byword for evil.
‐Grace Gao is the daughter of Gao Zhisheng, a Chinese human-rights defender. He has been imprisoned and tortured for many years. He stubbornly lives on. His family does what they can for him, in exile.
I've done a podcast with the radiant Grace. Would you like to hear it? Go here.
‐There is radiance from Evan Mawarire, too. He is a Christian pastor from Zimbabwe. And he is an opponent of the dictator, Robert Mugabe. He is a nightmare for the dictator: for he is honest, upright, talented, inspiring, and brave.
I've done a podcast with him, too. To hear it, go here.
‐Thae Yong-ho is the highest-ranking diplomat ever to defect from North Korea. He speaks to us in Oslo — but not in person. It is too dangerous for him to move about. He must be high up on Pyongyang's kill list. He speaks to us in a video.
Thae was North Korea's deputy ambassador to Britain. He defected to South Korea last year. "The reason for my defection is very complex, and the conclusion of longstanding considerations," he says.
I have paraphrased, but closely. I will continue to do so.
"The job of a North Korean diplomat often provides a certain level of freedom of access to information, which naturally brings a sense of the comparative."
That's a good way of putting it.
"Freedom of access to information pushes North Korean diplomats into the status of a double-thinker, especially when they read forbidden articles about the Kim family."
What's a double-thinker? Someone who conforms to the party line, outwardly, but, inwardly, has doubts.
Thae says that all North Korean diplomats — all — are hostages of North Korea's system of guilt by association. They continue in their jobs for just one reason: the survival of their family back home.
There are parents, siblings, aunts, uncles, of course. But beyond that, North Korean diplomats are forced to leave at least one of their children back in Pyongyang, as insurance. As a hostage.
Thae has two children. Two sons. Somehow, he was able to bring both of them to London — "and that luck prompted my decision to defect."
North Koreans have long been enslaved, he says. "And I decided to cut off slavery at my generation. We would be the last ones. My sons would live free. I wanted to hear one simple sentence from them: 'Daddy, thank you for letting us be free men.' Nothing is more important to me than the freedom of my sons."
‐Elif Safak is a Turk, a famous writer. Primarily, she is a novelist. If you come from an oppressive country, she says, "you don't have the luxury of being apolitical."
There is a famous quotation, she says: "Literature is analysis after the event." (I will look it up — turns out to be Doris Lessing.) But sometimes, says Safak, literature needs to be analysis during the event. Sometimes writers need to respond while things are happening — while their country is going through a dark tunnel.
She says that Turkey has become the No. 1 jailer of journalists — "surpassing even China's sad record."
Later in her talk, she warns of the dangers of populist demagogues. "The loss of democracy in Turkey holds important lessons," she says. Beware romanticization of the Volk. Beware talk of "real people," versus unreal people, presumably.
I must tell you: When I was coming of age, I recoiled at talk of "real people," and I heard it a lot. (It usually came from the political Left.) I didn't think anyone should be excluded from consideration as real — even Rockefellers.
Elif Safak is obviously a deeply thoughtful and widely experienced person. I don't agree with every word she says. But so what?
‐Out in Oslo, it's a bright, bright sunny day. This is not all that usual. The Norwegians are peeling their shirts off. I have never seen whiter skin. Sheets would blush. I'm afraid these dear people are gonna burn like crazy.
‐There are little kids — white, brown, and black — swimming, or wading, in Oslo Fjord. Must be cold as hell, despite the warmth of the day. I want to take a picture of them — but you really can't do that these days.
Accursed present.
‐Lilacs, as I have said, are all around. And these bushes are huge! I overhear one American saying, "I don't think these are bushes. I think they are trees. Lilac trees."
Word.
‐I have mentioned the Lincoln memorial in Frogner Park — my favorite Lincoln memorial outside of Washington. I now notice that there are lilacs near it. And I think of Whitman: his elegy, "When Lilacs Last in the Dooryard Bloom'd."
‐Speaking of flowers: Someone has placed a flowering plant at the statue of Sonja Henie. Huh. Is it her birthday, or "death day"? I Google. No.
‐I am loath to criticize anyone's parenting — but let me tell you something.
Vigeland Sculpture Park is full of — well, sculptures by Gustav Vigeland. One of them depicts a little boy, throwing a fit. One of his fists has been rubbed to a brassy color (contrasting with the rest of the sculpture). Apparently, people touch it for luck. I think this is new. I haven't seen that brassy fist before (and I've been coming to this park for years).
Well, a father says to his little girl, "Do you want to touch it, for luck?" The little girl looks confused. Hesitant. But she obviously wants to please her father. He says, "It's a superstition." She feels she must touch it.
Great. Just great.
‐From criticism to praise: Oslo isn't all herring, whale, and reindeer. There are many Indian and other South Asian restaurants, including one called Jaipur, in the city center. The mango chicken will bring tears to your eyes. Not because it's spicy — but because it's amazingly good. First-rate naan, too.
Just sayin'. (I am not an official endorser.) (But I'm open to being one.)
‐This, I haven't seen before: A young Norwegian fellow is returning home with his golf clubs. Where has he been? To a course or a range? No idea. His clubs are Callaway. His bag is Nike. His hat is Titleist.
Talk about endorsements: He's got 'em covered.
‐Today is a holiday — a saint's day, I believe. Therefore, there are more trains, and they are more frequent. It occurs to me it's the exact opposite of home.
‐At the airport, there is a sign, for an eating place: "No Bullshit, Just Beef." Vulgar. But sort of catchy.
Thanks for joining me, dear ones. In coming days or weeks, I will have pieces about individual speakers at the Freedom Forum: Grace Gao; Evan Mawarire; Guillermo Fariñas; and a Yazidi member of the Iraqi legislature, Vian Dakhil. They all have a great deal to say. And it's important.
See ya.
A word from the National Review Store: To get Digging In: Further Collected Writings of Jay Nordlinger, go here.