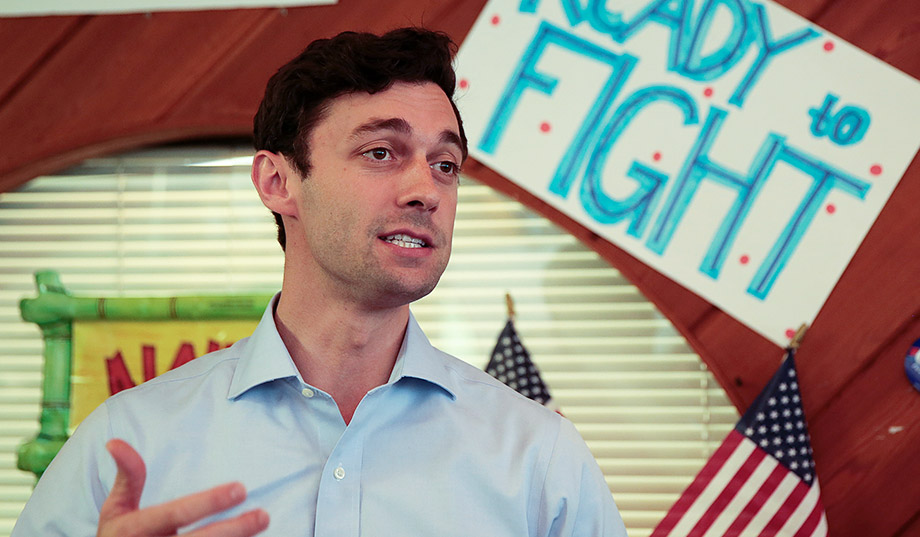 Californians, celebrities, and Democrats nationwide love Ossoff and are flooding his campaign with cash.
Marietta, Ga. — Exactly two months ago, politicos around the country counted down the final hours until polls closed in Georgia's sixth district, anticipating the results of a special congressional election widely perceived as a referendum on the fledgling presidency of Donald Trump. The events of the last few months have proven that it is anything but.
Those same polling places are re-opening today to welcome the district's residents back for a second round of voting. This time, voters will send one candidate to the House. As was the case last time, the result will tell us very little about Americans' attitudes toward our current administration.
It is notable that after just a few months of campaigning, the candidates in the sixth district have managed to accumulate more than $50 million, shattering the existing record. But that money says less about the national significance of this race than it does about how much power our political parties have in dictating the terms of our civic engagement.
Reeling from the blow of Trump's November victory, Democratic-party leaders zeroed in on Georgia's sixth district, which lacked a representative after Tom Price was appointed secretary of Health and Human Services. The young Jon Ossoff, in particular, captured their attention, and he was immediately christened the district's progressive "anti-Trump." That portrait quickly allowed him to attract national support; nearly 95 percent of the $8.3 million Ossoff raised prior to the April 18 "jungle primary" came from outside of Georgia.
Celebrities joined in the Left's excitement, quickly seizing upon Ossoff's candidacy as a means of expressing fervent anti-Trump sentiment. Alyssa Milano, for example, traveled to Georgia's sixth district to offer Ossoff voters free rides to the polls on April 18. While not every celebrity supporter engaged in similarly dedicated get-out-the-vote efforts, several other prominent actors and comedians, including Samuel Jackson, George Takei, and Chelsea Handler, recorded ads for Ossoff or lobbied for him on Twitter.
The Republican primary field was divided among nearly a dozen candidates — about six of whom were viable contenders, and Ossoff outspent his GOP competitors by huge margins. All the same, Ossoff narrowly missed the 50 percent mark on April 18, which would've allowed him to take the House seat outright.
Since then, Ossoff's campaign has raked in another $15 million, bringing his total fundraising haul to more than $23 million. But his campaign's latest finance report again indicates perhaps his biggest weakness: From March 29 to May 31, Ossoff received contributions from more than 7,000 Californians and only 800 of his own state's residents.
From March 29 to May 31, Ossoff received contributions from more than 7,000 Californians and only 800 of his own state's residents.
This has allowed Ossoff's competitor in the runoff, Republican Karen Handel, to portray the Democrat as more aligned with California's interests than those of Georgia's sixth district. For her part, the longtime Georgia politician has raised $4.2 million, and she remains locked in a dead heat despite the massive disparity in spending. The latest polls show a nearly tied race.
Many of Ossoff's policy positions — such as lowering taxes on small businesses or cutting "wasteful spending" by $16 billion — reveal an awareness that he won't win this race by making it a referendum on President Trump. Though his ads feature plenty of anti-Trump bluster, Ossoff clearly understands much better than national Democrats do that he needs to attract the district's center-Right voters rather than alienate them with Bernie Sanders–style rhetoric.
Much has been made of the fact that Trump won the district in November by only one percentage point, while Mitt Romney and John McCain took it by about 20 percent in their respective presidential campaigns. To commentators, this indicates a sharply leftward shift in the district's staunchly red electorate, a shift that they use to explain Ossoff's stunning success.
In reality, Georgia's sixth district remains solidly Republican; it just has never been pro-Trump. In the 2016 GOP primary, Trump landed in a distant second behind Florida senator Marco Rubio, who won 40 percent of the district. The fact that Handel beat explicitly Trump-style Republicans such as Bob Gray and Bruce LeVell in the primary is further evidence that the sixth district's Republicans prefer tested conservatives to "outsiders" offering populist rhetoric.
The sixth's Republicans might remain cool toward Trump, but that doesn't mean they're ready to vote for Jon Ossoff, and it surely doesn't indicate that the district is turning California-blue, as some left-wing pundits would like to believe. It is conceivable that Republicans won't turn out in high enough numbers to push Handel over the edge — and that national excitement over Ossoff drives high turnout among district Democrats — but such a result would not reflect national sentiment about Trump or the GOP at large.
Because of this disparity between the national perception of the race and the way it is actually playing out on the ground, the results will carry much less weight than many would like to believe. The unique dynamics of the district, along with its preexisting anti-Trump-yet-conservative sentiment, make it ill-suited for predicting which way 2018 elections will swing.
If Ossoff does take home the victory tonight, it will say much more about the clout of the national Democratic party and its influencers than about the political makeup of Georgia's sixth district. And it will say even less about the national perception of President Trump.
READ MORE:
Georgia House Race Isn't Really a Bellwether for the GOP
Georgia's Special Election Has Republicans Worried
Keep Newt's Old Seat in GOP Hands