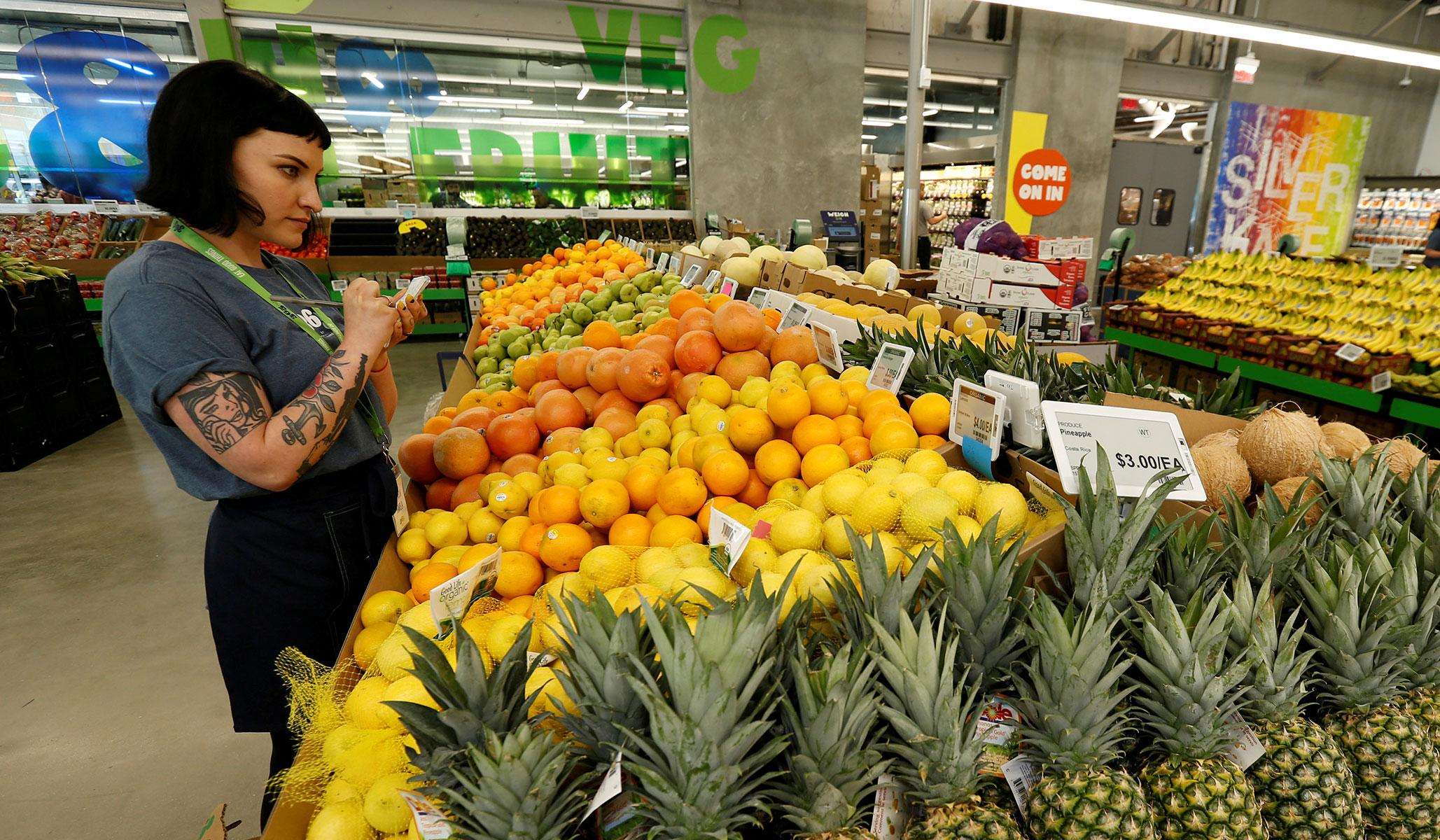 As Amazon buys Whole Foods, the USDA investigates whether foods sold as "organic" in the U.S. really are.
Amazon's acquisition of Whole Foods, the grocer that brought pricey organic food to the masses, comes during a time of turmoil in the organic industry: The Department of Agriculture is continuing to investigate the importation of millions of pounds of phony organic grains. The move is in response to a lengthy Washington Post exposé published in May that tracked shipments of corn and soybeans from Turkey, Romania, and Ukraine that were labeled "organic" but were not (I wrote about it here).
The Post reported that the fraudulent imports were "large enough to constitute a meaningful proportion of the U.S. supply of those commodities," a troubling development that should raise serious questions about the veracity of the organic label, since these grains are mostly being used as livestock feed to meet National Organic Program's (NOP) standards. Organic meat and dairy products must be sourced from animals fed only organic grains; this has led to an enormous surge in imports over the past few years, since nearly all the corn and soybeans grown here are from genetically modified seeds, verboten in organic production. Organic soybean imports have jumped sixfold from 2011, and organic corn imports have quadrupled since 2013; Turkey is now the largest exporter of both crops to the U.S.
A USDA spokeswoman confirmed to me that an investigation is ongoing and said the agency has already revoked the license of one Turkish handler. (Organic verification is done by an outside party, not by the USDA directly; 82 certifiers oversee 31,000 organic farms and businesses in 111 countries and the U.S.) The spokeswoman also said the agency is "currently investigating other evidence related to shipments of soybeans and corn. These investigations will continue in the coming weeks, and NOP will issue additional notices and notifications if there is clear evidence of violations." The USDA cannot suspend imports from these countries as the investigation proceeds, but it has notified importers about the fraudulent grains.
But this problem extends far beyond a few shady international grain dealers. Organic companies have used these non-organic grains in their products and either knowingly or unwittingly sold those goods as certified organic. The Organic Foods Production Act does not authorize recalls of organic products, but the USDA can revoke a company's organic certification and levy a fine of up to $11,000 per violation. It will be interesting to see if the USDA penalizes any domestic producers for knowingly using phony grains.
While the Post exposed only three shipments of fake grains, it's safe to assume this has been going on for some time, with perhaps a wink and a nod from folks throughout the organic supply chain. No one questioned how Turkey suddenly became our leading supplier of organic corn and soybeans when those imports were nonexistent just a few years ago? This is more than someone just being asleep at the switch; this is selective ignorance on a large scale.
All of this finally prompted the nation's largest organic lobbying group, the Organic Trade Association (OTA), to take action. Last month, the group formed a Global Organic Supply Chain Integrity Task Force to "develop a best practices guide to use in managing and verifying global organic supply chain integrity to help brands and traders manage and mitigate the risk and occurrence of organic fraud." This might be long overdue, since organic-goods imports are skyrocketing. According to OTA estimates, organic-corn imports more than quadrupled between 2013 and 2016, while organic-soybean imports more than doubled.
It's safe to assume this has been going on for some time, with perhaps a wink and a nod from folks throughout the organic supply chain.
OTA spokeswoman Maggie McNeil told me that the group's "top priority is to protect the integrity of organic. We support strong and robust oversight and enforcement of organic certification practices and standards both inside and outside of the U.S." The group will ask for more money in the 2018 farm bill, including a 10 percent annual increase in the NOP's budget and $5 million to upgrade technology systems for international trade-tracking systems and data collection.
But until the USDA concludes its investigation and all responsible parties are held accountable for this massive fraud in our food supply, no additional tax money should go to fund the NOP. Indeed, Congress should reconsider whether the NOP, which is designed as a marketing program, should be under the federal government's purview at all. Meghan Cline, a spokeswoman for the Senate Agriculture, Nutrition and Forestry Committee, told me that the committee "will be taking a close look at the NOP as part of the upcoming Farm Bill reauthorization process."
In the meantime, consumers of the $47 billion organic market who pay a premium for organic food should take a hard look at what they're paying for. Folks buy organic because visions of a local farmer growing crops and feeding them carefully to his animals dance in their heads. Now that we know this is patently false, and that most of the organic foodstuff in our supply is shipped here from other countries, maybe it's time to reconsider paying double for that quart of organic milk. Especially since it's likely the cow is being fed phony grains from Turkey.
READ MORE:
How College Students Are Being Misled About 'Sustainable' Agriculture
Is $13.7 Billon a Good Price for Whole Foods?